Advertisement Feature
Why Dell Technologies is the technology partner your small business needs this year
Start 2023 off with some great new additions from Dell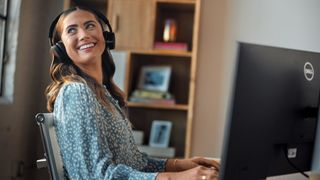 (Image credit: Dell Technologies)
Whether your new year's resolution is to finally chase that dream and start a small business of your own, or scale your business to the next level, having the right hardware is vital, as is having the right hardware partner.
Dell Technologies is one of the most well-established brands in the computing space, and with good reason, acting as a trusted supplier and partner to businesses of all sizes across the globe.
If your business is looking to grow or expand, refreshing or expanding your hardware can be a key step, giving your workers the latest devices to boost productivity and efficiency - so what can Dell offer you?
First off, Dell has a wide range of products and services that are perfect for an office upgrade or refresh. The company offers cloud, storage, networking and compute services designed especially for smaller businesses, giving them the flexibility (and cost savings) needed to begin scaling up their work, all while staying safe and secure from potentially damaging cyberthreats.
If any issues do arise, the company offers one-on-one dedicated support with its Dell Technologies Advisors, meaning you can call, talk or chat with your advisor directly whenever you need to. Dell has over 30 years of experience helping small businesses like yours, so you can be sure to find the support you need from a real human being, rather than a machine.
Finance is often a challenge when looking to grow or scale a business, as refreshing your tech stack as your company expands can be a game-changer. With employee needs constantly changing, and hybrid and remote working becoming the norm for many, making sure your workers have the right hardware to do their jobs is paramount. Keeping your workforce equipped with up-to-date technology, powered by the latest security upgrades, is vital, so making sure your budget allows for a refresh is crucial.
Dell offers a wide range of finance solutions tailored for small businesses, providing flexibility where it is most needed with "pay as you go" and "pay as you use" options among a selection of possibilities on offer. The company allows SMBs to spread the cost of technology ownership over varying periods of time, and offers a range of options when it comes to regular refresh cycles, a key part of lowering total cost of usage and helping your business hit its sustainability goals.
For those looking to expand their horizons, the company also offers training and insights via its Dell Technologies Learning Center, a channel with resources to help small businesses to find the best products and solutions for growing businesses, as well as running regular webinars to keep customers updated on all the latest news and releases to make sure they have the technology solutions that are right for them.
This advice is on offer for businesses at all stages of their journey, and for those organisations who are within the first four years of business, and going through a significant level of growth, there is also Dell for Startups program available. A program designed to support startups through the technology challenges that comes when scaling at pace, and this is done by pairing early-stage startups with specially trained advisors (Startup Technology Advisors) who can provide advice and the right technology to suit critical stages of your journey. Rather than providing generic guidance, the program looks to ensure that startup-specific issues are being met, and can also offer engagement options through events and paid media opportunities, as well as exclusive pricing and rewards for members.
Elsewhere, the Dell Women's Entrepreneur Network (DWEN) looks to help female entrepreneurs to achieve their business goals and connect with fellow inspirational female founders. Welcoming everyone from start-ups to scale-ups, DWEN has been working for more than a decade to help foster connections and encourage diversity and excellence across the SMB space, providing advice, resources and funding.
And for IT consultants, the company offers the Dell Expert Network (DEN) to help provide a boost for you and your clients, no matter what point you're at in your growth journey. Members who join and become a Dell Expert will enjoy a number of key benefits, including a dedicated IT account manager, along with shortcuts in Dell's service and support solutions that could be a game-changer for you and your clients.
So if you're a small business or start-up looking to take that next big step, Dell really is excellently poised to offer a helping hand - you can find out more on all the programs listed above, and much more, here.
Are you a pro? Subscribe to our newsletter
Sign up to the TechRadar Pro newsletter to get all the top news, opinion, features and guidance your business needs to succeed!