Advertisement Feature
How to protect your business from data theft
is*hosting CEO outlines some of the most common methods to keep your data safe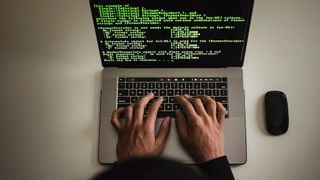 (Image credit: is*hosting)
When it comes to business, protecting data and confidential information is key in the online space.
The pandemic has made its own adjustments, all those who were not represented online at the very beginning were forced to urgently transfer their business to digital.
The issue of protecting businesses from data theft has always been relevant, but now in a post-pandemic world, due to the ever-increasing need for the use of digital public infrastructure, it is in the spotlight.
SSL Encryption
One of the most common and basic measures that a business can take to secure its online channels is the use of an SSL certificate.
This digital signature provides an encrypted connection between the user and the site. With the help of this certificate, the authenticity of the site is confirmed - the user can check which company the resource actually belongs to, and the client-server requests themselves are encrypted.
This certificate is provided by trusted certificate authorities, but it can also be ordered through your hosting provider: this is usually easier, and sometimes even cheaper. In addition, from a marketing point of view, sites with SSL encryption have priority with search engines and trust with users.
Secure hosting
The next measure is to use reliable hosting. In essence, web hosting allows individuals and organizations to make their websites available on the web. Reliable hosting services must regularly update the system software on their servers, have built-in security measures, such as analysis and automatic cutting off of suspicious (malicious) traffic.
One of the important criteria when choosing a hosting should be qualified staff. After all, specialized specialists will correctly configure the server, hosting environment and access panels, will always be in touch and help you quickly resolve technical issues.
Actual plugins, libraries, frameworks and CMS
Companies should also use proven plugins, libraries, frameworks, CMS, and third-party modules, as more well-known and popular products are subject to more scrutiny in terms of code security. In addition, it is important to keep these tools updated to the latest release versions, since updates often contain fixes for known vulnerabilities. Keeping the software up to date is just as important as using traffic filtering, firewalls, strong passwords, and more.
Automated protection against the most popular attacks
Another important area is the use of methods of protection against SQL injection and XSS attacks, which directly threaten the security of user data, as well as ensuring the logging of access to the resource and monitoring security events.
There are ready-made tools that will provide basic protection against common attacks, such as "mod_security". These analyze traffic in more detail and allow you to deny service to suspicious and malicious requests. Log files allow webmasters to track all activities on the resource and quickly identify any suspicious activity.
Encryption of data and backups
Do not forget to make regular backups of the website and all important data to minimize losses in the event of a compromise and / or removal.
Backups will help not only to restore data in case of loss, but also to find differences between the current version of the data and the version before the hack, which will help to more accurately determine the hack. Backup is a basic rule for a fault-tolerant and secure operation of the service.
Encrypting your backups is another important task, as it can sometimes be much easier to access the backups than the actual site. If they are encrypted, they will become an additional barrier for a hacker.
To complicate access to backups, the best solution would be to combine encryption and the lack of public access to them. For such purposes, solutions in the form of private subnets, access control lists and firewalls may well be used.
Passwords and two-factor authentication
Speaking of passwords, companies should always make sure these are changed periodically and are sufficiently complex.
In addition to passwords, implementing two-factor authentication can also be extremely important to help keep your accounts secure, offering another layer of protection.
Another good practice is to use systems to store and manage "secrets", passwords, and other sensitive data, with services such as Hashicorp Vault providing secure storage and management of sensitive data.
To access the infrastructure, it is also preferable to use access by keys, since these are less vulnerable to hacking, in particular, to password brute-force attacks.
Protecting access to administrative panels
If the website has an admin panel, it's a good idea to change the default login address and enforce access control (and add two-factor authentication if available).
While this may seem obvious, many webmasters ignore this general rule and therefore leave their admin panels practically open to attack. Using knocker or fail2ban to secure access to admin panels and control channels such as SSH should be the rule rather than the exception, as the admin panel often allows both access to infrastructure management in general and data accessibility in particular.
Conclusion
Protecting digital infrastructure is key for businesses around the world as cybercrime risks continue to increase.Following some simple recommendations may well be enough to minimize risks and protect yourself from data theft, keeping your business secure and profitable.
Are you a pro? Subscribe to our newsletter
Sign up to the TechRadar Pro newsletter to get all the top news, opinion, features and guidance your business needs to succeed!