Verdict
On paper, the Xperia XA1 Plus is yet another mid-range handset to flesh out Sony's expansive smartphone offering. It doesn't have much of an identity, even in Sony's own PR comms. But after a few weeks with it, we've actually found a lot to love about the XA1 Plus.
It's a step up from the super-cheap but slightly-lacking Sony Xperia XA1, and doesn't sacrifice the fingerprint scanner like the XA1 Ultra (well… depending on where you live). It has a large, lovely 1080p screen, a huge battery, and enough under the hood to power most people's smartphone needs.
The cameras leave a lot to be desired and the software will drive purists to distraction, but given the price tag, we're not complaining too much. This is a solid, dependable, well-designed phone with a lot going for it, and for £330/$380 (roughly AU$485), we can't say fairer than that.
Who's this for?
We're not sure even Sony could answer that one. The XA1 is the budget choice in the range, while the XA1 Ultra is definitely for the youngsters. The Plus? Well, it's for anyone who doesn't want to spend too much but doesn't want a rubbish phone either. Which could be anyone, really.
Should you buy it?
If you're in the market for an Android with generous screen and battery proportions, in a solid and robust shell with performance to match, and a price that won't have you eating noodles for months - meet the Xperia XA1 Plus.
It won't change your life, but it might well change your opinion on the middle of the pack.
There are plenty of alternatives to the Sony Xperia XA1 Plus depending on your priorities. You might want to consider the phones below instead.
Huawei P10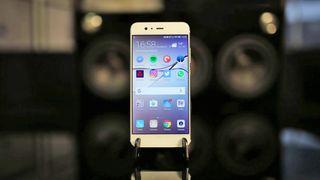 It's getting kind of old now, but Huawei's flagship still offers the dual-sensor Leica-branded camera experience with an easy-to-use portrait mode to rival Apple's.
But its biggest selling point right now is that it's fairly likely to have a precipitous price drop soon, as we're probably about to meet its successor.
Sony Xperia XA1 and XA1 Ultra
Chances are if you're considering the Plus, you're also looking at its siblings. Well, the youth-oriented Ultra offers an enormous 6-inch screen, while the budget-conscious XA1 is down at a finger-friendly 5.
All three have the same CPU, but if you want better selfies then plump for the Ultra with its 16MP front-facing sensor. If a fingerprint scanner is a must, though, stick with the Plus - neither of its stablemates offer that.
Moto Z2 Play
The Z2 Play has a lot in common with the XA1 Plus, including a beautiful 5.5-inch screen and a slightly disappointing camera. But it also offers the Moto Mods modular upgrade system and better battery life, and that might just swing it for a lot of people.
First reviewed: February 2018