Three years ago, I had the unfortunate experience of having to actually use my extended AppleCare warranty package, which is often cited as one of the most pro-customer service plans in the industry.
When the hard drive on my non-Retina display 15-inch MacBook Pro collapsed, I searched online for the earliest available appointment at a nearby Los Angeles, California Apple Store and found an available slot two days away. I had purchased AppleCare when I acquired my MacBook, so I knew my warranty repair would be covered for up to three years from the date of purchase, but as a single user, I didn't really meet the qualifications needed for AppleCare for Enterprise, Apple's business-centric warranty offering.
Read more: Anmeldelse: Dell XPS 15 (2018)
On the day of my appointment, I took my notebook in, waited for half an hour because the queue was delayed, and after three hours of diagnosis, the Apple Genius Bar representative confirmed what I had already known: my hard drive was dead.
At the time, the store told me that it would ship the notebook to an Apple repair facility rather than performing the repair in-store. I asked if Apple had parts that I could "take" and repair my Mac on my own, but the store manager denied my request citing Apple policy. Apple also doesn't provide loaner laptops at the time, so I was out of commission during the repair process. Unless you're a large business with spare computers laying around, this means you're out of work.
It took another four days of waiting until I was back and running. The whole process took well over a business week, but the most tragic part of that experience is that my data was lost.
Predictive support advantage
On the other hand, Dell's predictive monitoring would mean that, for drive failures, not only would my downtime be reduced, but my data would also be saved. The downtime would drop from a week to just the few hours required to reinstall the required software and transfer data from the old drive.
ProSupport Plus is the equivalent of having AppleCare and Apple's now discontinued One-to-One training program.
ProSupport technicians can help me with basic software questions should I have trouble using Microsoft Office or Adobe Creative Suite, and if my Dell laptop isn't connecting to my Canon printer or Netgear router, a technician can help me on the phone.
And in the event of a major computing catastrophe beyond just a drive or memory failure, Dell will also dispatch a certified technician on-site, along with the parts, to help service my system.
Pricing
Pricing for ProSupport and ProSupport Plus varies by your hardware model and length of support contract. For example, ProSupport for an inexpensive Chromebook will be cheaper than for a Dell enterprise mobile workstation.
The good news is that you don't have to add the ProSupport or ProSupport Plus when you purchase your laptop. You can add the extended warranty packages at any time, even to your existing hardware.
If you're buying a new notebook and configuring it through Dell's website, options and pricing for ProSupport and ProSupport Plus will be displayed on second services and support page.
For example, a three-year ProSupport plan with next business day on-site service is already included in the price of my $1,375 (£901, AU$1,902) Dell Latitude 12 7000 Series (E7250) laptop. The four-year plan costs $77 (£50, AU$106), and a five-year plan bumps the cost to $161 (£105, AU$222).
Three years of Pro-Support Plus costs $88 (£57, AU$121), while the four- and five-year Plus plans cost $185 (£121, AU$255) and $284 (£186, AU$392), respectively.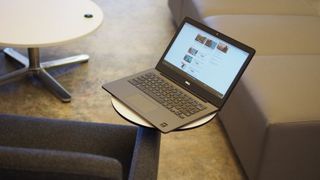 For comparison, ProSupport starts at just $34.30 (£22, AU$47) for next day on-site service on the $529 (£346, AU$731) Chromebook 13 and goes up to $194 (£127, AU$268) for a four-year ProSupport Plus plan.
Apple keeps pricing much simpler on the extended consumer AppleCare warranty plan, which is available at $249 (£163, AU$344) for three years of service for MacBook, MacBook Air and the 13-inch MacBook Pro, but this option doesn't include next business day dispatch or on-site service.
Dell's ProSupport and ProSupport Plus are available for enterprise and business systems. Business users interested in consumer systems, like the XPS series, can choose Dell's Premium Support option instead.