As the Surface Phone isn't a direct successor to anything we can't simply look at the faults of previous models for potential improvements, but having been rumored for so many years the Surface Phone will have its work cut out to impress us. Here's what we want to see.
1. Make it the best phone for productivity
Microsoft supposedly plans for the Surface Phone to be the best handset for productivity, and we'd like to see it live up to that, with the power to create a full desktop experience when using Continuum, and useful accessories and apps (plus plenty of storage) so that it's similarly good for getting things done when used as a phone.
2. Add an iris scanner
The Microsoft Lumia 950 already has an iris scanner, and we'd like to see it return here, albeit with improvements so that it's fast, accurate and can be used at an angle.
Iris scanners are still a rarity and yet to become as convenient as fingerprint scanners, but if Microsoft can crack them for the Surface Phone then that would be a big point in its favor.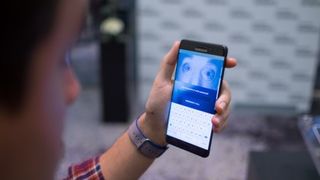 3. Focus on call quality
The only thing we can really look at for an idea of what to expect from the Surface Phone is the Lumia 950, since that was Microsoft's last flagship handset, and that was a phone that neglected the basics, with call quality in particular proving disappointing.
While calls aren't the central part of the phone experience any more, they're still important, so we want the Surface Phone to get them right.
4. Build a fingerprint scanner into the screen
One of the more ambitious Surface Phone rumors points to a fingerprint scanner being built into the screen, but as unlikely as that might sound it's an idea that's been attached to other handsets too, so it might only be a matter of time before some phone does it.
If the Surface Phone is the first then it will have an exciting, futuristic feature that will help it stand out from its Android and iOS rivals.
5. Dual operating systems
The biggest hurdle faced by the Surface Phone is the fact that it will almost certainly run Windows – an operating system that almost no-one seems to be interested in on mobile, and which as a result has a disappointingly small app selection.
One possible solution would be to allow the Surface Phone to also run Android, so users can switch between operating systems as they please. Given that Microsoft is behind it this is very unlikely, but we can dream.