Our favorite iPhone trails games, top-down racers, 3D console racing sims, and quirky time-attack challenges.
Rush Rally 3 ($3.99/£3.99/AU$5.99)
Rush Rally 3 reasons rally simulations shouldn't be restricted to PCs or consoles under your telly. Here, you get the full experience, whether you like belting along stages with a co-driver yelling in your ear in which direction to head, or grinding metal in furious rallycross competitions.
Visually, the game looks great. It runs at 60fps, and you get to race in all lighting and weather conditions. The game feels good, too – the car is weighty but responsive. And, sensibly, the controls can be tuned to make things more manual – or less, if you fancy a more arcade-oriented blast.
During testing, we had the rare odd moment, not least the car once rather unrealistically clambering up a steep incline. For the most part, though, this game really does feel like a slice of console racing on your iPhone.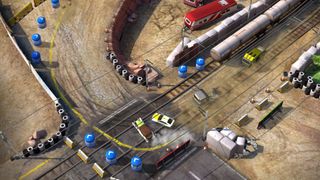 Reckless Racing 3 ($2.99/£2.99/AU$4.49)
Reckless Racing 3 is a top-down effort that features dilapidated cars and trucks battling it out across a surreal section of courses. Whereas the original in the series appropriately restricted itself to scrapyards and mall parking lots, Reckless Racing 3 features routes through a quaint European village, an airport, and a nuclear plant with a worrying amount of green goop sloshing about.
The handling feels a bit lightweight, but the races are amusingly smashy. And if you're in the mood for something completely different, there's a gymkhana mode for precision driving and drifting in your decrepit vehicle.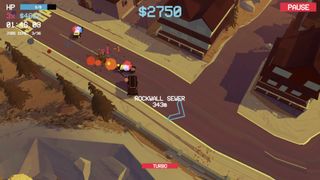 PAKO 2 ($1.99/£1.99/AU$2.99)
PAKO 2 exists in a bizarre universe of constant, unending criminal shenanigans, and a police force whose sole response to getaway drivers is to hurl police cars at them with merry abandon – and then attempt to blow them away with a gunship when that approach fails.
This presents a tiny problem for you, given that you're the getaway driver. Prodding left and right to direct your tiny car, you must zoom between pick-ups and drop-offs, gradually powering up your car as you do so, and trying to avoid taking a career-ending plummet into a ravine, or being atomized by psychotic law enforcement.
PAKO 2 is a shallow game, but also buckets of fun, and with several environments and a slew of vehicles to unlock, it should tempt you to unleash your inner criminal for many weeks to come.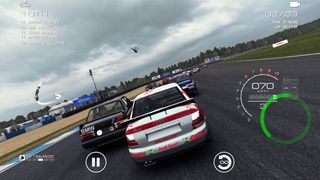 Grid Autosport ($9.99/£9.99/AU$14.99)
Grid Autosport is a console-quality racer. That isn't hyperbole; this is an accurate conversion of a game that has graced countless PCs and PlayStation 3s – all on your iPhone.
Naturally, not just any iPhone will do; you'll need an iPhone SE or an iPhone 7 or newer, and at least 6GB(!) of storage space. But once the game's installed, you can immerse yourself in by far the deepest racing experience mobile has to offer.
If you're a simulation nut, turn off all driving aids, head into a full season and prepare to spend time spinning off into gravel traps. More cautious players can stick with quick races and rookie mode for a while, gradually learning car handling and tracks alike, and wondering why all mobile games can't be made with such love.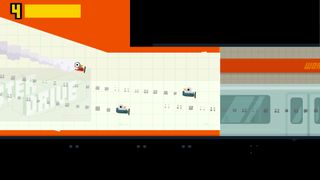 Pigeon Wings ($1.99/£1.99/AU$2.99)
Pigeon Wings is a deranged side-on racing game, featuring wide-eyed pigeons belting along in tiny planes. The backstory involves a rich nutcase aiming to destroy a city by way of a heavily-armed gigantic flying fortress; the birds race it out to decide who gets the chance to stop him.
The game switches things up between strings of races and occasional battles. In the former, you slipstream rivals, bob and weave through the air by tilting your iPhone, and power up your craft through trophies won in-game.
The shooty bits are brief and intense – a nice change of pace, despite the fact you'll likely be blown to bits several times before claiming victory.
Should you hanker after something marrying the intensity of ALONE… and the frantic racing of Mario Kart, Pigeon Wings is a must – in fact, you'd be bird-brained to miss it.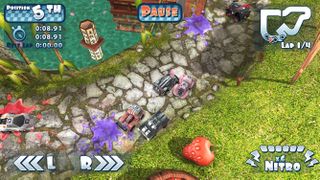 Mini Motor Racing ($2.99/£2.99/AU$4.49)
Mini Motor Racing is a top-down racer featuring tiny vehicles that blast about twisty-turny circuits. They auto-accelerate, so you're left with steering, and periodic use of a turbo that rockets your vehicle forward a few car lengths, leaving you unable to steer in the meantime.
From the off, Mini Motor Racing is frenetic. The tracks are claustrophobic, and the cars respond (and even sound like) remote controlled vehicles – albeit ones seemingly driven by psychopaths. Once you're a few dozen races into the game, it seems your opponents are keener on smashing into you than winning.
That grumble leaves Mini Motor Racing languishing in the slipstream of the best top-down effort on iPhone, Reckless Racing 3, but it still manages a podium finish. And that's because it's packed full of content, has a great multiplayer mode, and in its 'remastered' 2017 form looks stunning.
Riptide GP: Renegade ($2.99/£2.99/AU$4.49)
The core of Riptide GP: Renegade feels like it's been wrenched wholesale from the unhinged water-based faction of 1990s arcade racers. Renegade, for the most part, matches their energy and spirit, as you barrel along splashy tracks atop a souped-up futuristic jet ski, performing death-defying stunts to accrue boost that catapults you along at even more breakneck speeds.
The game's packed full of content, from single races to a challenging career mode, and the premium price means you need skill rather than cash to succeed.
There are times you wish the game would let go a little – the colors are drab and it at times takes itself too seriously - but when it fully unleashes as you blaze through factories or get hurled into the air by the wake from a rocket launch, Renegade is glorious.
Drift 'n' Drive ($2.99/£2.99/AU$4.49)
Madcap racer Drift 'n' Drive somehow appears to have arrived from a 1980s home computer and yet feels perfect for mobile play. It's an old-school overhead racer that pits you against a grid of crazed opponents, all fighting to get to the finish line first.
The game only scrolls vertically, and the controls are simple: steer by tapping near a screen edge or prod the centre for a temporary boost of extra speed. Tracks snake left and right within the screen's narrow confines, but sometimes do so abruptly, causing plenty of opportunity for massive pile-ups.
Manage to not crawl in last and you move up the grid next time round. Place better and you start getting cash to upgrade your car. Before long, you're laughing like an idiot while barreling along in a race of two-dozen tiny cars buzzing around the track like flies, boosting into walls, and occasionally wondering why modern racers are rarely this much giddy fun.
Horizon Chase ($2.99/£2.99/AU$4.49 IAP)
Time was racing games were all about ludicrous speed, gorgeous graphics, and the sheer rush of weaving through a sea of cars to the finish line. Horizon Chase briefly reverses back to such halcyon days, grabs the best bits from the likes of Lotus and Top Gear, before zooming back to the present as a thoroughly modern arcade racer.
It looks gorgeous, with some stunning weather effects, and an odd but pleasing low-poly roadside-object style; it sounds great with veteran games musician Barry Leitch on soundtrack duties; but most importantly, it handles perfectly, and is a joy until the very last track.
AG Drive ($2.99/£2.99/AU$4.49)
In the future, it turns out people have tired of racers zooming about circuits on the ground. In AG Drive, tracks soar into the air – akin to massive roller-coasters along which daredevil racers of the day speed, gunning for the checkered flag.
This is a pure racing game – all about learning the twists and turns of every circuit, and the thrill of breakneck speed. The only weapons you have available are strategy and skill. And this suits the kind of stripped-back controls that work best on iPad – tilting to steer, and using thumbs to accelerate, brake, and trigger a turbo.
Also, while some slightly irksome IAP lurks, there's little need to splash out. The game's difficulty curve is such that you can gradually improve your skills and ship, working your way through varied events until you become an out-of-this-world racing legend. (Or, if you're a bit rubbish, an ugly stain on the side of a massive metal building.)