Our favorite iPhone point-and-click adventures, room escape games, narrative tales, and gamebooks.
Maginary (free + $4.99/£4.99/AU$7.99)
Maginary exists in a gray area between novella and game. From the off, you get an inkling of what's in store, on inputting your name and seeing it infused into the story. As you read on, it becomes clear interactions with your device affect what occurs within Maginary's world.
There's a great sense of atmosphere, from subtle sound effects to surprising animations that shake up the story in real-time – in narrative and visual terms. Events barrel along at some pace, too.
The story is resolutely linear, though – there's no freedom to explore, unlike in, say, Device 6. But this doesn't matter when you're glued to the screen, and the interactive components are so cleverly designed. Entertainingly, even the one-off IAP to unlock the last two-thirds of the book is baked deep into the storyline – how very meta!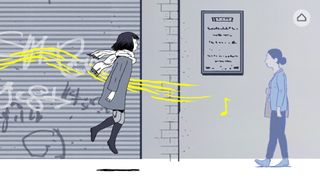 Florence ($2.99/£2.99/AU$4.49)
Florence is really an interactive storybook, but there are game-like elements peppered throughout – and because it was created by the lead designer of Monument Valley, you know it'll be full of heart.
It also features plenty of clever design elements. For example, you at one point create something as a child that later makes a reappearance in a box of mementos. After a crash, sliders are used to make the blurred vision of the protagonist coherent. And at one point you fashion speech balloons from puzzle pieces, which reduce in number as the people conversing with each other become more comfortable.
The downside is brevity – Florence is very short and lacks replay value. But it's a heartwarming experience, and one that showcases the kind of innovation that occurs at the fringe of gaming.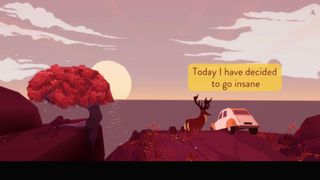 Far From Noise ($2.99/£2.99/AU$4.49)
Far From Noise is as much an exercise in self-reflection as a game. It begins with a car balanced precariously on a cliff edge. With no means of escape, what remains is to make sense of it all – not easy when you start possibly hallucinating a conversation with a surprisingly philosophical deer.
Interaction comes by way of balloons, which you tap to confirm thoughts and actions. As you make decisions, the narrative branches, leading you to one of several endings. Oddly, we could have perhaps done with fewer choices, because many seemed almost inconsequential. Although perhaps that's the point.
Despite the situation (car wobbling; imminent death), the pace is very restful and the experience is unique. We suspect Far From Noise will nonetheless prove divisive, but it's great to see such artistic games on iPhone.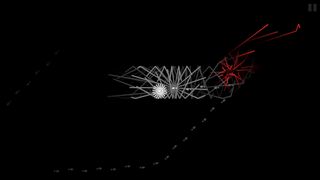 Dark Echo ($1.99/£1.99/AU$2.99)
Dark Echo is a weirdly creepy horror game that manages to make squiggly lines scary. As you stomp about in the dark, sound waves are represented as abstract lines that rebound off of objects you can't otherwise see.
The soundtrack is all-important. Don a pair of headphones, and you can hear your footsteps, and the floor squelching beneath you. Flies buzz as you pass… well, it doesn't bear thinking about. And then you hear things growling in the shadows, before one decides it fancies a snack.
Dark Echo will helpfully suggest RUN! as you bolt for an exit – or end up devoured in a dead end. It's a great example of how the imagination can give you bigger scares than any rendered CGI beast on your iPhone's screen. That and you'll never look at red zig-zags in quite the same way again.
Mr. Robot ($2.99/£2.99/AU$4.49)
Based on the hit TV show, Mr. Robot (or Mr. Robot:1.51exfiltrati0n.ipa, to give it its full name), immerses you in a world of hacking as you accidentally become entwined with a shady group planning a mysterious world-changing event.
It begins with a smartphone you find and quickly pocket, shortly before it's hacked by its actual owner, the furious Darlene, who then press-gangs you into service. The game plays out by way of a messaging app, your replies selected from canned responses to progress you through the narrative.
This simple structure is similar to the Lifeline games, and there's a distinct feeling of being shoved along a particular story regardless of what you choose to say. However, it's exciting bouncing between different message threads, and smart writing throughout infuses the game with palpable tension.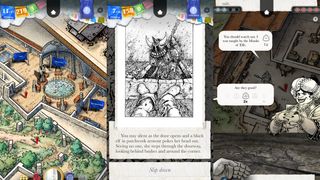 Sorcery! 4 ($4.99/£4.99/AU$7.99)
Gamebook-style text adventures have had something of a renaissance on mobile, and the adaptations of Steve Jackson's Sorcery! series are among the very best. The fourth entry, suitably titled Sorcery! 4, again immerses you in a world of fantasy, with you attempting to ascend a mountain, infiltrate a fortress, and recover the Crown of Kings.
If you've played previous games in the series, you'll find a familiar set-up akin to a single-player board game. You drag your character about, respond to scenarios, bash up monsters, and can (thankfully) flip back to save points should you mess up and get horribly killed.
But even for total newcomers, there's a full standalone adventure here – one that perfectly marries and balances a book, interactive game, and touchscreen experience. (Note that should you fancy trying the rest of the series first, it's available as a bargain-priced three-pack.)
The Room Three ($3.99/£3.99/AU$5.99)
The Room is a series about mysteries within mysteries. It begins with a box. Fiddling with dials and switches causes things to spring to life elsewhere, and you soon find boxes within the boxes, layers unraveling before you; it's the videogame equivalent of Russian dolls meets carpentry, as breathed into life by a crazed inventor.
The Room's curious narrative and fragments of horror coalesce in follow-up The Room Two, which expands the 'boxes' into more varied environments – a seance room; a pirate ship. Movement remains restricted and on rails, but you're afforded a touch more freedom as you navigate your way through a strange clockwork world.
The Room Three is the most expansive of them all, featuring intricate, clever puzzles, as you attempt to free yourself from The Craftsman and his island of deranged traps and trials. Get all three games, and play them through in order, preferably in a dark room when rain's pouring down outside for best effect.