ICYMI: the 9 biggest tech stories of the week, from iPhone reviews to new Amazon Alexa AI
News
Contributions from
published
Missed the week's big tech news? Here's your firmware update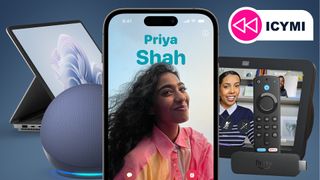 (Image credit: Future)
The tech world moves fast at this time of year, with big launch events piling up across September and early October. This week alone we had two major product reveals from Amazon and Microsoft, plus the arrival of assorted cameras and soundbars, and the little matter of Apple's iPhone 15 range going on sale.
Keeping up with everything that happened would be a Herculean task unless you either work at TechRadar or visit the site regularly - in which case, well done. But for those of you who don't check in quite so often, we have the solution right here.
Simply read on and we'll inform you about Every. Single. Important. Thing that went down this week. And it was a lot.
9. Bose and Amazon's new soundbars charmed us in different ways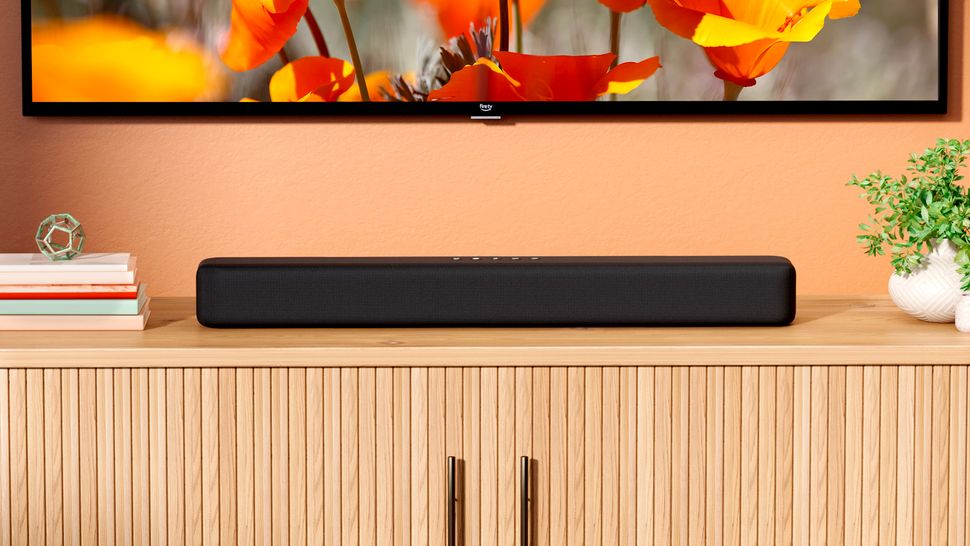 There were two soundbar announcements at opposite ends of the spectrum this week. First, Amazon announced its Fire TV Soundbar, which is a simple stereo affair made for TVs between 32 and 55 inches, but for just $119 (UK and Australian pricing tbc) it could become the new default option for anyone who just needs to give their TV more pep. Plus, we have to assume it will get a major discount in the Black Friday deals; one to watch.
At the other end of things, Bose's new Smart Ultra Soundbar features "AI" (a first in soundbars, we think) to analyze speech and make it clearer, while delivering huge Dolby Atmos from an all-in-one bar that could take down the Sonos Arc as the leader in that area.
8. The Nikon Zf took us back to the future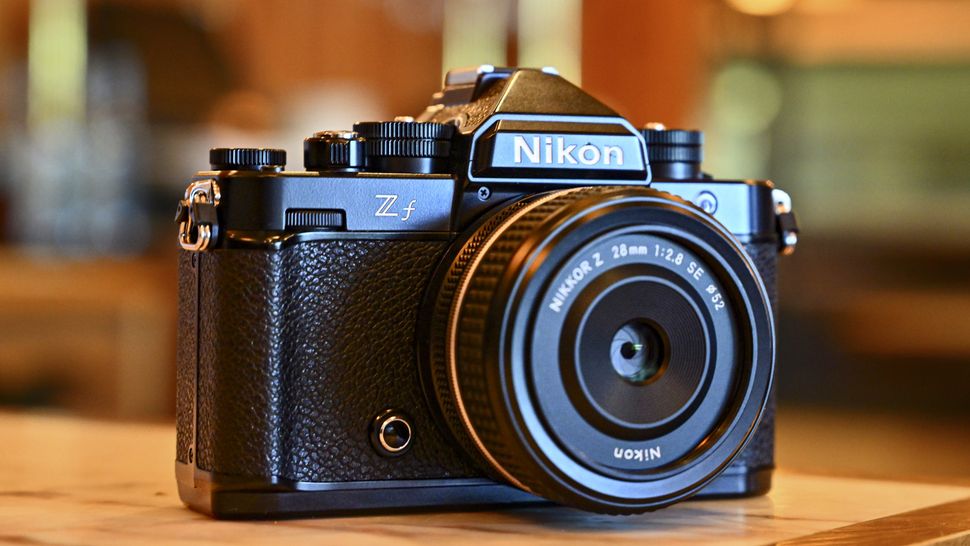 If you love the film photography aesthetic, then the full-frame mirrorless Nikon Zf is the retro mirrorless camera you've been waiting for. A faithful reimagining of the iconic Nikon FM2 SLR, the Zf has lovely flourishes including brass dials that will weather with use, a threaded shutter button that accepts a cable release, and a new dedicated B&W mode.
There's proper power inside that beautiful exterior, too, with Nikon's latest processor, the same sensor as the one in the Z6 II for 24.5MP stills up to 30fps and intelligent autofocus. You also get Nikon's best in-body image stabilization yet, including a world-first AI-assisted function – our hands-on Nikon Zf review unpacks all that. You might not need the Zf, but you'll want it. Finally, there's a proper Fujifilm alternative.
7. Amazon's all-new Fire TV 4K Sticks get a big AI boost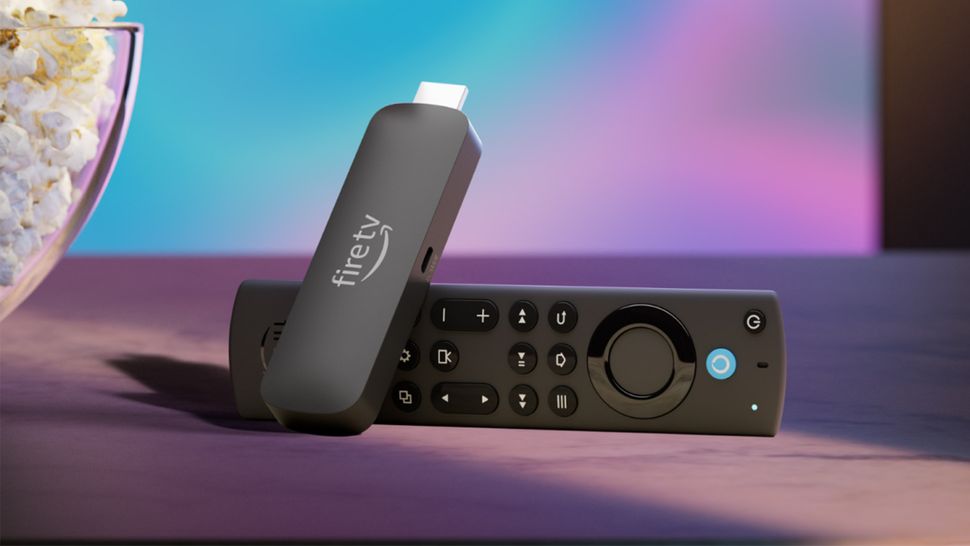 Amazon's September 2023 device event was awash with new devices - we counted 13 - but the arrival of two new better, faster, stronger and smarter streaming sticks caught our eyes.
The upgraded Fire TV Stick 4K ($49.99 / £59.99 / AU$79.99) and second-gen Fire TV Stick 4K Max ($59.99 / £69.99 / AU$119.99) are already available to buy, and both have had some AI-focused upgrades.
Thanks to a new LLM (Large Language Model) for Alexa, you'll be able to access new intuitive features such as an Alexa-assisted search feature called Fire TV AI-powered Search, which will be able to recommend new movies and shows based on your watch history and with the help of IMDb. The idea is that you'll be able to have a more casual conversation with Alexa that will be informed by your personal preferences.
Amazon has also added a new 'Continue Watching' row to the Fire TV interface and a new image generator called 'AI Art', where you can use prompts to make a custom piece of art. There are also plenty of new hardware features, including speedier connections, larger storage capacity and a whole suite of high-quality formats, including Dolby Vision, HDR10+ and Dolby Atmos. Now we just need to decide which one to get.
6. Netflix landed the rights to your next favorite crime thriller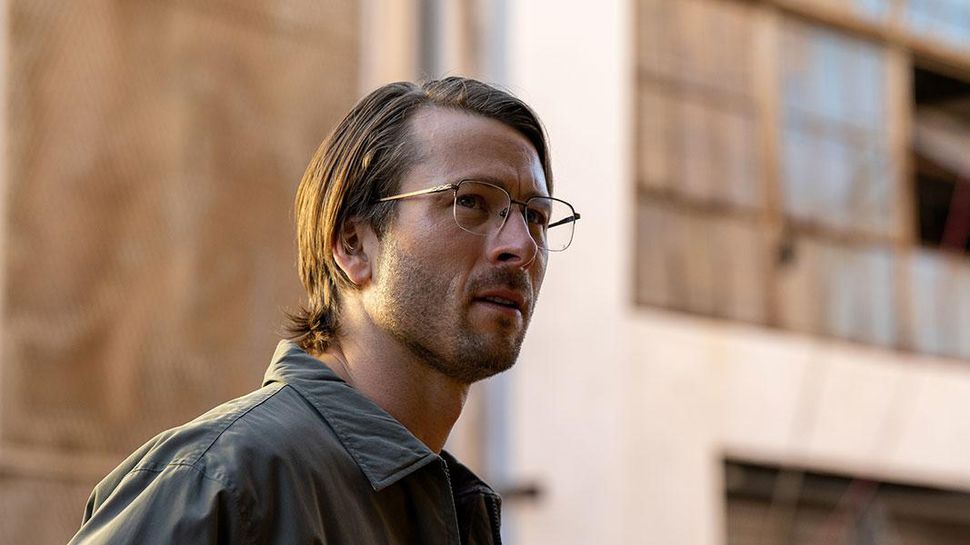 Netflix might be the world's best streaming service, but its movie-based offerings can be extremely hit and miss. For every Extraction 2 or Nimona, there's Your Place or Mine or Murder Mystery 2.
But there's a new kid on the block that might worm its way onto our best Netflix movies list. Hitman, which has been helmed by acclaimed director Richard Linklater and which stars Top Gun: Maverick's Glen Powell, has cemented itself as the streamer's latest big movie. For one, it's a crime thriller, which always makes for a good watch. However, it's also achieved a near-perfect score on review aggregator website Rotten Tomatoes. Not bad going for a film that Netflix stumped up $20 million for – yes, you read that right – to acquire the exclusive rights to beam it onto our TVs.
5. Microsoft launched two new Surface laptops (and teased the Go 4)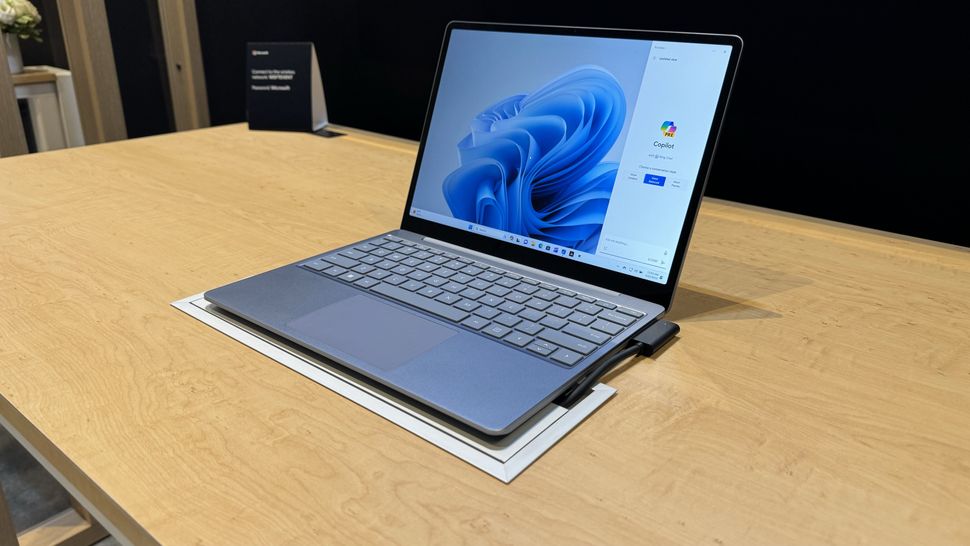 Microsoft was in the news a lot this week, mainly thanks to the huge leak of future Xbox console plans, as well as the high-profile departure of Panos Panay, the charismatic (and yes, maybe a little annoying) face of Windows and Surface devices.
Oh, and it also held an event in New York City, and we were there to see what it had in store. Long story short: there's a heck of a lot of AI (artificial intelligence) coming to Windows 11 next week, as part of the Windows 11 23H2 update on September 26.
We also got to see some new Surface devices - the Surface Laptop Go 3 and Surface Laptop Studio 2. Those weren't the products many of us had been hoping for (hey Microsoft, where's the Surface Pro 10?!), and it feels like Microsoft's enthusiasm for Surface devices has waned a bit with the loss of Panay. That feeling wasn't helped by Microsoft quietly launching a few other Surface products, such as the Surface Go 4, via press releases, rather than onstage at the event.
4. iOS 17 was a huge leap forward for your iPhone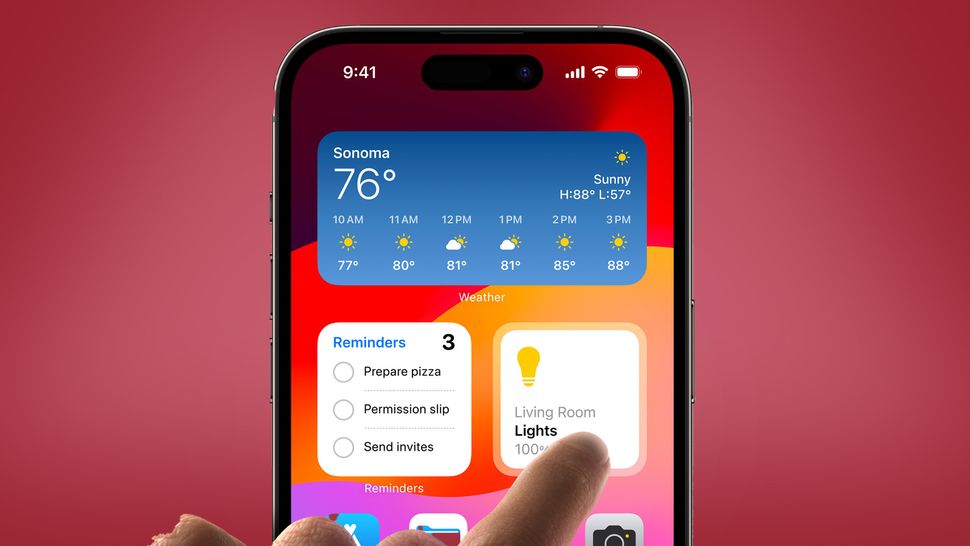 Along with the new iPhone 15, Apple released iOS 17 to iPhone owners this week, and if you have a model that works with the new system, you really should give it a try.
Apple is the best phone maker for software updates, and iOS 17 proves it. It works with iPhones that are up to five years old, back to the iPhone XS, and it gives iPhones a whole new super power. For instance, your iPhone will now recognize another iPhone nearby and start sharing when you bring them together. You can share music, photos, almost anything. There are also important new safety features, and improvements all around. We highly recommend installing the new OS - after all, we described it as "a huge leap forward that will leave your Android friends behind" in our iOS 17 review - so check for the update on your iPhone now.
3. Amazon gave us a glimpse of an AI-powered Alexa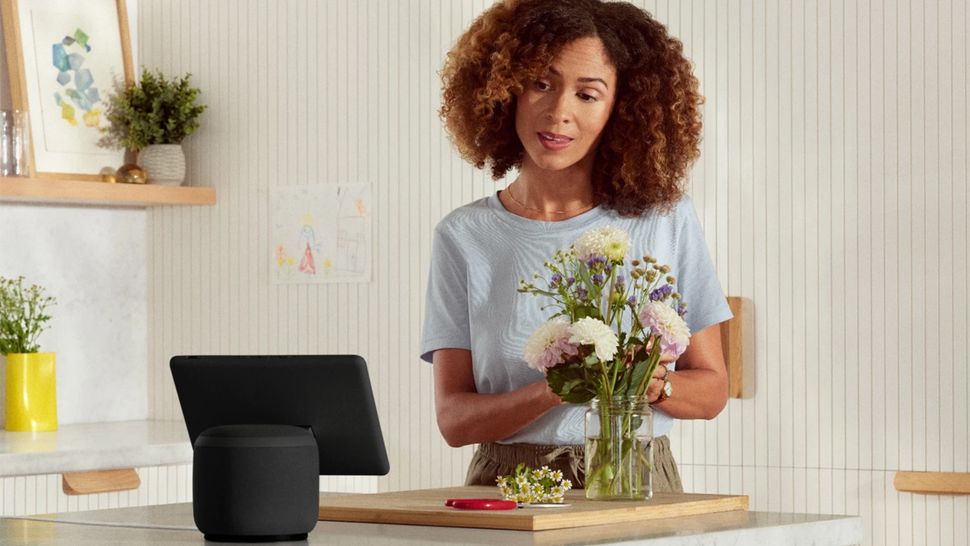 Amazon's Alexa assistant was probably one of the first interactions that many people had with AI - and it's not always been a positive one. Helpful though it can be, Alexa's robotic replies and inability to sometimes get what you're really asking can lead to frustration.
That may be about to change. The headline reveal at Amazon's September 2023 device event was an upgraded Alexa AI, designed to be far more natural than before. Its voice sounds more human, with greater emotion, and it should do a better job of understanding context.
Beyond that, the addition of new accessibility features, extra smart home skills, and even some rudimentary content creation abilities (eg. music production) should all add up to a much more useful smart assistant.
Alexa will also get some new bodies to inhabit, in the form of an Amazon Echo Pop Kids model, 3rd-gen Echo Show 8, an Echo Show 8 Photos Edition (essentially a smart photo frame), and the all-new Echo Hub. The latter is a wall-mounted device for controlling your smart home products, complete with customizable dashboard and support for the likes of Matter and Zigbee.
We don't yet know when the upgraded Alexa will roll out to devices old and new - though it's likely to be in 2024 - but we can't wait to try it.
2. We gave our final verdicts on Apple's iPhone 15 and 15 Pro Max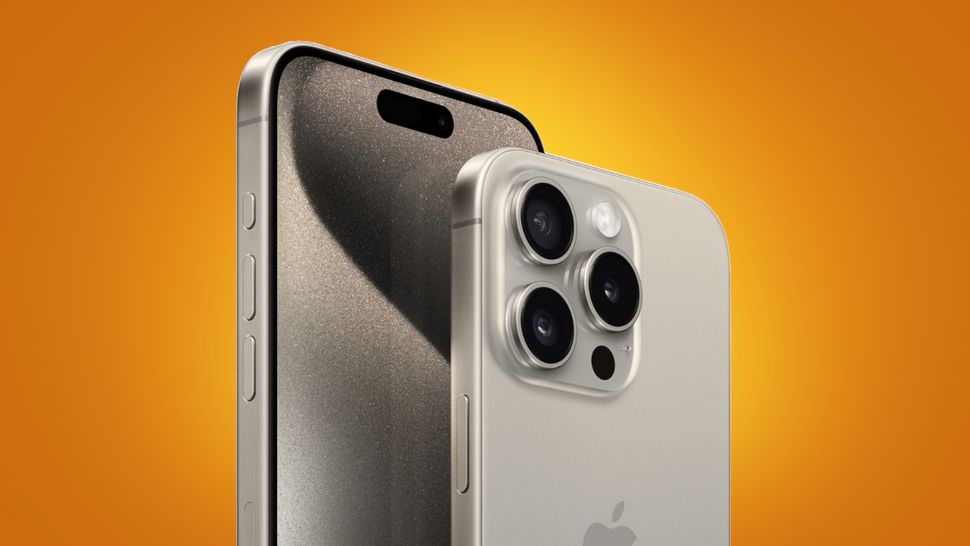 Our US Editor-in-chief Lance Ulanoff has been walking around with the iPhone 15 Pro Max and iPhone 15 for the past week. His verdict?
"I reviewed these two phones that sit at the opposite ends of the iPhone spectrum and must say, there is across this lineup almost something for everyone.
"On the iPhone 15 side, the base model got one of its best upgrades and now shares the brightest screen, Dynamic Island and USB-C port (albeit a slower one) with all the more powerful models. Better yet, it's got a great 48MP main camera and the powerful last-gen A16 Bionic.
"On the other end is the big, titanium iPhone 15 Pro Max. I love the look and feel and I'm especially impressed with the A17 Pro, a mobile CPU that can play the terrifying console game Resident Evil: Village. Of course, this 6.7-inch model also features Apple's best cameras ever. The 5x zoom may not be all I wanted, but it's quite good. In general, photography is excellent.
"These are worthy upgrades for iPhone fans, especially those that have been holding onto their aging iPhone 11, 12, and 13 models."
Want more? Check out our full iPhone 15 review and iPhone 15 Pro Max review.
1. Microsoft Copilot will soon become Windows 11's AI brain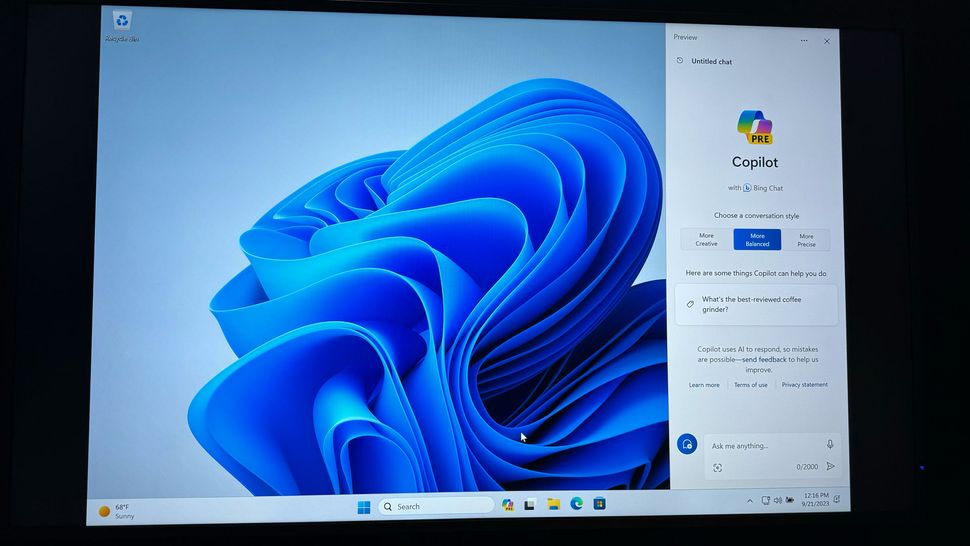 As we mentioned earlier, Microsoft's big event this week focused a lot on AI, primarily in the form of Windows Copilot, which according to our US Editor in Chief, Lance Ulanoff, is like "if Clippy got a brain and body transplant that made it a true genius and then hooked it into the deepest parts of Windows 11."
Lance was at the event, and got a chance to try out Windows Copilot for himself - and was suitably impressed. It integrates seamlessly with Windows 11, offering help and advice, all powered by AI. It helps you write, offer suggestions to spruce up documents, and can give you shopping advice when you're looking to splash some cash. It's certainly an ambitious tool, and it could radically change the way many of us use Windows 11. Thankfully, we don't have long to wait to try it out, as it'll come with a free update next week.
Get daily insight, inspiration and deals in your inbox
Get the hottest deals available in your inbox plus news, reviews, opinion, analysis and more from the TechRadar team.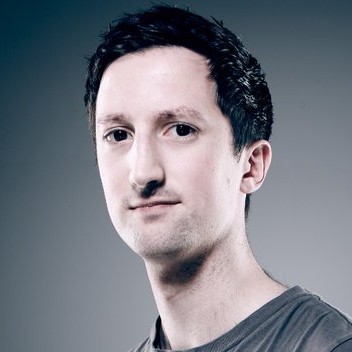 Mark is TechRadar's Senior news editor. Having worked in tech journalism for a ludicrous 17 years, Mark is now attempting to break the world record for the number of camera bags hoarded by one person. He was previously Cameras Editor at Trusted Reviews, Acting editor on Stuff.tv, as well as Features editor and Reviews editor on Stuff magazine. As a freelancer, he's contributed to titles including The Sunday Times, FourFourTwo and Arena. And in a former life, he also won The Daily Telegraph's Young Sportswriter of the Year. But that was before he discovered the strange joys of getting up at 4am for a photo shoot in London's Square Mile.