Google Nexus 7
The Google Nexus 7 (2013) and Amazon Kindle Fire HDX 7 - when you think of budget Android tablets these are the two most likely to spring to mind.
While the HDX 7 has a heavily modified Android interface, the Nexus 7 sports Google's stock KitKat offering. There's no bloatware or over the top skin, it's Android as Google intended.
That means you get access to the full suite of Google apps including Maps, Drive and the Play store - the latter of which has a larger selection of apps than Amazon's offering.
The HDX 7 does benefit from a slightly newer processor and GPU - although in day to day use there's not a huge difference in performance.
Tesco Hudl
The Tesco Hudl is a big rival for the Kindle Fire HDX 7 thanks to its incredibly reasonable £119 price tag.
Unlike the HDX 7 the Hudl runs an almost stock version of Android KitKat, with just a few additional Tesco focussed features bolted on.
The screen doesn't have a full HD resolution, there's less RAM and an inferior GPU under the hood, but considering it's almost half the price of the HDX 7 those are things you can live with.
You'll get better performance and a superior viewing experience with the Kindle Fire HDX 7, but if you don't want to send £200 the 7-inch Hudl is a great option.
iPad Mini 2
If you're in the market for a small size tablet and have cash burning a hole in your pocket you'll want to check out the iPad Mini 2 with Retina display.
It has a larger, 7.9-inch display and a supremely premium metal chassis which elevates it above the Kindle Fire HDX 7 in terms of design.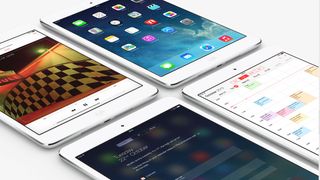 Apple's iOS 7 interface is now well know and the App Store provides far more tablet centric applications than Google Play.
Of course the big sticking point here is the price, and with the iPad Mini 2 starting at £319 it's considerably more than the Amazon Kindle Fire HDX 7.