Apple's new entry-level 27-inch iMac now starts at £1,449 (US$1,799 / AUS$1,699), which is £100 (around US$151, or AUS$205) less than before. That fetches you a 3.2GHz (Turbo Boost to 3.6GHz) quad-core Intel Core i5 processor, 8GB of memory, a 1TB Serial ATA Drive at 7200 rpm and AMD Radeon R9 M380 graphics. Add another £100 for the mid-range config with a larger 1TB Fusion Drive and AMD Radeon R9 M390 graphics.
For £1,849 (US$2,299, or AUS$3,599), the top-end config ups the CPU's maximum clock speed to 3.9GHz, doubles the size of the Fusion Drive to 2TB and includes an AMD Radeon R9 M395 for discrete graphics. It's also the configuration we take a look at in this review.
Specifications
Processor: 3.3Ghz Intel Quad-Core Intel Core i5 processor (Turbo Boost up to 3.9GHz)
Operating System: OS X 10.10.3 Yosemite
Memory: 8GB of 1600MHz DDR3
Display: 27-inch (diagonal) Retina IPS display (5,120 x 2,880)
Graphics: AMD Radeon R9 M395 with 2GB of DDR5 memory
Dimensions: 51.6cm x 65cm x 20.3cm (H x W x D)
Weight: 9.54kg (21 pounds)
The specifications on offer certainly suggest a capable machine with plenty of grunt, but the lack of an Intel Core i7 processor and 16GB of RAM in the high-end configuration is disappointing considering the cost. Upgrading to an Intel Quad-Core i7 processor with a maximum clock speed of 4.2GHz sets you back another £200 (US$250 / AUS$400), in addition to another £160 (US$200 / AUS$320) to double the default 8GB of RAM, bringing the total to a hefty £2,209 (US$2,749 / AUS$4,319).
Apple chucks in a decent set of accessories whichever configuration you go for. Its redesigned Magic Keyboard features shallow (but not too shallow) keys and is now rechargable, as is the new Magic Mouse and redesigned Magic Trackpad, which lets you use OS X 10.11 El Capitan's swipe gestures.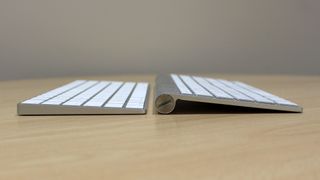 Performance and benchmarks
Though not miles ahead, the iMac's Skylake processor is faster than the Haswell chip in the 2014 5K iMac, which also featured an Intel Core i5 processor with a maximum clock speed of 3.9GHz.
The Quad-Core Core i5 Skylake chip in this year's iMac came out just 3.8% faster in Xbench's CPU test and 10% faster in Cinebench's Multi Core test.
Benchmarks
Xbench: Overall: 646; CPU: 406.33
Cinebench R15 Single Core: 164cb; Multi Core: 596cb; Open GL: 94.47 fps
Unigine Heaven 4.0 Medium quality (2,560 x 1x440): Score: 757
Unigine Heaven 4.0: Ultra quality (2,560 x 1,440): Score: 483
NovaBench: Score 1030; Graphics: 192
Batman: Arkham City (High, 5,120 x 2,880: Minimum: 15fps; Maximum: 34fps; Average: 24.5fps
Batman: Arkham City (High, 2,560 x 1,440): Minimum: 36fps; Maximum: 98fps; Average: 67fps
Tomb Raider (5,120 x 2,880): Minimum: 18fps; Maximum: 32fps; Average: 32fps
Tomb Raider (2,560 x 1,440): Minimum: 51fps; Maximum: 82fps; Average: 66.5fps
Skylake represents only a modest boost in terms of processing power over Haswell, which is backed up by the numbers above, so it's not worth upgrading from last year's 5K iMac on that basis alone. Skylake does offer the benefit of supporting faster LPDDR4 memory, but Apple has once again gone with LPDDR3, meaning you'd have to add to the cost by splashing out on faster RAM for its associated benefits. Up to 64GB can be installed on Apple's machine.
The iMac feels plenty powerful under every day use, capable of handling multiple browsers running 20+ tabs each, playing YouTube video and running more than 15 apps simultaneously. One of its biggest benefits over 4K (and lower resolution monitors) is that the iMac's 5K resolution lets you edit 4K video in Final Cut Pro with the timeline in full view at 100%, which causes no slowdown on the iMac.
Gaming, on the other hand, remains underwhelming. The new AMD Radeon R9 M395 was found to be just under 10% faster than the 2014 5K iMac's Radeon R9 M390 in Novabench's graphics test. The difference will bag you a few frames or more, depending on the game's reliance on the GPU, but the limiting 2GB of video memory in AMD's mobile graphics chip is too low to produce smooth frame rates when running titles at the iMac's native 5,120 x 2,880 pixel resolution. Lowering the res down to 2,560 x 1,440 finds the sweet spot between performance and graphical quality.