Design
Premium, all-glass design using Gorilla Glass 5
Alert slider has switched sides
Improved water resistance and headphone jack retained
The first thing you notice when you pick up the OnePlus 6 is that it feels different to previous flagships from the firm, as it boasts a glass front and back rather than the all-metal unibody that's been in place since the OnePlus 3.
It's Gorilla Glass 5 front and back, with the toughened protection hopefully meaning it won't easily smash – but there's no getting away from the fact that metal doesn't smash. For those who are more accident-prone the good news is that OnePlus provides a transparent silicon cover in the box if you feel the handset needs a little extra protection and grip.
This isn't the first time OnePlus has utilized a glass body on a device, with the OnePlus X also having the premium finish, but this is the firm's first 'flagship' handset to get the treatment.
OnePlus claims it's improved the water resistance on the OnePlus 6 over its predecessors, but the phone doesn't carry an IP rating to guarantee its survival when fully submerged in water.
Image 1 of 11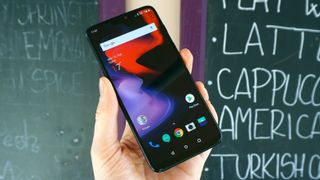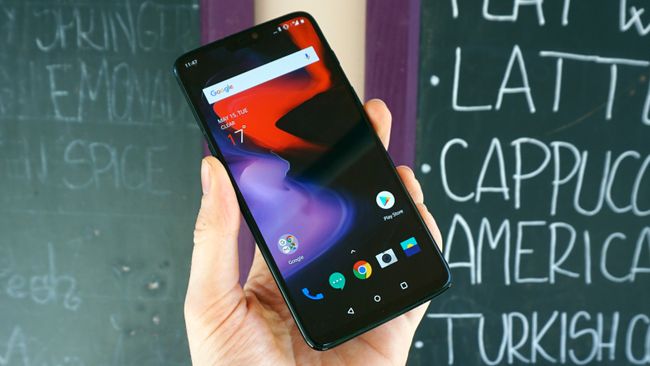 Image 2 of 11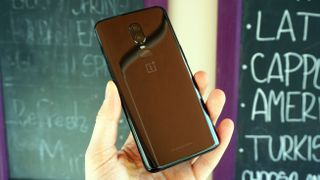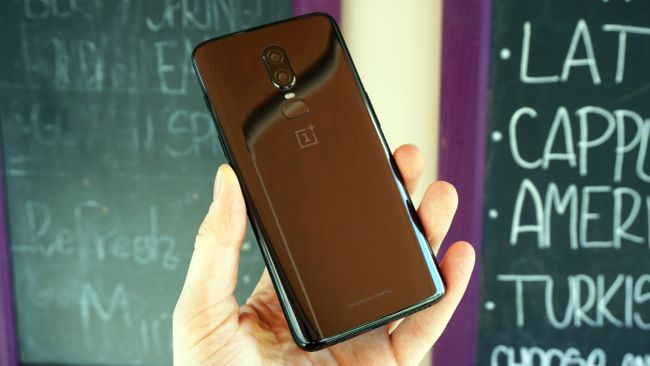 Image 3 of 11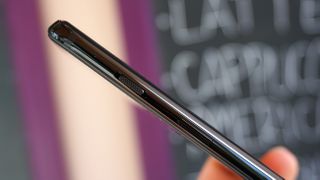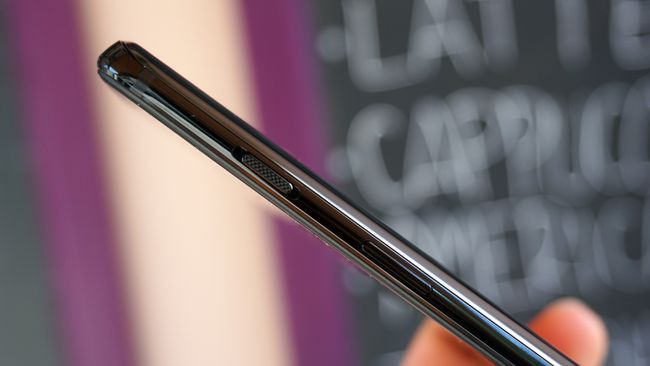 Image 4 of 11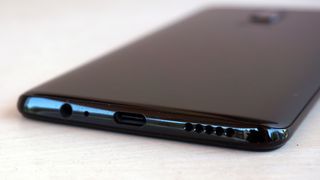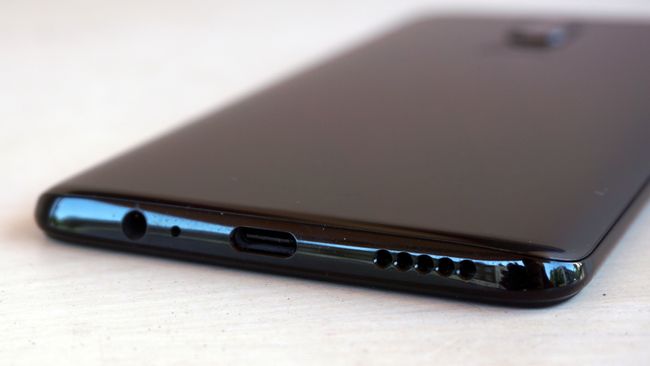 Image 5 of 11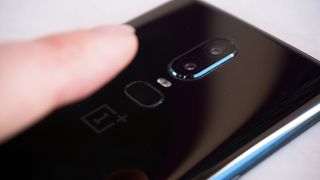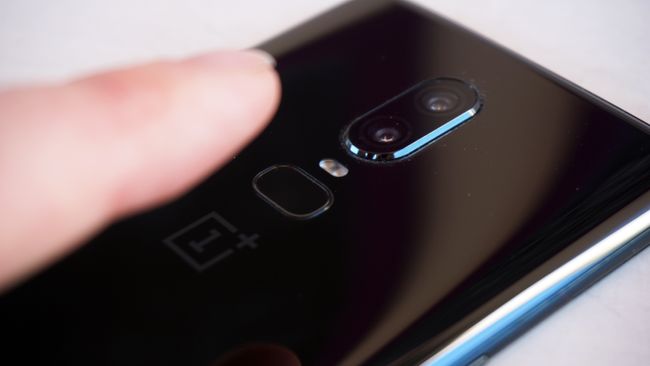 Image 6 of 11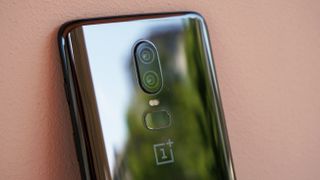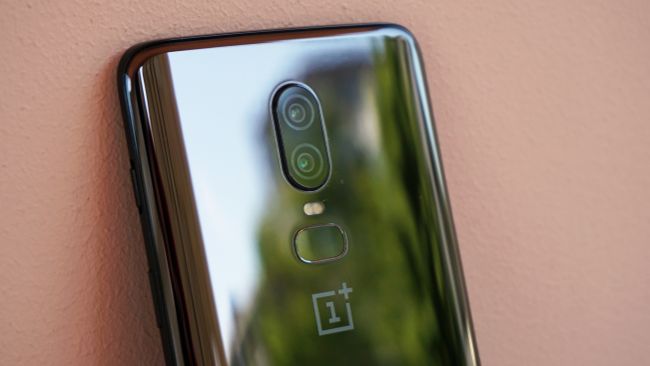 Image 7 of 11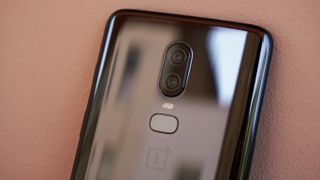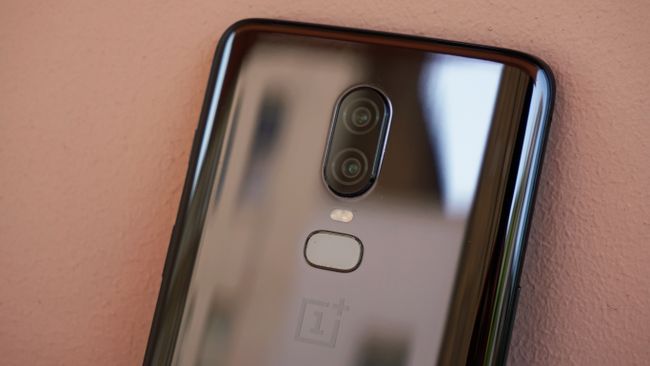 Image 8 of 11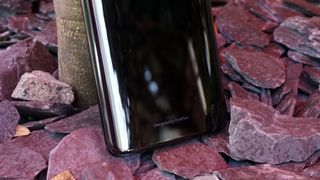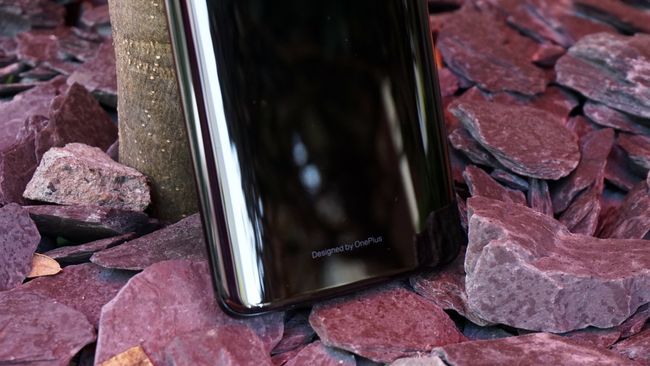 Image 9 of 11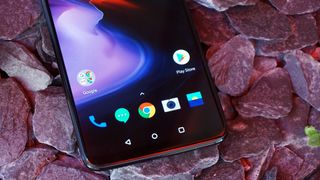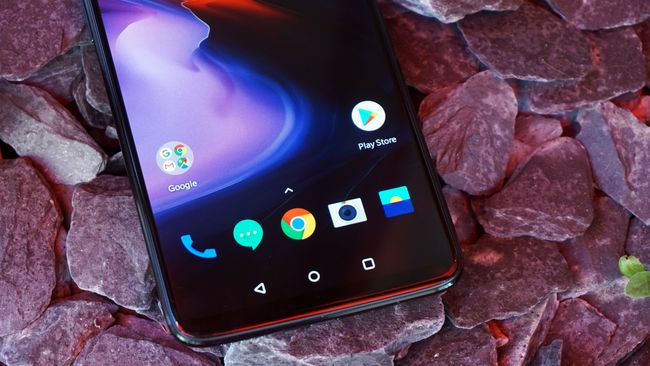 Image 10 of 11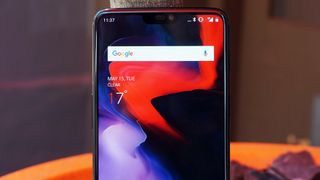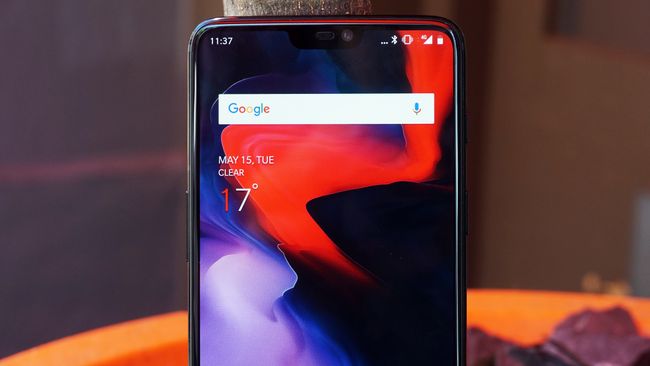 Image 11 of 11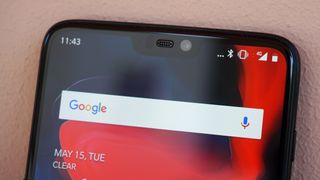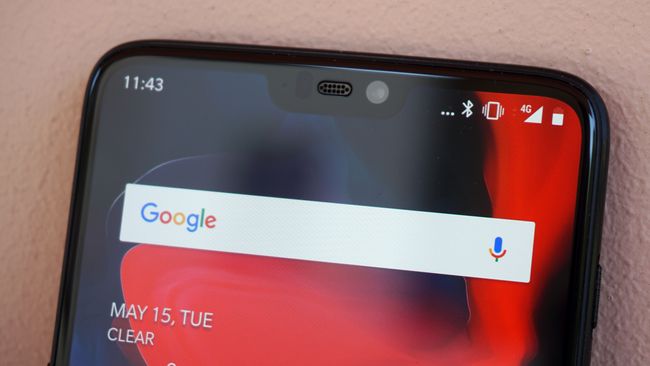 Rather, OnePlus says it's provided everyday, real-world protection for more likely scenarios, such as being caught in a rain shower or accidently dropping your phone into water and quickly pulling it out. Submerge this phone at your own risk.
At 155.7 x 75.4 x 7.75mm the OnePlus 6 is pretty much the same size as the 5T; it's a touch thicker and wider, but not quite as tall, which is impressive considering the increase in screen size here.
At 177g it's also heavier than the 5T, which tipped the scales at 163g. Holding the two phones in either hand the OnePlus 6 does feel slightly weightier, but there's not much in it.
The power/lock key sits in an easy-to-hit location on the right of the handset, and above it you'll find OnePlus' popular alert slider, allowing you to easily switch between silent, vibrate and loud modes.
This has traditionally been on the left of the handset, but OnePlus has decided to switch it with the dual SIM tray on the 6 after feedback from its community about the slider being difficult to access when using flip-style covers.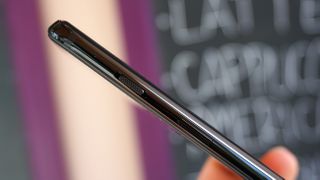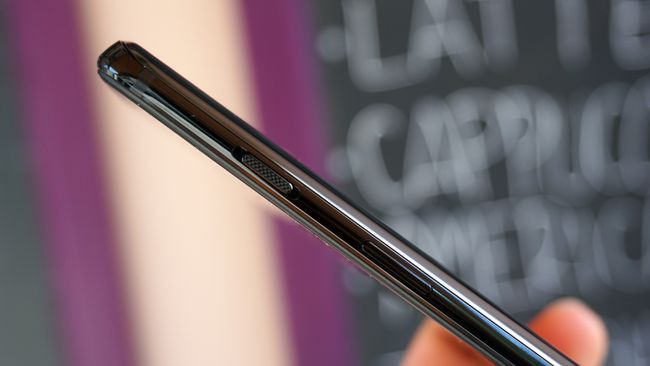 The SIM tray has space for two nanoSIMs, and both slots allow for a 4G connection, which means you can benefit from maximum data speeds on two separate networks. This is especially useful for those who travel a lot, allowing you to keep your personal SIM active while taking advantage of a local SIM from the country you're visiting, with lower data rates.
On the rear you'll find the fingerprint scanner below the protruding dual-camera stack; however you'll notice that the scanner has been reduced in size.
Rather than a circle, OnePlus has opted for a smaller, oval-shaped scanner here. We're told there are a few reasons for this, but the one OnePlus was willing to tell us was that someone on the team remarked that having a circle below the camera bump created the appearance of an exclamation mark.
OnePlus maintains that its fingerprint scanner can unlock the 6 in 0.2 seconds, and it's certainly rapid, but it's not the only biometric tech in play here.
The OnePlus 6 also comes with face unlock, which OnePlus says can recognize and unlock your phone in 0.4 seconds. We can confirm that it is impressively fast, and doesn't require you to look directly at the phone, which makes it a much more usable and useful feature.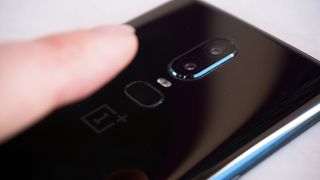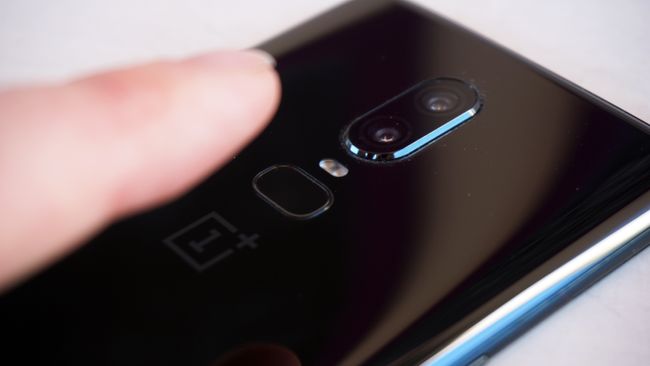 Face unlock on the OnePlus 6 does need to see your eyes to work though, so if you're wearing sunglasses it won't work. Similarly, if you're in a dark situation it'll also struggle, although you can head into the settings and select assistive lighting, which lights the screen up to illuminate your face.
In low-light situations, such as a dingy bar or on a street at night, the OnePlus 6 can still identify your face and let you in.
There's good news on the base of the handset too, as OnePlus has kept the headphone jack, allowing you to plug in your 3.5mm accessories without the need for an adapter.
There's also a single down-firing speaker, which is a little disappointing as it can be easily covered by your hand when the phone is held in landscape orientation, and you don't get the stereo benefit of a two-speaker setup.
Something else that's new for the OnePlus 6 is the choice of colors, with three options available at launch – that's a break from tradition, as in the past OnePlus has launched with just a single color and introduced additional hues later.
Two months after launch OnePlus introduced a fourth color as well, with Red being added to the line up. However, which colors are on offer will depend on which RAM/storage configuration you go for.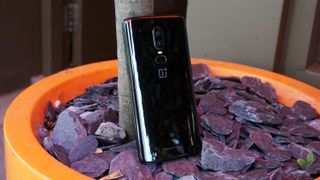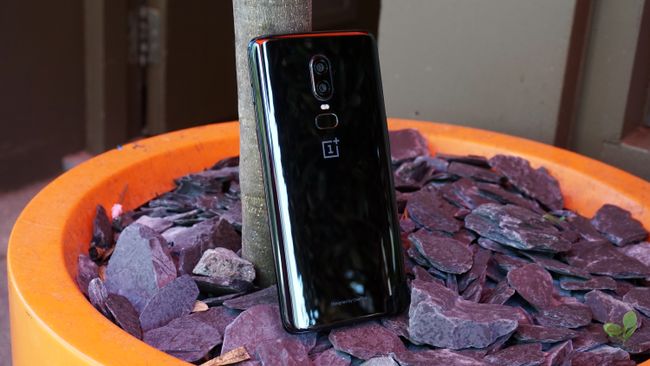 The Mirror Black model, which is the color we've reviewed here, boasts a highly-polished, highly-reflective glass rear which is real fingerprint-magnet, and it's the only color the entry-level 6GB RAM/64GB storage option is available in.
The Midnight Black OnePlus 6 has a more matte finish, thanks to the layer below the glass being perforated with thousands of holes to create a deep sheen. This is the only color option for the top-end 8GB/256GB configuration.
The 8GB/128GB version of the phone is available in both black finishes, and also in two further color options; Silk White and Red. The Silk White OnePlus 6 has a different finish again to the Gorilla Glass 5 on the rear, thanks to a layer of 'powdered pearl' beneath, giving it a more ceramic look and feel.
Meanwhile the limited edition OnePlus 6 Red is similar to the Mirror Black variant, only less reflective and less of a fingerprint magnet. It also features silver highlights around the fingerprint scanner and camera bulge on the rear. It's our favorite red-colored smartphone to date.