Verdict
The D750 is a great DSLR camera. Its AF system is fast and effective, its Matrix metering system is very capable delivering correct exposure in a wide range of situations and it produces images that have natural, yet vibrant colours.
Although it cannot offer the class-leading detail resolution of the D810, the D750 is more than a match for the D610 in this respect. It captures an impressive level of sharp detail and noise is controlled well – though not always as well as its main rivals.
It's also good to see the introduction of a tilting screen on a full-frame camera – it's a shame it's not fully articulating, but it's a move in the right direction and on a weatherproof system.
It has the majority of the features that an enthusiast would want, along with a few modern niceties like Wi-Fi connectivity. There are a few inclusions that seem more aimed at less experienced photographers that could perhaps have been better thought out for the enthusiast, but all the essentials that an enthusiast want are there and based upon proven systems.
Competition
Image 1 of 3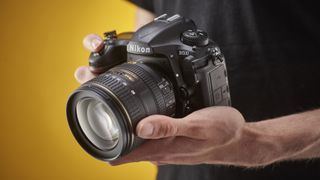 Nikon D500
Actually costing more than its full-frame stablemate, the D500 is Nikon's flagship APS-C DX-format DSLR. With a 20.9MP sensor that has an ISO limit of 1,640,000 and can shoot 200 raw files at 10fps, the D500 is a real speed machine. That's not forgetting the class-leading 153-point AF system. A stunning camera, but not for everyone.
Read our in-depth Nikon D500 review
Image 2 of 3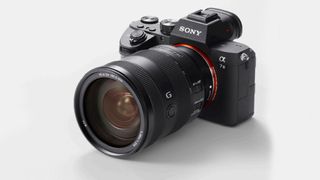 Sony Alpha A7 III
With a 24MP full-frame sensor, this compact mirrorless camera is more than a match for the D750 here. This third-generation model benefits from a number of improvements, including 10fps shooting and an advanced 693-point AF system. If you're not locked into a system, this is a brilliant choice.
Read our in-depth Sony Alpha A7 III review
Image 3 of 3
Canon EOS 6D Mark II
With the full-frame EOS 6D Mark II Canon has certainly made some significant improvements over the ageing EOS 6D, packing in a host of new features, but it's not without its issues. It will certainly please Canon users looking to make the move into full-frame photography, but others might be better served elsewhere.
Read our in-depth Canon EOS 6D Mark II review