Verdict
Misfit is trying to do something different in the wearable space, and that's appreciated when many devices look the same.
If you're fashion conscious, the Shine 2 may be the best step tracker for you, but it won't be able to do as much as a lot of the competition out there.
Who's this for?
The Misfit Shine 2 is for anyone who wants a basic fitness tracker but doesn't want a traditional Fitbit-like device on their wrist.
If you're looking for something a little more stylish, that you won't be nervous about wearing while dressed up for the evening, the Misfit Shine 2 will be the perfect thing for you.
Essentially it's for anyone who wants to be able to track their steps, but also wants a device that will make people stop and look. We lost count of the amount of times we were approached by people we knew who wanted to know what was on our wrist.
The Misfit Shine 2 isn't for everyone, but you certainly can't fault it for being unique.
Should you buy it?
That depends on what you need from a fitness tracker. The Shine 2 won't be able to track your runs or exercise as well as a tailor-made device.
It's priced similarly to a Fitbit Charge 2, so if you'll want to do a lot of working out we'd recommend that device over the Shine 2.
But if you're looking for something a little different, or a step tracker that looks better than the average Fitbit, go for the Shine 2.
Or look at other products from Misfit, as the company is trying to do something new in a space that is currently very tired, with manufacturers retreading the same designs time and time again.
Competition
Before you buy a Misfit Shine 2, you should know what else is on the market. Below are three other options that you could buy instead of the Shine 2, or check out our best fitness tracker round-up.
Misfit Ray
Like the idea of Misfit? The Ray is one of the latest devices from the company and offers similar features to the Shine 2 but in a different package.
The Ray is a cylinder, which is something we've never seen before in a fitness tracker. It will protrude quite a bit from your wrist, but it comes with all the same tracking features as the Shine 2.
You can also wear this in various different positions. Misfit even recommend wearing this around your neck as a necklace instead of on your wrist.
Read the review: Misfit Ray
Fitbit Charge 2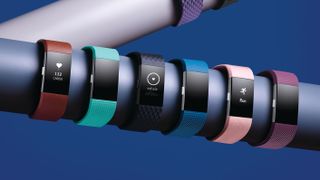 After something that can offer more specific fitness features? The number one device that's in a similar price bracket as the Shine 2 is the latest from Fitbit – the Charge 2.
Fitbit's Charge 2 comes with a lot more fitness features built into it, such as heart rate monitoring, and you also get a screen on the tracker, which can be useful for when you're looking for your stats.
It means you won't have to take your phone out of your pocket to see how well your run is going, or if you're near your target for steps.
The Charge 2 has a traditional fitness tracker design, so you're unlikely to have anyone stop you in a bar and ask you what you're wearing.
Read the review: Fitbit Charge 2
Fossil Q Founder
Now for something completely different.
Misfit's parent company Fossil is now making smartwatches, and you may like to take a look at the Fossil Q Founder for your next wrist-worn companion.
Being a smartwatch this is a different ball game to the Shine 2, meaning you will have to spend quite a bit extra to get it, but it's stylish and feature-packed.
Read the review: Fossil Q Founder
First reviewed: December 2016