Benchmarks
Here's how the Asus Transformer Mini T102HA performed in our suite of benchmark tests:
3DMark: Sky Diver: 949; Fire Strike: 232; Cloud Gate: 1,729
Cinebench CPU: 96cb points; Graphics: 11.60 fps
GeekBench 3 Single-Core: 922; Multi-core: 2,343
PCMark 8 Home Test: 1,308 points
PCMark 8 Battery Life: 7 hours and 16 minutes
Battery Life (TechRadar movie test): 12 hours and 38 minutes
The specifications are where the Asus Transformer Mini T102HA falls short, with a pretty lacklustre spec sheet that could leave the tablet feeling slow and outdated in a year or so.
The Intel Atom x5-Z8350 processor is a quad-core chip clocked at 1.44GHz and built for power efficiency in mobile devices. This means you're not getting the processing power of the desktop Intel Core range (or the mobile Core M range), but you are getting better battery life as a trade-off.
If you want to use the Asus Transformer Mini T102HA for light work, such as typing up a report in Word or browsing the internet, and you require a long battery life, then Asus' choice of the Intel Atom x5-Z8350 CPU should suit you fine.
The processor is also slightly more powerful than other mobile processors and SoCs (system on chips) made by ARM, and is roughly comparable to a Qualcomm Snapdragon 801. That's a very decent processor for powering a smartphone, and even a budget Android tablet, but it would struggle with many Windows 10 programs.
The Intel Atom x5-Z8350 was introduced in 2016 as part of Intel's Cherry Trail platform, and uses a 14 nanometer low-power process, making it more efficient that previous Atom CPUs, and with a better handling of the CPU Burst mode, which gives you a power boost when you're performing CPU-intensive tasks.
The processor also comes with integrated graphics for displaying programs, games and media on the screen. This chip uses Intel Gen8 architecture, which supports DirectX 11.2 graphics technology – but don't expect to play any but the most basic of games on this machine.
At least the 1280 x 800 display won't strain the graphics too hard. This rather low resolution may be a disappointment to some people, but it helps keep battery life in check, and Windows 10 doesn't look too bad scaled to that resolution.
Much better news is the inclusion of 801.11ac wireless network connectivity – currently the most recent and fastest wireless network technology available, so if you have a compatible router (most modern routers will be fine) you can enjoy faster connection speeds and wider network coverage.
Apart from that, you'll need to keep your expectations in check with regard to what tasks you want to perform on the Asus Transformer Mini T102HA considering the specs.
Performance
So how does the Asus Transformer Mini T102HA actually perform? As we mentioned earlier, to avoid disappointment you're going to have to keep your expectations in check. On paper the Asus Transformer Mini T102HA is far from a powerful or premium device, and in practice it proves that, with a sometimes frustrating experience.
The lack of power is evident when using Windows 10, with the Start menu and various windows having a slight delay when opening. This isn't the end of the world, but it means you're not quite getting the slick experience you get with some other Windows 10 2-in-1 devices.
The fact that you have the full version of Windows 10 installed, and it's mainly usable, is pretty impressive, and it means the Asus Transformer Mini T102HA should be more flexible compared to Android and iOS tablets, which use pared-down apps rather than full desktop programs. However, the reality is that due to the low power of the Asus Transformer Mini T102HA you're not going to be installing and using particularly intensive programs or games – so rule out sticking Photoshop or Gears of War on here.
Of course, you won't be buying the Asus Transformer Mini T102HA for those types of tasks, and if you stick to simple word processing and similar you should be alright. Browsing the web on the Asus Transformer Mini T102HA is an okay experience, although there was still a delay when switching between web pages using the default Edge browser.
Despite the 802.11ac wireless technology, we also found that websites loaded slowly, and large downloads proved quite a struggle, even though we were connected to a very fast internet connection.
Typing on the keyboard cover was generally pretty good, and although the keys don't have much travel (and had an overall 'flat' feel to them), you can still type quickly and comfortably – especially compared to on-screen keyboards. While writing on the Asus Transformer Mini T102HA for a whole day may prove a bit of a strain, it certainly holds up for quickly bashing out a couple of hundred words when inspiration (or deadlines) strike.
The Asus Transformer Mini T102HA's touchpad was less successful, however, often registering light brushes of the palm and flinging the mouse cursor to the other side of the screen. This inaccuracy, combined with the slow response times of the operating system and the programs you run on it, quickly became rather annoying.
Speaking of the screen, despite the low resolution, Windows 10 still looks very nice on it, and any higher resolution on the 10-inch screen could actually make using the Asus Transformer Mini T102HA more uncomfortable. Watching a full 1080p video on the lower resolution produced fine results – colors were vibrant, and movement was displayed without artefacts or stutters.
Battery life was fine when using the Mini T102HA for day-to-day tasks, and as we mentioned the power-efficient specifications and lower screen resolution help keep it chugging along for most of the day. That's just as well, as charging the device using the micro USB port takes quite a while.
So, as long as you're just looking for a portable device for writing on, or browsing the web, the Asus Transformer Mini T102HA isn't too bad. However, if you want something that runs more advanced programs, or just offers a smoother and faster experience, we'd recommend avoiding this machine.
Benchmarks
As our benchmark results show, the Asus Transformer Mini T102HA is severely underpowered when it comes to graphics performance. Not only does this rule out games (not that you'd be buying the Asus Transformer Mini T102HA for that anyway), but also graphics-intensive programs such as photo and video editing.
The results fall well below other competitors, such as the Dell Inspiron 13 7000 2-in-1, which has 3DMark scores of 5618 for the Cloud Gate graphics test, compared to 1729 for the Asus.
It also only managed 11.60fps (frames per second) in the Cinebench GPU test – which is low enough to make any graphically-rich game unplayable. The Dell, on the other hand, scored a more respectable 43.7fps in the same test.
The price difference between the Asus Transformer Mini T102HA and the Dell Inspiron 13 7000 2-in-1 is around £200 ($249, AU$320), which is a fair amount, but if you're relying on the Asus Transformer Mini T102HA every day you may regret not spending the extra cash to get better performance.
However, it seems like there's been a conscious decision to keep the specs of the Asus Transformer Mini T102HA low in order to boost battery life, and our benchmarks (as well as our real-world tests) show that this compromise has worked. During the PCMark 8 Battery Life benchmark test, which simulates regular use of the tablet, including creating documents, editing photos and browsing the web, the Asus Transformer Mini T102HA lasted 7 hours and 16 minutes, which is pretty good, and means you can easily do a whole work day's work on the device using just its battery.
We also ran our own battery life test, which involves playing a looped 1080p video file. The Asus Trans-former Mini T102HA lasted a very impressive 12 hours and 38 minutes during this test, which goes to show how the lower resolution screen can help prolong battery life. If you're going on a long trip and want to fill the Asus Transformer Mini T102HA with films to pass the time, you'll be pretty impressed with how long it lasts.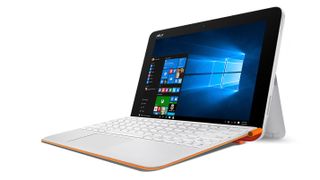 We liked
The fact that the Asus Transformer Mini T102HA comes with a cover that doubles as a keyboard is definitely a plus, considering that many of its competitors leave this out, and instead charge you a fairly hefty amount to buy one separately. The keyboard itself is fine, and the build quality of the tablet is decent, and it's small and light enough to easily carry around.
Meanwhile, the full-size USB 3.0 port offers flexibility, and the battery life is also very good, especially when watching movies.
We disliked
Performance is a big issue here. There's very little you can do on the Asus Transformer Mini T102HA that feels quick and snappy. Everything just seems to lag – which is a price you pay for budget components and good battery life. The trackpad on the keyboard cover is also too small and inaccurate.
Final verdict
As we've mentioned a few times throughout this review, how you feel about the Asus Transformer Mini T102HA will depend on your expectations. If you're after a simple, easy-to-carry tablet that can quickly turn into a Windows 10 laptop when you want to create a few documents, write some emails and browse the internet, then you may very well be pleased with your purchase.
If, however, you have loftier ambitions for the device, such as editing photographs, using more complex programs or playing the odd game, then you're likely to be disappointed, as the limited specifications of the Asus Transformer Mini T102HA severely hobble the performance of this device.
As both our benchmark and real-world tests show, the Asus Transformer Mini T102HA struggles with more intensive tasks – if you want a machine that can handle such tasks then you should look at spending a little bit extra on a Microsoft Surface Pro 4 (or even a Pro 3) device – the results will be worth it.