The Apple Watch 3 was the best smartwatch on the market at launch. That was in terms of out-and-out functionality and raw power, the sheer amount of things you can do with it.
Since then we've preferred the Apple Watch 4 and Samsung Galaxy Watch, but the Apple Watch 3 is still worth considering as it's now cheaper and it still works really well.
There are the inherent drawbacks, with the the fact that you're locked to the iOS ecosystem the biggest for some people. But these are precisely the things Apple has designed the Watch for, so it depends whether you're on board with that ethos.
There's a lot to love on this watch, even if a lot of those things are the same things we enjoyed on previous devices. We're getting used to the square design after a couple of years (and it does allow more screen to be seen), with the curved sides melding nicely with the OLED screen.
The display is clear and bright, and with WatchOS 4 Apple really cracked smartwatch interaction. Well, perhaps that's overstating things a touch – the method of navigating apps is still a fumbly nightmare at times – but the use of the power button to jump between apps is a real boon.
The fitness side of things has also been improved once again, with support for more workouts.
Apple has made a big deal about users being able to track High Intensity Interval Training on this device, and while we can't see a huge amount of difference between this and just monitoring exercise generally, it's good that we can label the workout so it's easier to recognize when browsing through our history.
The greatest strength of the Apple Watch is the fact it's getting better at nudging and prodding you to get a little bit more active during the day, learning your habits to let you know if you're going to fall behind your goals.
It's more nuanced than ever at this, and one of the things we're looking forward to checking out further is the nudges it gives you to get exercising more – once you've worn the Watch for a month or two it'll nudge you to try and beat your monthly activity to help push you forward.
Humans need positive feedback sometimes – it's time for our wrist-based robotic overlords to step up.
Who's it for?
You'll have noticed that we've been talking a lot about the Apple Watch in general here – many of the things we like about the Apple Watch 3 are down to the upgraded software, rather than anything specific hardware-wise.
The improved power inside is supposed to have made the new Apple Watch snappier, and while we had few issues with the speed there didn't seem to be anything particularly magnificent about it.
Siri being able to speak out loud didn't really impress that much – there aren't a lot of times when you want to talk to your wrist and have it speak back to you, as you can either read the screen, or you're out in public.
The Apple Watch 3 is best for the fitness enthusiast, that's for sure. The longer battery life, improved screen and GPS / water-resistant capabilities are all perfect for the person who needs a workout companion, where the original and cheaper Apple Watch lacks in all these areas.
However, said fitness fan has to not want to do advanced things with their fitness stats, as the Apple Watch still has all its data locked down.
You can use other apps – Swim.com and Strava, for instance – but these are basic at best and we constantly felt that someone who really took their workouts seriously would be frustrated with the lack of data freedom with the Apple Watch 3.
So the new Apple Watch is for the person who's comfortable working out, and who likes to keep track of what they're doing but doesn't have aspirations to really push things further.
However, for the intermediate fitness fan, the Apple Watch 3 does it all - heart rate, music playback (and streaming) and GPS tracking in one neat, attractive package.
Should I buy it?
Now, here's where the buying advice gets tricky. We've not spoken about LTE connectivity until now, as that's the biggest choice you'll need to make if you're thinking of picking up the new Apple Watch.
The cellular connectivity is, well, fine. Yes, you can make a call on a run or on a lake without your phone present; and yes, you can get updates when you've left your phone in the car or at work or listen to music.
But we really didn't find the calling ability when working out that useful, nor were there many times when we were without a phone.
It felt very much like a luxury feature, not something that was necessary. It almost became something to be sad about, another time that was previously a period of blissful, relaxed disconnection now tethered back to the real world.
And then there's the price: the LTE-connected Apple Watch 3 is a lot more expensive than the non-connected version, and you need to pay extra on top to have your data fed to another device by your provider.
With that in mind, we'd fully recommend the non-LTE Apple Watch 3 as the smartwatch of choice, and that's the one we're giving the score to - knock half a star off for the more expensive version.
We really doubt you'll miss LTE connections and you're saving a decent chunk of cash – plus you still get the battery life, power, screen and fitness abilities that you don't get on the original and cheaper Apple Watch.
It's a smart move from Apple to remove the Watch 2 from sale, as otherwise we'd have a very hard time recommending this upgrade.
So if you want the best smartwatch on the market, go for the Apple Watch 3 – but only get LTE if you want to leave your phone at home when working out but really feel the need to stay connected.
First reviewed: September 2017
The competition
Don't think the Apple Watch 3 is for you? Here are three devices we've tried that are similar and may take your fancy.
Samsung Galaxy Watch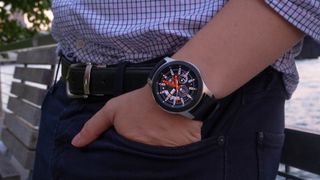 After something a little bit different to the Apple Watch? For a similar amount of money, you can get the top-end Galaxy Watch from Samsung.
This is a round smartwatch that will work with your iPhone, and it has a rotating bezel to allow you to quickly move around the user interface.
It doesn't integrate as perfectly with the iPhone as an Apple Watch, but it looks fantastic and offers almost all of the same features as Apple's own devices do.
Read the full Samsung Galaxy Watch review
Apple Watch 4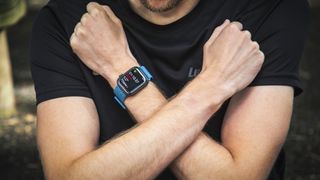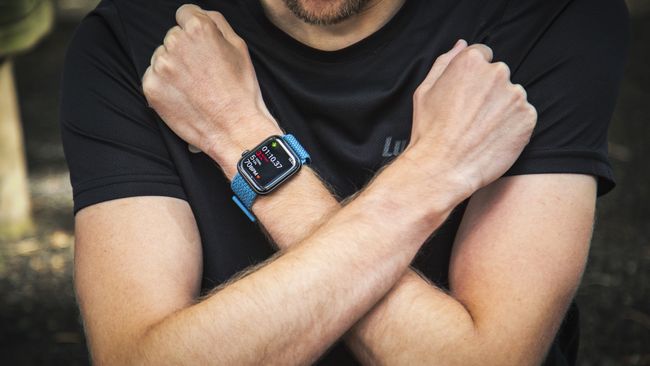 We've mentioned it a lot in our updated Apple Watch 3 review, but if you're after the best smartwatch the company has ever created you'll want to opt for the newer and more expensive Apple Watch 4.
The company has included a bigger screen on both variants of the Apple Watch 4, there's still LTE connectivity if you want it and there are new features such as an ECG monitor.
The design is the highlight here though and while the Apple Watch 3 is still an attractive timepiece, we much prefer the design of the newer watch and it's worth considering if you're after the very best from Apple.
Read the full Apple Watch 4 review
Fitbit Versa
Image 1 of 5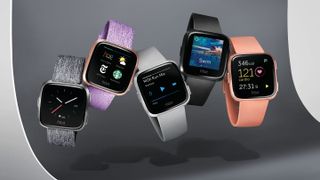 Image 2 of 5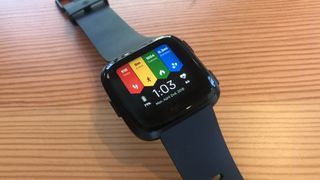 Image 3 of 5
Image 4 of 5
Image 5 of 5
Fitbit's latest smartwatch is here and it's called the Fitbit Versa. It's a touch smaller than the Fitbit Ionic that launched around the same time as the Apple Watch 3, but we prefer this newer one as it's a touch smaller and cheaper than Apple's wearable.
This won't feel as premium on your wrist, but if you want a fitness focused watch this could suit as it comes with tracking for activities like swimming, running and a variety of other exercises.
There's no GPS or LTE here, so it doesn't compete in the same arena as the Apple Watch 3 but you may prefer this if you're looking to spend less money on your next smartwatch.
Read the full Fitbit Versa review
Image Credit: TechRadar