Our favorite free iPhone RTS and turn-based strategy games, board games, and card games.
Pocket Cowboys
Pocket Cowboys is a strategy game in a Wild West that exists in a permanent state of high noon. You pit your trio of gunslingers against those controlled by other humans, the aim being to be the first to rack up three kills.
Where Pocket Cowboys excels is in its mix of immediacy and depth. Each turn gives you the option to move, shoot, or reload – and everyone takes their turn at the same time. The mix of strategy and guesswork proves a lot of fun, in what ultimately amounts to four-player rock/paper/scissors.
The game of course also comes lumbered with the usual in-game currencies and upgrades. But it always seems to place you in fair fights, rather than giving you no chance to avoid pushing up the daisies.
King Crusher
King Crusher comes across like someone compressed an epic fantasy RPG and turn-based strategy into a shoebox and squirted the result into your iPhone. It has all the trappings of its more expansive cousins, but is perfectly streamlined for mobile play.
Your little band embarks on quests that mostly take the form of grid-based battles. As adversaries try to shoot, flatten or even eat the heroes, you must swipe them about, getting them into the best positions to mete out some punishment of their own.
With dozens of events and 12 character classes, there's plenty to discover in King Crushe, but its bite-sized nature means it won't rule over your day, instead filling odd moments with tiny procedurally-generated adventures fit for a king.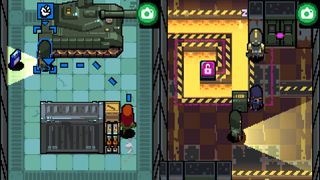 Sneak Ops
Sneak Ops is a stealth game that wants you to "get to the chopper". The snag: between you and your airborne escape route are rooms packed with enemy soldiers, traps, and – occasionally – inconveniently unbreathable air. Also, you're unarmed. Thanks, budget cutbacks!
You must therefore sneak about, avoid detection and unsportingly wallop enemies over the head whenever you get the chance. Along the way, you grab floppy disks, which for some reason are used to buy restart points. Perhaps evil dudes are all retro gamers at heart.
It's tense, pacy stuff, with some fab visuals. Even better: there's a new mission every day – and everyone gets the same one, thereby pitting you against many thousands of other wannabe strategic operators.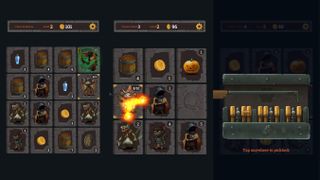 Look, Your Loot!
Look, Your Loot! takes the basics of free-roaming RPGs and shoves them into a grid-based interface not dissimilar from puzzlers like Threes!
The rodent protagonist – a heavily armed mouse – moves about the grid as you swipe, his energy being depleted during battles or replenished on grabbing elixirs and shields. Whenever you enter a new tile, something new appears from the opposite side of the grid.
The key to survival – and a high-score – is carefully planning your route, ensuring you don't end up trapped between a number of powerful and angry adversaries. It's the sort of RPG-lite that's perfect to quickly fire up during a few minutes of downtime; but multiple level layouts and surprising depth in the mechanics also make Look, Your Loot! a rewarding game to master over the longer term.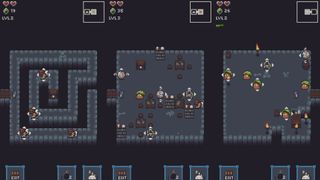 Cobalt Dungeon
Cobalt Dungeon finds an explorer roaming dungeons, battling monsters, going on quests, and occasionally getting a bit shoppy. The action's turn-based, and success often depends on engaging your chess brain to think several moves ahead. When you're surrounded by enemies, you must figure out in which order to dispatch them.
This infusion of puzzling isn't uncommon in top-down games of this kind, but it plays out really nicely in Cobalt Dungeon. When you're surrounded by roaming floating eyeballs, you might initially panic. But then you'll spot a narrow path to coax them down, to off them one by one, or figure out how to exploit their sluggish movement patterns.
With procedurally generated dungeons and in-game upgrade stores, every game is different. But more importantly, Cobalt Dungeon's clever design means that every game is fun.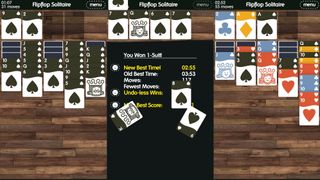 Flipflop Solitaire
Flipflop Solitaire reasons that a card game you play on an iPhone should be designed for its screen and mobile play rather than a table. To that end, it takes spider solitaire as a basic framework, then messes around with the formula.
You're still working with stacks of cards, aiming to sort them back into suits. However, in this game you have only five columns to work with and the height of your iPhone's display provides a vertical limit.
Flipflop Solitaire shakes things up more by letting you stack cards in increasing or decreasing value. This single change proves transformative, turning every deal into a solvable puzzle, and games with a single suit into frantic, entertaining speed-runs.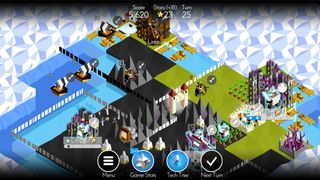 The Battle of Polytopia
The Battle of Polytopia is more or less a classic version of Civilization played in fast-forward. You start off with a single city, surrounded by the unknown. You then explore, research technologies, and give anyone who gets in your way a serious kicking.
Unlike the sprawling Civilization games, Polytopia is focused and sleek. The technology tree stops before guns arrive, the standard game mode limits you to 30 moves, and new cities cannot be founded – only conquered.
For the more bloodthirsty, there's a domination mode, where you aim to be the last tribe standing. The maximum map size expands and online asynchronous multiplayer opens up if you pay for more tribes. However you play, this is a furiously addictive, brilliantly realized slice of mobile strategy.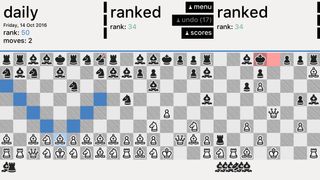 Really Bad Chess
Apparently turned off by chess's commitment to beauty, elegance and balance, the developer of Really Bad Chess set out to break it. You therefore start your first game with a seriously souped-up set of pieces: several queens, and loads of knights. Your hapless computer opponent can only look on while lumbered with a suspicious number of pawns.
One easy win later and you're full of confidence, but Really Bad Chess keeps switching things up. Rather than the AI getting better or worse, the game changes the balance of your set-up. As you improve, your pieces get worse and the computer's get better, until you're the one fending off an overpowered opponent.
It's a small twist on the chess formula, to be sure, but one that opens up many new ways of playing, whether you're a grandmaster or a relative novice.
Spaceteam
Spaceteam is the best multi-device party game for iPhone. The backstory is that you're attempting to outrun an exploding star, in a ship that's seen better days. Unhelpfully, the control panel for your craft was seemingly designed by an engineer who considers user-friendliness an offensive abomination.
The system provides instructions, but they're usually not related to controls on your display. Games therefore turn into people desperately screaming "will someone turn on the dangling shunter?", while combing every inch of their own screen for an elusive 'eigenthrottle' switch.
With Spaceteam offering cross-device play, up to eight players can immerse themselves in this madness, as long as they're on the same Wi-Fi network.
Hearthstone
Hearthstone is a one-on-one card battler set in a magical world of mystics and warriors. You and an opponent take it in turns to attack, using cards that unleash spells, minions, and other acquired skills.
Given how complicated card games of this sort can be, Hearthstone proves intuitive and welcoming to the newcomer – and it's also extremely well balanced. It's possible, if you take the time and effort to master the game, to top the leaderboards without splashing out IAP on new cards – although such temptation might get the better of you anyway once you're immersed in this engaging world of strategy, chance, and fantasy.