Last year, Microsoft ended support for its trusty Windows Live Essentials software suite, including the excellent email client Windows Live Mail, leaving users around the world in need of a reliable free alternative.
Live Mail was rather long in the tooth and hadn't been updated since 2012, but thousands of PC users still rely on it to organize their messages and keep multiple accounts in check.
Live Mail is no longer available to download from Microsoft, but thankfully there are some excellent free substitutes that are just as simple to use, and packed with new features that make it even easier to keep track of your messages and calendars.
Switching from Live Mail to one of these other free tools is simplicity itself, so just choose the one that best suits your needs.

Fast and modern – a painless way to migrate from Live Mail
Easy data importing
Neat interface
Customizable
When you launch eM Client for the first time, it offers to import data from any other installed email clients with a single click. This makes switching from Windows Live Mail incredibly simple – just check the appropriate box and click 'Finish' and everything will be synced automatically, including messages, calendars, contacts and tasks.
The convenience doesn't end there. eM Client also gives you a choice of three color schemes – Modern, Dark, and Classic – the latter of which closely resembles the Live Mail interface you know and love.
Everything is presented neatly, with collapsible panes ensuring your screen never becomes cluttered and confusing. There's even a chat app built in, with support for popular tools like Jabber, making eM Client a one-stop shop for all your time-management and communication needs.
The free version only lets you manage two email accounts, but if you're looking for a quick and painless way to move on from Windows Live Mail, eM Client is the perfect upgrade. Give it a try – you'll be glad you did.

A fuss-free Live Mail replacement, with reasonably priced extras
Easy data importing
Integrates with online services
Only supports one email account
Mailbird Lite is another free email client that makes migrating from Windows Live Mail a breeze – just select the option to import your data and the software handles the rest.
Like eM Client, Mailbird is available in two versions: Lite and Pro. As a Lite user, you'll be treated to a time-limited trial of Pro to tempt you into parting with a modest US$1 per month. If you keep your wallet closed, Mailbird will revert to a pared-back client that – although excellent – is a little more limited than eM Client. Most significantly, Mailbird Lite only lets you connect and manage a single email account.
In all other respects, Mailbird Lite is superb. It looks great, and integrates smoothly with other tools and services, including Facebook, LinkedIn, Dropbox, and Google Docs. You can also create your own keyboard shortcuts for frequently used features, helping you save a few valuable seconds each day.
If you only have one email account, Mailbird Lite is a great option – and even if you have more, the low price of a Pro subscription means it's still worth a look.

A free Live Mail alternative combining convenience with retro looks
Familiar looks
Handy tabbed browsing
Importing data isn't quite as slick
As you'd expect from an email client developed by Mozilla (the non-profit creator of Firefox), none of Thunderbird's features are hidden behind a paywall. However, making the move from Windows Live Mail isn't quite as straightforward as with eM Client and Mailbird, which pushes it down into a respectable third place.
Thunderbird includes a setup wizard for importing your messages, contacts and calendar entries from an email account without messing about with POP3 addresses, but there's no way to shift everything straight from Live Mail. The interface isn't quite as modern as eM Client or Mailbird either, but it closely resembles your old client, so there's practically no learning curve. You'll soon learn to love the tabbed browsing though; just double-click a subject line and the message will open in its own tab, enabling you to refer to multiple emails without any hassle.
If you like the look and feel of Windows Live Mail and aren't looking for anything too flashy, Thunderbird could be the tool for you.

An old-school client for more advanced users who want full control
Advanced security options
No data transfer wizard
Looks a little old-fashioned
Claws Mail looks a little dated compared to some of its slick rivals, but if you're switching from Windows Live Mail, that's unlikely to be a problem.
There's no one-click tool for transferring data from an old email client, and you might need to check out your email provider's documentation to find out how to configure the POP/SMTP settings. On the other hand, advanced users will appreciate the addition of encryption and authentication tools, which are easy to configure during setup.
The 64-bit version of Claws Mail is still in an experimental stage, so it might not be entirely stable. If you want to make Claws your main email client, we recommend sticking with the 32-bit release for now.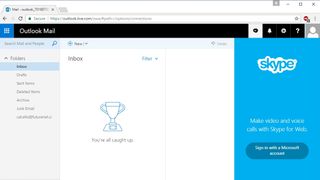 Live Mail's successor looks great, but isn't the most convenient
Easy migration from other clients
Smart design
Requires a phone number
Online-only
Outlook.com might seem like the most natural alternative to Windows Live Mail, and indeed importing your data from the old email client is very simple, but it loses points for being an online-only tool, and for requiring you to sign up for a new Microsoft account if you don't already have one.
You'll also be prompted to verify your email accounts before you can set up automatic forwarding or out-of-office replies. Microsoft claims this is to help avoid spamming, but it's inconvenient for legitimate users and requires you to submit your mobile phone number – something you might be reluctant to do.
Outlook.com integrates with all of Microsoft's other communication tools, including Skype voice chat and instant messaging, making it a good option if you're already invested in the wider ecosystem. If you're a fan of Gmail, however, eM Client or Mailbird will serve you much better.