It's already been a bumper year for Sony. For one, the company followed up on its excellent Sony Bravia A1E with a new OLED for this year, the Sony Bravia X900F/XF90, which is already a favorite of ours from the manufacturer.
Then we saw the cheap-but-effective Sony XBR-X800F and XBR-X850F (XF80 and XF85 in the UK), and the HD/HDR-ready RS45 and W66F (WF66 in the UK). In addition to those, there's a Sony X830F (XF83) plus two lower-end TVs exclusive to the UK – the Sony XF70 and XF75 – announced back in April.
Now that 2018 is coming to a close, we've seen most if not all of the major announcements. We got our first look at Sony's new Master Series over the summer, including two new high end sets packed with a bracingly powerful X1 Ultimate processor. The A9F OLED (another one!) and Z9F LED also come with an official Netflix Calibrated Mode built in, and it's clear Sony are angling for the no. 1 spot in your living room.
It's a growing line-up and one that can be a bit obtuse at first glance. That's why we've put together a guide to all the Sony TVs coming in 2018.
What you'll find below is a guide to every series coming out this year, with model numbers and their most pertinent specs. It's not every detail, obviously – though we've given you links to more fleshed-out reviews for available sets – but it should be enough to help you decide which TV best suits your needs and price range.
Sony 2018 TV technology
Most of the new sets coming out have still used Sony's X1 Extreme processor, though we're starting to see sets that feature a next-generation X1 Ultimate processor, which was first unveiled at CES.
We've yet to get a review sample for the A9F or Z9F to test them out in full, but our first impressions point to even sharper 4K and vastly elevated upscaling from SDR / HDR. Not mention the new Acoustic Surface Audio+ technology making a better argument than ever for sticking with your TV's built-in audio.
The other good news is that the X1 Extreme appears to be making its way down the lineup to more of Sony's mid-range sets. Where you would have had to spring for the X930E to get the processor last year, this year it's dropped down to the equivalent of the X900E, the X900F.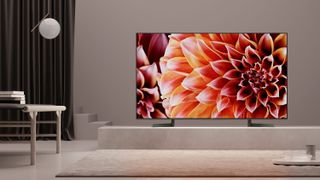 It's a similar story elsewhere in the lineup. While the X900F doesn't have the same brightness as last year's X930E, it is 20% brighter than its own 2017 equivalent.
What we're seeing is a trickling down of technology from the high-end sets to the mid-range. It's not a massive step forward in the grand scheme of things, but if it continues across the rest of the range then it should mean that more of these high-end technologies make their way into the hands of ordinary consumers.
In terms of software, all the 4K TVs we've seen so far are broadly comparable, coming with Android N and YouView, with Dolby Vision support limited to the X900F and new Master Series sets. Google Assistant meanwhile has been rolling out to all of Sony's 4K HDR TVs in the UK and Europe (albeit a year after the US).
We've also seen HDR10 and HLG format support rolling out to more sets like the XF83, XF70, and XF75 – though we are slightly disappointed that HDR10+ could be eschewed in favor of increased Dolby Vision support down the line.
Here's why Sony isn't following its rivals to HDR10+
Sony 2018 TV Models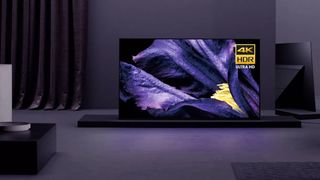 Sony Bravia A9F OLED (XBR-65A9F)
Sony Bravia A9F (available in 55- and 65-inch sizes): The A9F takes pride of place as Sony's second-generation flagship OLED. It adopts the same lean back design as its predecessor, the Sony Bravia A1E, albeit at a less steep angle. The biggest improvement is in Sony's vibrating sound tech, Acoustic Surface Audio+ in the TV stand, though the combination of the OLED display with X1 Ultimate's enhanced picture processing also took our breath away. There's even a Netflix Calibrated Mode that mimicks the settings used on Netflix mastering monitors.
US model numbers: XBR-55A9F, XBR-65A9F UK model numbers: KD-55AF9, KD-65AF9
Sony Bravia Z9F (XBR-65Z9F)
Sony Bravia Z9F (available in 65- and 75-inch sizes): The Z9F (ZF9 in the UK) is the follow up to last year's acclaimed Z9D HDR TV, using the same full array backlighting system but adding a next-gen X1 Ultimate picture processor and better off-axis viewing. As a top-end LED-LCD set, it offers a forceful alternative for those not wanting to fork out for its OLED sibling, the A9F.
US model numbers: XBR-65Z9F, XBR-75Z9F UK model numbers: KD-65Z9F, KD-75Z9F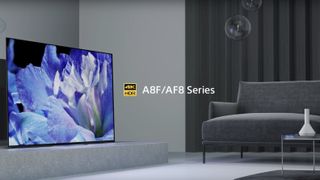 Sony Bravia A8F / AF8
Sony Bravia A8F (available in 55- and 65-inch sizes): The A8F (known as the AF8 in the UK) is Sony's OLED TV for 2018. Unfortunately, not much has changed since last year's A1E. (The biggest change is the stand.) The new model can be stood up without slanting, takes up 84mm less depth on a TV cabinet, and sits 31mm closer to a wall when wall mounted.
US model numbers: XBR-55A8F, XBR-65A8F
UK model numbers: KD-55AF8, KD-65AF8
Sony Bravia X900F /XF90
Sony Bravia X900F (available in 49-, 55-, 65-, 75- and 85-inch sizes): The X900F (known as the XF90 in the UK) is the only LCD TV of Sony's that we've seen so far this year. It features a couple of enhancements over its equivalent from last year, the X900E. For one thing, it's now packing the X1 Extreme Processor, which you previously had to jump up to the X930F to get your hands on, and which should allow for better upscaling of SDR to HDR content. Local dimming has also been improved from XDR x5 to XDR x6, resulting in around 20% more brightness over last year's model.
US model numbers: XBR-49X900F, XBR-55X900F, XBR-65X900F, XBR-75X900F, XBR-85X900F
UK model numbers: KD-49XF9005, KD-55XF9005, KD-65XF9005, KD-75XF9005
Sony Bravia X850F / XF85
Sony Bravia X850F (available in 43-, 49-, 55-, 65-, 75- and 85-inch sizes): The X850F (XF85 in the UK) is a step down from the X900F. It features a less precise edge-lit backlight (so don't expect the same clarity of HDR) and doesn't have the same X1 Extreme processor. It also won't be receiving Dolby Vision support via a software update. It does however have a 100Hz panel which will help with its reproduction of fast motion.
US model numbers: XBR-65X850F, XBR-75X850F, XBR-85X850F
UK model numbers: KD-43XF8505, KD-43XF8577, KD-43XF8796, KD-49XF8505, KD-49XF8577, KD-49XF8796, KD-55XF8505, KD-55XF8577, KD-55XF8796, KD-65XF8505, KD-65XF8796, KD-75XF8596, KD-85XF8596
Sony Bravia X830F (XF83)
Sony Bravia X830F (available in 60 and 70-inch sizes): A bit after Sony unveiled its flagship TVs like the A8F and X900F and its mid-tier TVs like the X850F, Sony has finally introduced the X830F to the world. What makes the X830F (XF83 in the UK) is that it offers only the most basic X1 Processor and 4K X-Reality Pro Upscaler. That means you'll still get 4K HDR pictures, but they probably won't look nearly as good as they will on the X900F and above. That said, you can display HDR10 and Hybrid Log Gamma.
US model numbers: XBR-60X830F, XBR-70X830F
UK model numbers: KD-60XF8305, KD-70XF8305
Sony Bravia XF80 (No US equivalent)
Sony Bravia XF80 (available in 43-, 49-, 55-inch sizes): The XF80 is a further step down. The main difference between this set and the XF85 is the lack of a 100Hz panel, but in all other respects its specs seem more or less comparable. It's still an edge-lit display, it's packing the same Android operating system as the rest of the 4K range, and it also doesn't have an X1 Extreme processor.
US model numbers: No US models announced at the moment UK model numbers: KD-43XF8096, KD-49XF8096, KD-55XF8096
Sony XF75/X75F
Sony Bravia XF75 (available in 43, 49, 55 and 65-inch sizes): Admittedly, we don't know that much about the Sony XF75. We know it will offer Sony's 4K Upscaler and Android TV built-in, but Sony hasn't mentioned the X1 Processor in press documents. That means, the TV will be capable of 4K HDR but it won't particularly make motion intensive scenes look their best.
US model numbers: No US models announced at the moment
UK model numbers: No UK models announced at the moment
Sony XF70
Sony Bravia XF70 (available in 43, 49, 55 and 65-inch sizes): A UK-exclusive, the XF70 is the catch-all Sony TV that will appear during Black Friday / Cyber Monday shopping ads for an unbelievably low price. It features almost none of the technology that the higher models have but it's still 4K HDR. So...there's that!
US model numbers: No US models announced at the moment
UK model numbers: KD-43XF7002, KD-43XF7003, KD-43XF7073, KD-43XF7093, KD-49XF7002, KD-49XF7003, KD-49XF7073, KD-49XF7093, KD-55XF7002, KD-55XF7003, KD-55XF7073, KD-55XF7093, KD-65XF7002, KD-65XF7003
Sony WF6/W66F
Sony WF6/W66F (available in 43- and 50-inch sizes): If you've got a hankering for an HDR-capable TV but aren't too keen on 4K, Sony's entry-level W66F (WF6 in the UK) is exactly what you've been looking for. New for this year is the addition of Sony's X-Reality Pro and Motionflow XR tech that should enable even better-looking images at an affordable price point.
US model numbers: No US models announced at the moment
UK model numbers: KDL-43WF660, KDL-43WF663, KDL-43WF665, KDL-50WF660, KDL-50WF663, KDL-50WF665
Sony RF45
Sony RF45 (available only in a 43-inch size): Bringing up the rear of Sony's 2018 TV catalogue is the Sony RF45, a continuation of last year's ultra-successful RE4 series of screens. Like last year, you can expect an HD/HDR panel and zero smart functionality.
US model numbers: No US models announced at the moment
UK model numbers: KDL-43RF450, KDL-43RF453, KDL-43RF455