There were situations where the person behind the wheel had to step in and take control from the AI. Google's transparency report filed last January claimed the self-driving car had to revert to manual control 341 times, with 272 of those incidents due to technology failure.
Over the course of 14 months and 424,000 miles, only 13 of those situations would have resulted in an accident if the driver didn't take over. Google's self-driving car has racked up over 1.5-million miles altogether, too.
Personally, I'd put more faith in Google's self-driving car AI than most of the drivers I encounter on the road. Computers don't have road rage or self-entitlement. We might have to deal with an impending Skynet future, but at least self-driving cars will reduce the amount of deaths by taking control away from the main cause of fatal accidents.
What are the hurdles?
Self-driving vehicle development is moving along very quickly. There are a couple hurdles to overcome, like government regulations and inclement weather.
Fortunately, Google, Uber, Lyft, Ford and Volvo have come together to form a lobbying group to work with the US National Highway Traffic Safety Administration (NHTSA). The Self-Driving Coalition for Safer Streets (SDCSS) will work with regulators to define federal standards for autonomous cars.
Prior to the SDCSS' formation, Google scored a major win with NHTSA, which named the AI in self-driving car as "the driver" for provisions in the Federal Motor Vehicle Safety Standards (FMVSS). All production cars must follow the FMVSS.
Google's self-driving car still can't drive in the rain, not to mention snow. However, its engineers are working on the problem so the self-driving car is aware of how to drive in the rain with potentially limited visibility.
When can I buy one?
Don't expect to walk into your local Google retailer and buy a self-driving car anytime soon. Google hasn't committed to turning the self-driving prototype into a production car yet.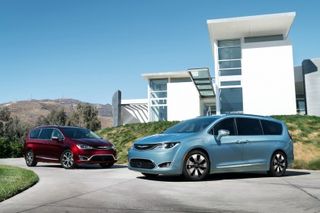 However, Google shacked up with Fiat Chrysler Automobiles to build 100 self-driving Chrysler Pacifica Hybrid minivans for testing. The arrangement has Fiat Chrysler developing the vehicle hardware and Google coding the software that ties everything together.
The self-driving Chrysler Pacifica Hybrid should reach Google's California test track later this year, but there isn't a timeline for retail sales.
What if I want an autonomous car now?
There are no completely self-driving vehicles you can buy right now – you can get driver assist systems that make the car semi-autonomous. Technologies like Tesla Autopilot, Mercedes Distronic Plus, Volvo Pilot Assist or lane keep assist (LKAS) and full-speed adaptive cruise control (ACC) in regular mainstream cars can work together to ease your commute.
The mainstream LKAS and ACC technologies in cars like the 2016 Honda Civic can steer the car, apply the brakes, accelerate and completely stop the car, accordingly. Stepping up to a premium brand like Tesla, Mercedes or Volvo ups the ante with the ability to automatically change lanes or full autonomy at certain speeds.
Volvo Pilot Assist provides complete autonomous driving at speeds up to 30 mph in the 2016 XC90 crossover utility vehicle, whereas Pilot Assist II in the upcoming S90, V90 and 2017 XC90 goes up to 81 mph. The new Mercedes E-class (techradar is driving it next month) is the only production car with all the hardware necessary to be an autonomous car.
Mercedes makes a few tweaks to the Drive Pilot control unit to transform the production E-class into a fully autonomous vehicle, by Nevada standards, just don't expect a free software upgrade later on.
All of these seem like a pitstop on the way to a Google-powered self-driving car. We should find out more about the "main destination" during Google IO keynote, which is happening this week.