Best sci-fi / fantasy series on Netflix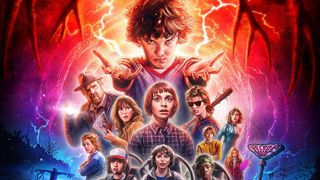 Stranger Things
When it comes to TV and movies, the '80s is the nostalgia decade of the moment. Whether it's Jeff Nichols' Midnight Special that plays like a Steven Spielberg film, if Spielberg still made films like he did in the Eighties, or The Goldbergs and Red Oaks mining the decade for laughs, filmmakers can't get enough of the shell suits and Sony Walkmans.
Stranger Things is another brilliant homage to this era. Leaning heavily on Spielberg, John Carpenter and Stephen King - so much King - the story revolves around a small town, a group of friends, a missing person and a dodgy science lab. Writing anything else would give away the myriad twists in a show that is full of brilliant creepy fun.
The third season has just arrived on Netflix and it's probably the best one yet, bringing everything we know and love about the show and adding in even more spooky science, drama between the characters and heaps of colourful 80s nostalgia.
Seasons on Netflix: 3
The OA
Co-created by and starring the ever-brilliant Brit Marling, The OA consists of eight episodes that rival Stranger Things for, well, strangeness.
Marling is a blind woman who comes back after disappearing for many years. Her sight is restored and she has a tale to tell. The whole thing has been made to make you feel uneasy and it does a great job of that – and with the second season now on Netflix, there's more to binge than ever before.
Seasons on Netflix: 2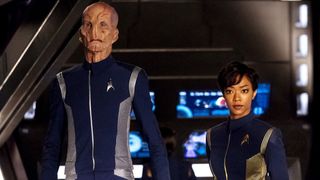 Star Trek: Discovery
Well, this series went to places we never thought it would. Set before the exploits of the Starship Enterprise, the show is filled with Roddenberry characters. But while the original series had shades of light this is a much darker look at space exploration. Sonequa Martin-Green is great as the first officer who has a past intrinsically linked to Star Trek characters of the past – we can't wait to see where this series goes.
Seasons on Netflix: 2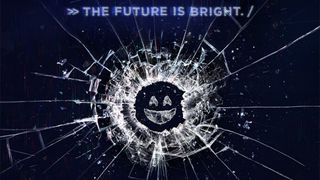 Black Mirror
Season 5 of Black Mirror is out now and, although we're sure we said the same thing for the fourth season, this one could be the darkest, most varied season of the show yet.
Before Black Mirror, Charlie Brooker was best known for his snarky look at the news in Weekly Wipe and his fantastic, caustic look at 'meeja' types in London's Shoreditch.
Now, the show has given him superstar status. For good reason, it's fantastic TV with each episode taking on a different dystopia topic, mostly framed around technology going very long. The third season was commissioned by Netflix and is in 4K, with most of the episodes being feature length.
Seasons on Netflix: 5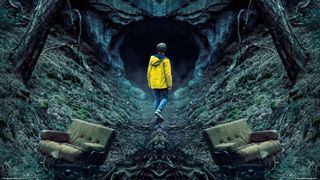 New season added: Dark
Dark is a German-language supernatural thriller in which the disappearance of two children in a small town brings the fractured relationships and dark pasts of the people living there to the surface.
Adding a touch of Scandinavian crime thriller to American drama, this 10-part series has been renewed for a second season, which landed on Netflix in June 2019.
Seasons on Netflix: 2
The Umbrella Academy
Based on the comic books written by My Chemical Romance's Gerard Way and illustrated by Gabriel Bá, The Umbrella Academy is Netflix's latest Original series.
After 43 babies are born to women who showed no signs of pregnancy, seven are adopted by billionaire Sir Reginald Hargreeves, who trains them to save the world using their powers.
After the family becomes estranged, they are reunited once more when their father dies and are forced to come to terms with their past and the danger that lurks in their future.
Fronted by Ellen Page, The Umbrella Academy is flamboyant, dark, and gratifyingly violent – all the ingredients you need for a great superhero series.