Best comedy series on Netflix
That's right: Netflix has become a brilliant hub for the funnies. Whether that's Netflix's range of stand-up specials, or the TV comedies below, there are few streaming sites as sure to get a laugh out of you.
Easy
All three seasons of Easy are now available on Netflix. It's a US comedy set in Chicago all about love, relationships and sex. There are some characters that crop up again as protagonists, but sometimes they're background characters in other stories. We like that comedian and WTF podcast creator Marc Maron is making an appearance in the third season.
Seasons on Netflix: 3
Sex Education
This British comedy series sees socially awkward sixth-former Otis (who lives with his sex therapist mother) team up with the smart and rebellious Maeve, to create a sex clinic for the school's sexually frustrated students.
It's equally funny as it is heartfelt, and offers a frank and uncensored view of teen sexuality and the social quagmire that is sixth-form education.
Don't be put off by the Americanisation of this high school comedy that's apparently set in a seemingly quaint British village – the temporal and physical ambiguity is what gives this fantastic series part of its charm.
Seasons on Netflix: 1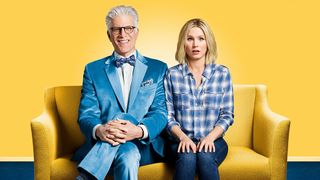 The Good Place
Comedy is in a good place right now and, funnily enough, The Good Place is a perfect example of that. Starring Ted Danson and Kristen Bell, this off-the-wall comedy focuses on a recently deceased woman who is sent to a heaven-like utopia called the Good Place completely by accident. In order to stay there she goes to any lengths to hide what a terrible person she was when living.
Season 1 and 2 have already aired in the UK through Netflix, with new season 3 episodes being added each week in line with their US release. The fourth season is expected to land later in 2019, which unfortunately will be the last.
A great cast, clever writing and an original concept make this a must-watch.
Seasons on Netflix: 3
Peep Show
All nine seasons of Peep Show are now on Netflix - and if you haven't seen the show, then you are in for a treat. Charting the rather mundane lives of two flatmates Jez (Robert Webb) and Mark (David Mitchell), the show is a wry look at adults trying and failing to be adults.
All shot in first person - hence the name - Peep Show doesn't shirk from sex, drugs and political incorrectness but it does it all in such a brilliantly British way, that you don't mind at all when you are watching some of the most awkward TV moments, including one of the characters serving up a dead dog for dinner.
Don't ask, just watch.
Seasons on Netflix: 9
It's Always Sunny in Philadelphia
Initially made on a shoe-string budget, It's Always Sunny In Philadelphia first season had a cult following, but low viewing figures meant it was destined to be a one-series wonder. Thankfully, everything changed when Season 2 was eventually green-lit, thanks to some big-time star power. Danny De Vito joined for a 10-episode run that was extended because he loved it so much.
He's still in the show that's now in its 13th season, bringing with him huge viewing figures. The antics of Dennis (Glenn Howerton), Mac (Rob McElhenney, the show's creator), Charlie (Charlie Kelly) and Sweet Dee (Kaitlin Olson) won't be for everyone - at its darkest the show's 'comedy' themes range from nazism to drug abuse - but stick with it and this deliciously depraved classic will reward you.
Its 13th season has finally arrived on Netflix, and we're happy to say, it's just as funny as the previous 12.
Seasons on Netflix: 13
Arrested Development
Arrested Development is one of the best comedies ever made. So it made sense that Netflix would want to resurrect it for a fifth season. The fourth season was funny, but it wasn't perfect - primarily because most of the cast were too busy to get into the same room.
But the first half fifth season brings back some of that Bluth magic, which is full of in-jokes, jokes that run for entire seasons and more, well, jokes, this is essential TV.
[Update: The second half of season 5 is here as of March 15, 2019. Do the chicken dance!]
Seasons on Netflix: 5
Brooklyn Nine-Nine
Following the brilliant but immature NYPD detective Jake Peralta, this Golden Globe-winning series is a laugh-a-minute, with plenty of deadpan jokes, physical comedy, and crackpot characters.
With around 20 episodes per season Brooklyn Nine-Nine is totally bingeable, and the latest fifth season is now available to stream on Netflix.
Seasons on Netflix: 5