Best Netflix Original series
Some of the best Netflix series worth watching today are ones the streaming site has produced itself – often with stellar results. There's been a lot of money pumped into creating original content, even if Netflix may get a bit pickier about what it funds going forward.
While many of the Netflix Original shows out there were committed to the dustbin of viewing habits pretty quickly, these ones are definitely worth your attention.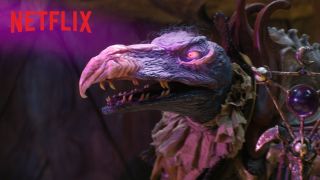 The Dark Crystal: Age of Resistance
The Dark Crystal: Age of Resistance is a fantasy adventure that's a joint production between Netflix and The Jim Henson Company. It's a prequel to Jim Henson's classic 1982 movie The Dark Crystal. There are ten episodes, which show us what was going on in the magical world of Thra before the original film began. It's colourful, beautiful and full of puppet mastery.
The Spy
You may be used to watching Sacha Baron Cohen in comedy roles, but he truly shines in this English-language French spy thriller. The miniseries is about the life of one of Israel's top Mossad spies, Eli Cohen, in Syria. It's based on a book, but inspired by real life events.
Seasons on Netflix: 1
When They See Us
Created by Ava DuVernay for Netflix, this hard-hitting drama follows the story of five teens - four African American men and one Hispanic - who were accused of attacking and raping a woman in New York in 1989. It's a gut-wrenching story that shines a light on the systemic racism in the US.
Just a few weeks after its release, this show has garnered a lot of media attention, as well as a lot of viewers. Netflix has revealed it's actually the most popular series that's ever been featured on the platform to date. In other words, it's a must-watch.
Season on Netflix: 1
Russian Doll
Orange Is The New Black's Natasha Lyonne stars in this dark comedy as Nadia, who keeps dying and reliving her 36th birthday party in a surreal time loop – much like Groundhog Day.
With it's cynical and witty examination of living and dying, Russian Doll switches rapidly between laugh-out-loud hilarity and devastating sadness – it's a must-watch. In June 2019, Netflix announced it would be renewing Russian Doll for a second season - more details to come soon.
Seasons on Netflix: 1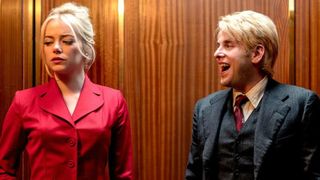 Maniac
A bizarre new sci-fi series based on a Norwegian TV show of the same name. It's about Annie and Owen, played by Emma Stone and Jonah Hill, two troubled strangers who are brought together during some strange pharmaceutical trials. Dr. James K. Mantleray claims that a new series of pills he's created can solve all kinds of mental illness and heartbreak, but there's something much deeper and more sinister going on too.
Seasons on Netflix: 1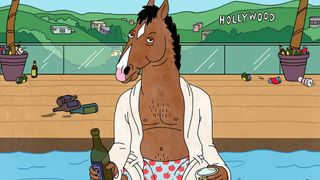 Bojack Horseman
Yes, Bojack Horseman is hilarious. Yes, it's the best thing Will Arnett has done since Arrested Development. And, yes, it should be the next thing you watch if you are into anthropomorphic comedy about a once great TV star who has fallen on hard times. It's all of that but it's also a pretty accurate portrayal of depression and should be celebrated as such.
For those who are worried it may be too dark for them, fear not - there's loads of slapstick humor, word play, and stunning animation to keep everything balanced.
Seasons on Netflix: 5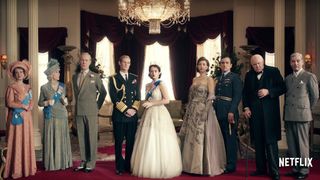 The Crown
Is The Crown Netflix's crowning glory? It could be, as a sumptuous look at one of the world's most famous families: the Royal family. Charting the early years of the relationship between the Queen (Claire Foy) and Prince Philip (former Doctor Who Matt Smith), the show was written by Peter Morgan and, at £100 million, is one of the most expensive TV series ever made. Which means there's enough pomp and ceremony to keep those pining for a Downton Abbey replacement happy.
The second season is now on Netflix and is a nice improvement on the first series - it's also the last that stars the current cast, with Olivia Coleman and Helena Bonham Carter slated to appear as the Queen and Princess Margaret respectively in the next couple on seasons.
Seasons on Netflix: 2
Orange is the New Black
Orange Is The New Black is back for its sixth season and is a show that consistently one of the best to watch, with its superb tale of life in a women's prison.
It's so popular that it is now the most watched series on Netflix - although the makers have announced that the show's next season will be its last.
The show has returned for its seventh final season and things are looking pretty bleak for the inmates of Litchfield Penitentiary – as well as for those who are on the outside. While the comedy is still there, it's slathered with a fair bit of drama and darkness.
Seasons on Netflix: 7
GLOW
The long-awaited third season of the female wrestling comedy GLOW is finally here. The Gorgeous Ladies Of Wrestling have returned and this time they've been commissioned for a full series of their trashy, hot-pink, hairspray-fuelled wrestling show led by their coked-up director (played by Marc Maron).
Sound familiar? Well, this season there's a big difference: they've moved to VEGAS, baby!
The fantastic third season could potentially even outshine the first two for its refreshing female-fronted cast and writers, and its brilliant balancing act between empowerment and exploitation. It's a must-watch.
Seasons on Netflix: 3