Our favorite Android apps for customizing your device and improving its security.
Tor Browser
Free
Tor is probably the most secure and privacy-focused web browser available on desktop, and now you can get Tor Browser for Android.
The app uses multi-layered encryption, with your web traffic relayed and encrypted three times. It also blocks trackers, prevents surveillance and resists fingerprinting.
It is, if anything, probably overkill for most people, but the interface – based on Firefox v60 – is fairly slick, so there aren't too many downsides to using it. And as well as making your online activity more secure, Tor can also bypass many regional restrictions on websites, so it achieves many of the same things as a VPN. It's also completely free to use.
MIUI-ify Notification Shade
Free + $2.49/£1.99 IAP
Phones are getting bigger, but hands aren't, which can sometimes pose a problem when it comes to accessing the notification shade, as this typically sits all the way at the top of the screen.
With MIUI-ify Notification Shade you can move it to the bottom, but this is more than just a simple switch of positions. The app also lets you customize the colors and overall look, the size and position of the area you have to swipe over to bring it up, and to pick exactly what shortcuts appear on the shade, among other things.
It works well too, and looks good doing it; the name might be clunky, but in practice MIUI-ify Notification Shade is anything but.
The core app is free but many of the customization options require a one-off $2.49/£1.99 IAP, which should be worth it if you plan to use this app.
Betta Fish Live Wallpaper
Free + $0.99/£0.69 IAP
While live wallpapers can be a little harsher on battery than their static siblings, there's no denying that they often look great, and Betta Fish Live Wallpaper is one of the best examples.
It allows a betta fish (aka a Siamese fighting fish) to swim around your home screen, with beautiful animations and lots of detail. It's even slightly interactive, as you can block the fish's path with a tap or swipe on the screen.
That much you get for free, but for a $0.99/£0.69 IAP you unlock the ability to change the colors of both the fish and the background, change the fish's movement path, turn the bubbles off, and more. We'd say it's cheap enough that it's worth the outlay if you like what you see, but either way you can turn your phone into an eye-catching digital fish tank.
Abstruct – Wallpapers in 4K
Free + $1.99/£1.99 IAP
Abstruct is the official wallpaper app of the man behind the wallpapers used by OnePlus phones, and it includes both those wallpapers and many others created by him.
At the time of writing there are over 300 in all and they're all available in 4K resolution. They're also absolutely gorgeous. As the name suggests, they're mostly abstract, but they're split into galleries that are each distinct from one another.
There's one that shows real-world landscapes made to look alien for example, and another where all the designs are made up of polygons.
Many of these galleries are free but to access everything requires a one-off payment of $1.99/£1.99. Paying for wallpapers might seem odd when the internet is packed full of them, but these are good enough that if you like their style it's worth the outlay – this is one of very few wallpaper apps that we've spent money on.
App Tiles
Free
If there are any apps that you pretty much live inside then App Tiles could be for you, as it makes accessing them even quicker and easier.
It does this by letting you add a shortcut to them on your notifications screen, just like you probably have shortcuts to various settings up there now.
App Tiles lets you assign up to six such shortcuts for any apps on your phone, so rather than returning to the home screen to launch one of them you can do so with a swipe and a tap.
This won't always be faster, especially if you're already on the relevant home screen, but it gives you one more way to get into them and is sure to save time on some occasions. We wouldn't say this is essential for everyone, but it works perfectly in our tests and it's totally free, so it's well worth checking out if the idea appeals.
Resplash
Free
Resplash is a wallpaper app that uses content from Unsplash – a site full of stock photography that you can use for free, for anything.
As it's using content from such a well-established site, Resplash has a massive library, with over 100,000 images, but it's still easy to find specific styles of photo by searching or browsing by category.
As well as downloading images or setting them straight to your wallpaper, you can also favorite them, so you'll always be able to find them again, even from a different device. Resplash offers a surprising amount of personalization too, letting you change the theme and the way images are displayed (as a list or a grid, for example).
You can also choose the quality of images when you download them or set them as a wallpaper, with options ranging from 'thumb' to 'raw'. Best of all, it's completely free, though if you do feel like supporting the makers of the app there is an option to donate.
SAFE
Free
SAFE is an app that's designed to, well, help you ensure your phone is safe. It guards against intrusion - whether it's from hackers, viruses or nosy eyes.
It does this by giving your device four scores. One for its configuration, one for connectivity, one for apps and one for the operating system. Each of these scores is out of five, with higher being better and suggesting a greater level of security.
But you get more than just a number. You also get a breakdown of everything that affected the score, with positives in green and negatives in red. If you tap on any of these you can get additional information, complete with help in solving the problem if it's a red thing.
Bear in mind that you might disagree with SAFE as to what is and isn't a problem. For example, it will flag having Bluetooth or NFC on as security issues, which technically they are, but they're also useful (and essential in some circumstances). You probably won't want to fix everything, but SAFE could end up highlighting some issues you didn't know about and making your device safer in the process.
Widget Drawer
$0.99/£0.89
Widgets are a potentially great feature of Android phones, but they can take up a lot of space and leave your home screens feeling cluttered. So, what if you could hide them, but in a place where they're never more than a swipe away? That's the concept of Widget Drawer.
The app places a 'handle' on your screen, which is basically just a narrow colored line running part way down one edge, and if you swipe it you can see a screen full of widgets.
You can choose which widgets to put on that screen, resize them and move them around. The handle itself is accessible just about everywhere other than your lock screen, so you can even access your widgets when inside other apps.
You can customize the size and color of the handle, and when in the Widget Drawer you can return to the screen underneath either by hitting the cross at the bottom or just tapping any empty space.
It's the sort of useful app that you might end up wondering how you ever lived without. Or at least it will be with a bit more polish. At the moment resizing widgets feels a bit more clunky than it needs to be and we can't find a way to remove widgets from the drawer without reinstalling the app. There might be one, but it's either not obvious or not working for us.
However, that's not such a surprise, as Widget Drawer is still in early access, so we'd expect it will improve over time.
Blur
Free + $39.99 (around £24) per year
Blur is essentially a one stop app for privacy and security online. As you might expect then, it has a number of different features, but the most interesting is perhaps Masked Cards, which lets you shop online without ever entering or exposing your real credit card information.
This works through the creation of disposable virtual credit cards through Blur, so essentially you give retailers a temporary card number that will only work for that one transaction. You can mask your phone number and email in similar ways.
Blur also includes a password manager, so you can create and store passwords in the app and have them auto-filled when you go to a login page for other apps or sites.
Masked emails are free, but most of the other features require a subscription, costing $39.99 (around £24) per year, with discounts available if you commit for two or three years. Note also that the card masking element only works in the US, but Blur is working on making it more widely available.
Google Family Link
Free
Google Family Link is an app aimed at helping you keep an eye on your child's smartphone or tablet use.
The service, which actually requires two apps – one (Google Family Link for Parents) installed on your device, and the other (Google Family Link for Children and Teenagers) installed on your child's – gives you all sorts of tools.
For one thing, you can choose which apps your child can access and install, either blocking specific ones or just preventing them from installing anything that you haven't authorized. You can also see what apps they're using at any given time, set screen time limits and lock the device when you don't want them using it.
There's also a feature that's more about safety than monitoring, as you can also use Family Link to locate your child's device at any time, so as long as they're with it you'll also have located them. There are other apps and services with a similar set of tools but few if any that are free while also being as feature-packed and polished as this.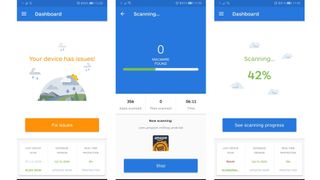 Malwarebytes Security
Free + $1.49/£1.19 monthly subscription
While there are various security features already built into Android, you can't be too careful, so it's well worth considering adding Malwarebytes Security to your app arsenal.
Malwarebytes can scan your device for viruses, adware and malware, but it also offers proactive protection, with real-time ransomware shields, protection from phishing URLs when using Chrome, alerts when there's a malicious link in a text message, and the ability to block unwanted calls.
Malwarebytes can also conduct a privacy audit on your phone, showing you at a glance what privileges your apps have.
Most of these features are only available in the premium version, which costs $1.49/£1.19 per month or $11.99/£10.99 for a year, but you get a 30-day free trial and if you don't want to pay you can still scan and clean your phone with the free version.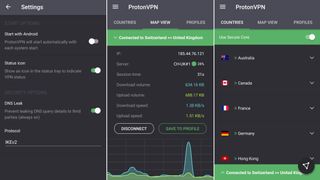 ProtonVPN
Free + various subscriptions
There are loads of VPN services available for Android, but ProtonVPN stands out in a few key ways, starting with the fact that you can use it for free, with no bandwidth limits.
It also puts more focus on security and privacy than some – it doesn't track or record your activity, it offers hundreds of servers all over the world, and its 'Secure Core' maintains your privacy is even if a VPN endpoint server is compromised. It's also easy to use, letting you connect to a server with just a few taps. It might sound too good to be true, but as far as we can tell it's not.
There are also paid plans that offer even more. For $4/€4 (around £3.50) per month, a basic subscription increases the speed, unlocks servers in all countries and lets you use the app with two devices, while for $8/€8 (roughly £7) you can use ProtonVPN with up to five devices at maximum speeds.