Our favorite Android apps for improving productivity, whether through to-do lists, focus timers or other tools.
Expenses: Simple Tracker
Free
Expenses: Simple Tracker is a simple, speedy way to track expenses. Simply tap the 'Add Expense' button to add an expense, including the amount, the currency (though you can separately choose a default currency, so you'll only have to change this when using another), and the date that the expense occurred – with the current date selected by default.
You can also add optional notes and tags, the latter of which you create yourself. You may want to do this to separate your expenses into different categories, such as 'bills' and 'groceries'. You can attach multiple tags to an expense if it fits into more than one category.
The main screen of Expenses: Simple Tracker will then give an overview of your expenses. It initially shows your all-time expenses total, with a list of these expenses below, sorted by date. However, you can also choose just to see expenses from the current day, the week or the month. And you can filter by tags. So if you only want to see what you've spent on socializing, you can do that – as long as you tagged the expenses in the first place.
You can't connect a bank account to the app, which is both a blessing and a curse. It keeps it simple, but means you have to manually enter every expense. Still, it's slick and it's free – so downloading the app won't be something you have to add to your expenses.
Checketry
Free + $2.99 (around £2.45) monthly subscription
Checketry is a file and download manager that lets you keep tabs on and manage downloads that are happening on your PC, from your phone.
It can access downloads from Chrome and Firefox (with the appropriate browser plugins installed), manage torrents and even control your Steam downloads.
The free version mostly just lets you view current, queued and finished downloads, but upgrade for a monthly or yearly subscription and you can also pause or cancel downloads and even access some remote desktop tools, such as the ability to shut down your PC from afar.
It's a great tool if you ever leave downloads running on your PC while you're not at your desk, and is worth a download even if you stick with the free version.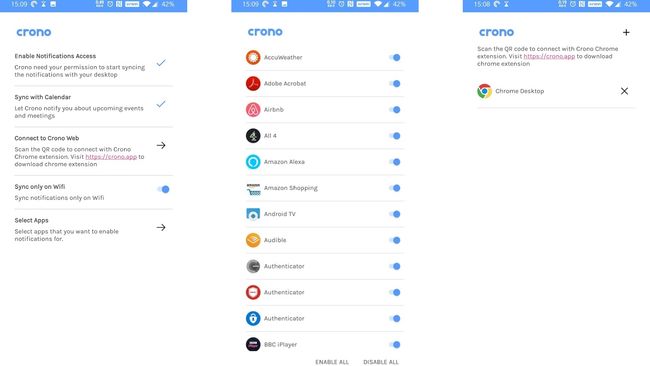 Crono
Free
If you use Chrome on your computer then with the help of Crono you can very easily get all of your smartphone notifications on your desktop, and even reply to messages.
Simply install the app on your phone and the Chrome extension on your computer, then scan a QR code, similar to how you log in to WhatsApp Web, and from there – like WhatsApp Web – your messages will pop up in your browser.
You won't be limited to WhatsApp messages, though – emails, SMS messages and other chat apps are all supported, as is replying to the messages. You can view calendar notifications, any timers you have running, and pretty much anything else happening on your phone as well.
Crono also lets you reject calls from your browser and ring your phone, which is handy if you've misplaced it. And all of the notifications sent through Crono sport end-to-end encryption, so it's secure too.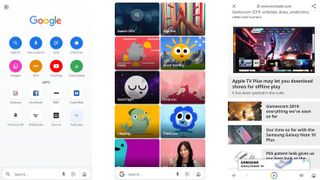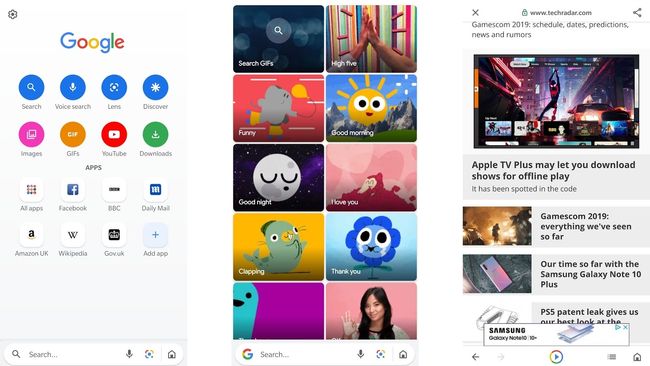 Google Go
Free
Google Go has had quite a lot of media attention, yet it's likely to be quite niche. It's basically a stripped back web browser made by Google, designed to use far less data, processing power and storage space than Chrome or most other mobile browsers.
It's been available in emerging markets for some time, which is understandable since they're typically where a lot of people will have tight data limits and/or lower spec devices, but it's now available globally and could be worth a look if you want to keep your apps or data use to a minimum.
Being a Google app it's predictably polished. It's also packed with more features than you might expect, such as voice and GIF search, and the ability to take photos to have Google translate text in them or search for the subject.
Voicepop
Free
Voicepop basically does one thing: it transcribes voice messages into text so you don't have to listen to them.
Why would you want to do that? Maybe you're in a quiet public environment with no headphones and you don't want the whole world hearing the message. Maybe you've heard the message before and want to hunt out something specific in it without listening again. Maybe you want to save time (after all, reading is usually faster than talking). Or maybe you just hate voice messages.
Whatever the case, Voicepop is easy to use. Simply share a voice or video message of up to two minutes with it and Voicepop will transcribe the message almost instantly. The transcription will appear in the Voicepop app, where it will also be saved for you to return to later.
You'll also get the results inside the messaging app you're using, so you don't have to jump between apps to read your voice messages. It's a slick system.
The only issue right now is that the translation isn't always perfect, but it's close enough that you should be able to get the gist of what is being said.
Splitwise
Free
If you and your friends or family regularly owe each other money – say from splitting the check at restaurants, group trips, or shared household bills – then Splitwise could come in very handy.
Essentially, it makes it easy to keep track of who owes what, which is especially useful if you're not settling up instantly.
You can create groups or use it just with individuals. Any time one of you owes money, you can add it to the app by typing the amount of money, who paid it, and how it's split (equally, unequally, by percentages, by shares, or by adjustment).
Splitwise will then do the maths to work out each person's share where possible. And when any money is paid back, there's a 'settle up' option to account for that in the app.
Splitwise stores data in the cloud, so everyone that you're splitting with can see who owes what from any device, and it supports over 100 currencies. In the US and India you can even pay people back direct from the app, but sadly that's not currently possible elsewhere. Once it is, Splitwise will be even better.
MyScript Calculator 2
$2.99 / £2.69
At times, MyScript Calculator 2 feels a bit like magic. It lets you write out a calculation by hand, so you're not reliant on calculator buttons, then its turns it into neat text and solves it for you. In our tests – with our exceedingly messy handwriting – it knew what we were writing every time.
It goes way beyond the basics too, with support for brackets, logarithms, constants, roots, trigonometry, and more.
It also lets you write calculations over multiple lines, scribble out mistakes (or hit the undo button), and drag and drop elements of the calculation to move them around, updating the answer as you do so.It saves previous calculations so you can always return to them, and lets you share your sums with other apps.
The only problem our maths-muddled brain faced was remembering how to write complex sums in the first place, but if you know how to write them, MyScript Calculator 2 is sure to know how to solve them.
Newton Mail
$49.99/£47.99 per year
Newton Mail was for a long time one of the best email apps available, but then for some reason it was discontinued. Thankfully, that decision has now been reversed, and Newton Mail is now back and just as good as ever.
It works with most email accounts and is packed full of features, such as read receipts, the ability to schedule and snooze emails, undo sent emails, save attachments to common cloud storage services, get push notifications and a whole lot more.
Newton Mail also works across most devices, including phones, tablets, Wear OS, PCs and Macs, and it has got a slick, intuitive interface.
It's one of the most powerful email apps around but it comes at a cost – after a 14-day free trial you'll have to pay $49.99/£47.99 per year. That's too steep for us to recommend it to everyone, but if you live in your email then it's definitely worth the outlay.