Our favorite Android apps for taking notes, writing and editing documents and generally working on the move.
Fleksy
Free + various IAP
Are you bored of using the same old keyboard? If so, then you might want to give Fleksy a try, as it's stylish and near endlessly customizable through dozens of themes.
Of course, it also does the actual job of being a keyboard admirably. In our experience you can type on it quite fast with minimal mistakes, and the autocorrect works well. It also has extras such as GIFs, handwriting support, gesture controls, and even a whole 'Fleksyapps' section, which lets you access a number of apps from within the keyboard.
Say, for example, you're mid-conversation with a friend, trying to decide where to go for lunch. Usually if you want to look places up, you'd have to switch to another app, but with Fleksy you can just access Yelp from within the keyboard and keep on typing.
You can also access the likes of YouTube and Skyscanner, and we expect other apps will be added over time.
For the most part Fleksy is free, but certain themes cost 'Fleksycoins', which can be obtained through doing things like watching adverts (which are never forced on you) and earning badges from your use of the app, or purchased with real money.
Email TypeApp
Free + various IAP
With the death of Inbox by Gmail, there's a good chance you're looking for a new email app, and the clunkily-named Email TypeApp might fit the bill.
It's absolutely packed full of features, such as a unified inbox for multiple email accounts, Android Wear support, a customizable look, account color-coding, configurable menus, read receipts, the ability to unsend emails, and more.
It also has customizable Do Not Disturb days and hours – a feature that's sadly missing from some alternative apps.
Email TypeApp is also mostly free. A few extra features such as send later and VIP notifications are chargeable, but you can unlock everything for $6.99/£5.99 and chances are you'll be happy with the free content anyway.
JotterPad
Free + various IAP
If you have an Android tablet with a keyboard you might be considering doing some serious writing, and if you're considering that then you should definitely consider using JotterPad.
This isn't a new app; rather, it's an old favorite of many that's regularly updated, ensuring it remains one of the best options for writing on Android.
The core of the app is a distraction-free text editor, but dig into the menus and there are all sorts of tools and options. There's Markdown support for example, a word count, cloud storage, a phrase search, a built-in dictionary, a dark theme, a rhyming dictionary, numerous fonts, and more.
Some of this stuff is hidden behind IAP, the main one being 'Pro', which costs $14.99/£12.99. That might seem steep, but it's a one-off payment and if you're writing an essay or novel on JotterPad then you should easily get your money's worth.
Writer Tools
Free + $4.99/£4.99 monthly subscription
Writer Tools is a set of tools for anyone who's setting out to write a novel. The app makes this daunting task a bit more manageable by letting you create characters and locations.
These sections store these details so they're always readily available, and help you flesh them out. For example, the character creator lets you fill out all sorts of optional details such as their greatest fear and best memory.
Writer Tools also has a built-in thesaurus, lets you jot down ideas and notes, create timelines, set quarterly writing goals, and more. You can also back-up your work to the cloud, so you'll never lose it.
This is all free, but for a monthly subscription you can get rid of adverts, access all your historic backups, add images to your characters and locations, switch to a night mode, and more. There's a lot there, which goes some way to justifying the price, but many users will be fine with the free version.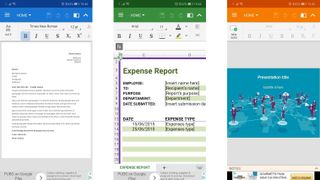 OfficeSuite
Free + £8.49 (around $11.10) IAP
If you're looking for office software on Android there are really only a handful of options, and OfficeSuite is one of the best, thanks largely to how feature-packed it is.
You can create documents, spreadsheets, presentations or PDFs, and you can start from scratch or use one of numerous templates as a jumping off point.
You can share documents and message contributors, save work to the cloud, open two documents and work on them both at once in split-screen, cast presentations across multiple devices, and a whole lot more.
Most of the features in OfficeSuite are totally free, but if you're using it a lot it's probably worth upgrading to OfficeSuite Premium, which, among other things, lets you save files in more formats and unlocks more PDF tools, such as the ability to convert PDFs to Word or Excel format, and create and use digital signatures.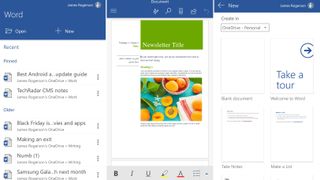 Microsoft Word
Free + $6.99/£5.99 monthly subscription
Microsoft Word probably needs no introduction, but if you do much word processing on your tablet (or even your phone) and haven't tried the Android app then you really should.
You essentially get the full version, allowing you to view, create and edit documents of various styles, including newsletters, brochures and more.
You can change the font, text color, margins, add bullet points and most other things possible from the desktop version of Word, via a slick, polished interface that's pleasingly minimal most of the time. You can also save your documents to OneDrive, so they're accessible from other devices.
Many of the features are free, but you'll need an Office 365 subscription (which starts at US$6.99/£5.99 per month) to unlock the likes of page and section breaks, columns, different page orientations, and the ability to track and review changes.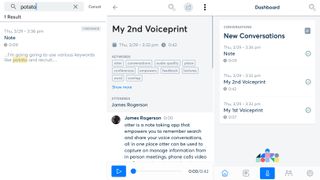 Otter Voice Notes
Free + optional subscription
Sometimes you don't have time to take notes. Recording audio can come in handy, but often means spending time transcribing it later. Not so with Otter Voice Notes.
The app will automatically transcribe what's spoken using AI, and you can teach it to recognize your voice so it can differentiate between speakers.
Once the audio is transcribed you can read it and correct any mistakes manually. The audio is also recorded, so you can listen back to the recording as well.
The really clever bit though is that Otter will detect keywords automatically, so you can search for a word and the app will find where it appears in any of your recordings. It's a great feature that makes it easy to find specific information, even if you've recorded hours of audio.
You can also create groups, allowing you to share recordings with others, and all of your recordings are stored in the cloud so you can access them on any device and they won't take up space on your phone.
The only two problems we've found so far is that longer recordings can take a while to be transcribed, and the transcription isn't always perfect. It's usually good enough that you can tell what it means though, and you can correct any errors so it's not a big deal.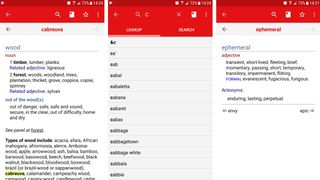 Chambers Thesaurus
$4.99/£2.99
There are a number of thesaurus apps on Google Play and some are free, but if you're regularly writing – or looking words up – on your Android device, then Chambers Thesaurus is one of the best options, and worth the outlay.
It has entries for almost 40,000 words, along with around 400,000 synonyms and antonyms, and they're browsable alphabetically so you can read through the thesaurus if you want, rather than simply searching for a word.
When you do search, you'll get results as soon as you start typing, and not just for words that fit the spelling, but also similarly spelt words, those that sound similar, and those that are often confused for one another.
You can also bookmark entries and cross reference with the Chambers Dictionary or WordWeb apps (if you have them), or look the words up on Wikipedia, Wiktionary or Google, all with a tap from Chambers Thesaurus.
Data is stored locally, so you don't need an internet connection to use the Chambers Thesaurus app itself, and there are all sorts of customization options, letting you change the color scheme, font size and more.