Our favorite Android apps for making music, listening to music, finding podcasts and everything else to do with audio.
Luminary
Free + $7.99/£6.99 per month
Luminary is a podcast app that, as well as packing in access to most of the podcasts you know and love, also has its own exclusive content that you won't find anywhere else.
Access to those exclusive shows – over 40 of which are either out or in the works at the time of writing – is the main reason to choose Luminary over other podcast players, but to get that access you will have to subscribe at a cost of $7.99/£6.99 per month (following one free month).
These exclusives are ad-free and in many cases come from big names like Lena Dunham and Trevor Noah, but even if you're not up for paying, Luminary could still be worth considering.
Stick to the free content and this is basically like any other podcast app, but it's a polished one, with an attractive interface and loads of features, including the ability to cast podcasts to speakers, download podcasts for offline listening, get new podcast suggestions based on what you like, change the play speed, activate a sleep timer, and more.
The only real downside to Luminary at the moment is that while it offers exclusive content, it also lacks a few big-name shows that you'll find on other platforms, such as Reply All and The Daily, so if any of your favorites are missing, you're best off podcasting elsewhere.
Audm
$7.99/£6.49 per month
Audm essentially turns articles into podcasts, by having them read aloud. But unlike some apps this isn't a robot doing the talking, it's a real person, making it far more engaging to listen to.
In fact, it uses "celebrated audiobook narrators", so it's professionally done, and there's a lot of content, with articles from dozens of popular sources such as Wired, The New Yorker, Rolling Stone, The Atlantic, and many more, with new stories added every week.
The Audm app lets you browse all the content, or filter based on source or narrator. You can also read the articles, or read along with the narration, having it scroll in time with the spoken words. And you can change the narration speed, and have articles downloaded for offline listening.
It's a good app, good enough to justify a subscription, which Audm charges at $7.99/£6.49 per month after a three-day free trial.
Laughable
Free
Laughable is another podcast app, but it's not just any other podcast app as it takes a quite different approach to most.
It's mostly focused on comedy, as you've probably guessed from the name, but really what it's focused on is people, as not only can you subscribe to specific podcasts but also the people behind them, ensuring you'll be alerted whenever they turn up as a host or guest on any podcast.
And while most of these people are comedians, Laughable also has politicians, actors, musicians and all sorts of other public figures.
Its focus on people also goes beyond highlighting the podcasts that they're in, as Laughable will also give you links to their websites and social media handles, and – where relevant – links to their tour dates, so you can truly keep up with them.
The app's focus on people over podcasts might mean this doesn't become your main podcast app, especially if you're not into comedy, but as a secondary app to sit alongside your main one it comes highly recommended.
Pocket Casts
$3.99/£3.99
Pocket Casts has long been our podcast player of choice, but it's a very different beast today to what it once was, thanks to a major update bringing it to version 7.
It's an update that's mostly for the better in our opinion, but not without its critics. Love it or hate it though, it's a big enough overhaul to warrant highlighting Pocket Casts again. It also makes the app worth revisiting if you tried it before but didn't get on with the old version.
The changes include a whole new look and a wealth of new features, such as up-next syncing, listening history, the ability to play podcasts without subscribing, improved recommendations, the ability to search for specific episodes, new swipe controls, a draggable player and a whole lot more.
If you're used to the old version of the app then version 7 will take some getting used to, but we reckon most people will come to love it.
Serial Box
Free + various IAP
Serial Box sits somewhere between Audible and a podcast player, as it delivers fiction stories that you can either read or listen to (and in the latter case they're read by someone – no dodgy computer readings here). But they're delivered in weekly bite-sized chunks, like a podcast.
You have to pay for the stories, but you get to listen to the first episode of each of them for free, so you can get an idea of whether you want to pay, and you get both the written and spoken version for one payment. You can also choose to pay episode by episode or for the whole story upfront.
Most of the content is also currently exclusive to Serial Box, so you won't find it anywhere else. And because you can choose to either read or listen – and can access stories on all of your devices – it's a lot more versatile than most methods of engaging with fiction.
Poweramp Music Player
$3.99/£3.39
Poweramp is an old favorite in the world of music player apps, but a massive overhaul has brought it to version three, complete with a new audio engine which supports hi-res output and additional file formats, including opus, tak, mka, dsd, and dsf/dff.
The overhaul also added tempo controls and a reverb effect, updated the UI to make it a whole lot more modern (complete with light and dark themes) and made navigation more intuitive.
That's all building on top of an already brilliant app that has a 10-band graphic equalizer, support for most audio file formats, and all sorts of tools and options, such as gapless playback and crossfade.
The app can display lyrics and download missing album artwork, and there are widgets, a tag editor, and numerous additional themes available to download.
Few apps match Poweramp for features, and as of V3 it's one of the best-looking music players on Android too. It's well worth the price tag if you play much local audio, but it comes with a 15-day free trial, so you can try it out before paying.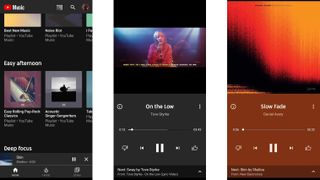 YouTube Music
Free + optional $9.99/£9.99 monthly subscription
YouTube Music is a YouTube app that puts the shows and shorts to one side and is all about the music. It's all here, presented with personalized recommendations and a constantly updated 'hotlist' of trending tracks. There are also numerous playlists, and you can create your own.
That's all free, but to get the most out of YouTube Music you need to pay for YouTube Music Premium, which costs US$9.99/£9.99 per month and lets you listen offline, with your screen off, or while using other apps. It also gets rid of the adverts.
However, if that sounds appealing you're probably best off paying for YouTube Premium. This subscription costs slightly more at US$11.99/£11.99 per month, but also gives you access to the main YouTube site and apps ad-free, lets you watch YouTube originals, enables you to play videos in the background, and more besides.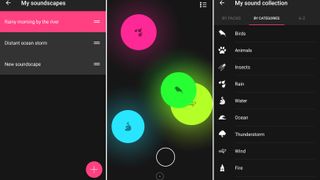 TaoMix 2
Free + various IAP
TaoMix 2 is an ambient noise app designed to drown out the outside world and help you relax, sleep or focus.
There are lots of sounds to choose from, such as birds chirping, rain, waves, wind, a fireplace, a thunderstorm and many more. But you're not limited to one sound – you can build a soundscape by selecting several at once.
Each of these sounds appears as a circle on your screen and there's another circle which can be made to move around the screen, and which makes each sound more prominent when it overlaps with them, so the soundscapes vary over time based on the movements of this circle.
You can save any soundscape you make to easily return to it later and you can set a timer, so the soundscape will automatically turn off after a set period of time. You can even record your own sounds.
The core app is free, but to get the most out of TaoMix 2 you'll want to invest in some of the sound packs to bulk up the available selection. These start at £0.69/US$0.99.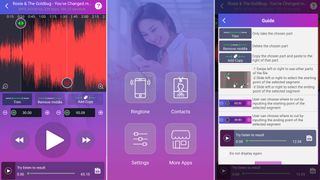 Ringtone Maker Pro
$3.99/£3.29
Got a song that you want to use as a ringtone but want to cut it down first? Ringtone Maker Pro will get the job done.
It supports MP3, FLAC, OGG, WAV, AAC, M4A, MP4 and 3GPP/AMR files, and should be able to find any audio file on your device when you hit the scan button. Select the one you want to edit, then choose a start and end point for the ringtone right down to the millisecond.
There's scope for more complex editing too; you can cut parts of the song, copy and paste sections, or paste together parts of multiple audio files.
You're not limited to the music that's already on your phone either – you can also record your own ringtone using your voice or any other noise you can create.
The app is fairly straightforward to use and in this form it comes free of adverts, but if you'd rather have the adverts and not have to pay there's also a free version available.