Our favorite Android apps for having fun on your phone or tablet, through watching videos, reading, socializing and more.
Trill Project
Free
Trill Project is an anonymous social network that lets you follow topics of your choice, post related content, reply to other people's posts, and message them in private.
You don't get a profile picture or custom username, so anonymity is easy to maintain, but while in some apps and services that can lead to abusive behavior, here content is heavily moderated, and there's a real focus on users being supportive.
A lot of the topics on Trill Project deal with potentially heavy subjects like mental health, loneliness and sexuality, but there's plenty of lighter content too, so whatever you want to say, this could be the place – as long as it's in the spirit of the app and its community.
Goodreads
Free
Goodreads is all about finding, logging and reviewing books, and it's pretty much essential for any avid reader.
If you see a book that you think looks interesting, you can search for it on Goodreads and see the average user rating, along with often hundreds of user reviews. Still interested in it? Then you can add it to your 'want to read' list, so you won't lose track of the books you like the look of.
Goodreads will also show you other books by that author and other books that readers of the one you're looking at enjoyed, making it easy to find similar content you might like. There are also lists of books across a range of categories, helping you explore further and dig up books you might never have found otherwise.
When you've read a book, you can give it a star rating and leave a review if you want, and you can also join groups, and add friends, making Goodreads a bit like a book-focused social network at times.
With all that, plus reading challenges, personalized recommendations and a whole lot more, it really is a book-lover's dream.
Unrd
Free + various IAP
Smartphones have helped unlock new ways to experience stories and one great example of that is Unrd.
Falling somewhere between an app and a game, Unrd lets you "live someone else's life" by overlaying a fake phone interface on your screen, belonging to a character in a story. You can access their messages – including photos, videos and audio – and piece together a story from them.
But you don't get the whole story in one go – new messages arrive in real time over a number of days, making the experience feel more immersive and 'real'.
There are numerous stories here, so you're not limited to just one, and more are being added over time across a number of genres.
It's worth noting that Unrd is different to something like A Normal Lost Phone, as while they're conceptually similar, the latter allows for more interaction, having you do things like figure out passwords to access locked off parts of the phone. It's more of a game then, where Unrd is more of a story.
The core app is free but there are various IAP to unlock additional content in stories or get to it faster. It looks like some future stories may be totally locked behind IAP too, but at the time of writing all the available ones seem to be free.
Depop
Free
Depop is a bit like eBay, but with a real focus on second-hand and vintage clothing, which is a refreshing change in a world where fashion is often seen as disposable despite the clothing industry's massive negative impact on the environment.
There's a large selection of items often at low prices and while clothing is the focus that's not all you'll find. There's also tech, books, jewelry, music, art, films, magazines, sports equipment and a few other categories.
As with eBay, you can sell as well as buy, and the app allows you to set up and manage your own store, as well as browsing other people's. If you've got some clothes to clear out or just want to shop a bargain – while doing your bit for the environment – then Depop is a good place to start.
VLC for Android
Free
You've probably come across VLC before, but if not you really, really should, because it's one of the very best video player apps on Android. Even if you have tried it before, it could be worth revisiting, as it's received several recent updates.
This completely free app has almost everything you might want from a video player, including extensive file support (such as MKV, MP4, AVI, MOV, Ogg, FLAC, TS, M2TS, Wv and AAC), support for DVD ISOs, network streams and network shares, the ability to add and display subtitles, adjust the aspect ratio, and alter the look and sound with an equalizer and filters.
And those are just the headline features. There's plenty more to dig into beyond this. We're not the biggest fans of VLC's distinctive orange color scheme, but that's about the only thing we can find to complain about, and it can be partially hidden if you switch to the black theme.
Soon
Free
Soon is an app for keeping track of all the movies and shows you want to watch, the music you want to listen to, the bars and restaurants you want to visit, the books you want to read, and various other things.
Simply tap on the relevant category ('books' for example) then type the name of the thing you want to remember. Soon will populate the entry with relevant details if it can find any. These might include the address if it's a place, or the cast and crew if it's a film, for example.
In this way you can build up lists and have them all in one place, so you'll never lose track of them. If you're planning a trip you can also create a list of the things you want to do on it, and even collaborate on the list with other people.
Each of the list categories also has a second screen where anything that you've marked as 'done' appears, so it doesn't clutter up the main list, but so you can still easily check if you have watched, read or visited the thing, in case you can't remember for sure. You also get a chance to rate the thing when you mark it as done, so you'll have a record of what you thought of everything too.
RAM and Game Booster
$0.99/£0.59
Some smartphone makers have put a big focus on gaming modes, such as Huawei with its GPU Turbo feature, but if you don't have a handset with these sorts of features there are still things that can help, such as RAM and Game Booster.
It helps by freeing up RAM, which it can do on-demand or when specific games are launched.
You can also set RAM and Game Booster to free up RAM when RAM usage reaches a set percentage, after a set period, or when the app judges that the device requires it.
This isn't the first time we've seen an app aimed at freeing up RAM, but the various settings for when it happens are more comprehensive here than on most rival apps. This still won't turn a low-end phone into a gaming powerhouse, but it could make a small difference to performance.
Pocket
Free + $4.99/£4.49 monthly subscription
Pocket isn't a new app, but it does have some new features and a new look.
For those who don't already know, Pocket is an app that lets you save articles so that you can read them later. That both means you can read them offline and allows you to keep a list of content you plan to read so you won't forget about it. And as Pocket works on a variety of devices, including Android and iOS phones and tablets as well as PCs, you can read what you've saved anywhere.
Thanks to a recent update you can also now listen to saved articles, with Pocket reading them out to you, so you can devour them even when you're busy doing something else. The company is also planning to add Alexa integration, meaning you'll be able to listen to articles through any device that has Alexa built in.
And the interface now has multiple themes, as well as a general overhaul designed to make reading for long periods more comfortable.
It's good stuff, and it's mostly free, but subscribing to Pocket Premium for $4.99/£4.49 per month gets rid of adverts, unlocks a powerful search tool, and ensures your saved articles won't be lost even if they're taken off the web.
Google Home
Free
One of the problems with smart homes today is that your devices are typically made by a variety of different companies and, as such, they're all managed by different apps. It's a messy and not particularly smart situation, but an update to Google Home aims to address that.
The app now lets you manage most smart devices from within it, whether they're made by Google or not. Thousands of devices from hundreds of brands are supported; it's just a case of finding yours and logging into them from the Google Home app, thereby giving it permission to manage them. You can then create groups of smart devices based on what room they're in and manage everything from lights to thermostats to coffee makers all in one place.
Some devices still aren't supported, and you don't always have full control – for example, we can turn our LIFX lights on and off and adjust the brightness from Google Home, but can't change the colors.
Still, for basic interactions with most of your smart devices, Google Home is a slick, streamlined option.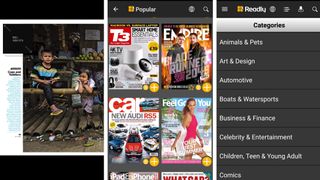 Readly
$9.99/£7.99 per month
In the age of the web, magazines can feel like a dated concept, but Readly does a decent job of bringing them up to date by offering a Netflix-like subscription service.
We say Netflix-like, but while most of the content on there is far from brand new, you have access to the latest issues of thousands of magazines on Readly, all in digital form and with unlimited access for $9.99/£7.99 per month.
You can read content from not just your own country but various others too and the selection is strong, with plenty of big names on offer, along with more niche magazines.
Readly is accessible on phone, tablet and computer, so you can access your magazines almost anywhere with a screen, and even download them for offline reading.
You also have access to back issues, and navigation is a breeze, handled by intuitive swipes and taps. Readly even supports crosswords and other puzzle content, so you can do just about everything you could with a paper version.