Our favorite Android apps for learning new things, from history to music to coding and beyond.
Elements of Photography
Free + various IAP
Thanks to smartphones, most of us now have a fairly capable and versatile digital camera in our pockets at all times, but many of us won't know how to get the most out of it.
That's not necessarily a huge problem – phone cameras are typically designed to work well when you just point and shoot, but if you do want to take your photography to the next level then something like Elements of Photography can help.
This app contains a number of tutorials that guide you through the various principles of photography, from basics like shutter speed and composition to more advanced lessons.
Elements of Photography keeps things bite-sized and engaging by using small chunks of text and plenty of images rather than walls of explanation or time-consuming videos.
You also get tips, tools (such as a depth of field calculator) and a quiz, though these, along with many of the tutorials, are hidden behind IAP. Still, unlocking everything only costs $7.99/£5.49, and there's enough free content that you should be able to decide whether the rest is worth the money.
Fluent Forever
£8.99/$9.99 per month
Fluent Forever is one of a growing number of language apps, but whereas most aim to gamify the learning process, Fluent Forever is rather more serious in its approach.
That might make it feel a bit less accessible, but if you're serious about learning a language then it could also work better, especially if the likes of Duolingo aren't doing the trick for you.
There are numerous different exercises in the app, along with explainer videos, but one of its core features is personalized flash cards, which let you select a card with an image of your choice for each word you're trying to learn.
That, along with pronunciation lessons, and a focus on only the words and grammar that are important to you, could be the trick to making you fluent forever.
At the time of writing, the app supports French, German, Italian, Korean, Portuguese, Russian and Spanish. It costs £8.99/$9.99 per month, but there's a two-week free trial.
SmartPlant
Free + $3.99/£3.99 per month
There's more to looking after many plants than putting them in the sun and giving them the occasional sip of water. Some need watering more often than others, some have different temperature or lighting requirements, some even require pruning or other care and attention.
Knowing exactly what any given plant needs isn't always easy though and we're sure we're not alone in wondering why plants we thought we'd looked after well had died. But with SmartPlant you don't need to wonder any more, and you're more likely to keep your plants alive in the first place.
The app lets you build a database of any and all plants you own and it will automatically create a calendar for each of them, advising you on what to do at specific points of the year – for example telling you where to place it, when to re-pot it and how much to water it. And if you're not sure what a plant is called then you can snap a picture of it to have SmartPlant identify it.
The app also has general information on a wide range of plants, such as the type of soil they like and when they bloom.
If you need more, then an optional subscription lets you talk to experts in-app. They can give you advice on general plant care, solving problems or any other plant-related query.
Flowkey
Free + $19.99/£17.99 monthly subscription
Flowkey aims to teach you piano, and it can give you feedback on your playing just by listening through your phone's microphone – no cables are required.
As well as real feedback, Flowkey also offers a large number of video tutorials covering things like 'Note Value and Rhythm' and 'Mastering Key Jumps', plus a selection of over 1,000 songs that you can learn.
These songs cover a range of genres, including classical, pop, jazz and more, and include famous pieces, such as Hallelujah by Leonard Cohen, and Perfect by Ed Sheeran. The selection also includes songs suited for various different skill levels.
There's a lot here, but most of it isn't free. There are a handful of free songs and tutorials to get you started, but to get much out of Flowkey you'll have to invest in a monthly subscription. That's not cheap, coming in at $19.99/£17.99 per month (albeit with big discounts if you commit for six months or a year).
That could be a tough sell since you'll probably still want proper lessons too, but you certainly get a lot of content for your money.
Learn Java Pro
$3/£3
Learn Java Pro is one of many apps focused on teaching you to code – in this case in Java, but where most take you through bite-sized exercises, this has both a coding area (where you can practice your Java skills) and an extensive library of tutorials taking you through basic and advanced aspects of Java.
These tutorials aren't interactive as such; they're more like a textbook, which is the part of learning that's missing from many other coding apps. But there's a shortcut to the coding area at the top right corner of each tutorial, so you're never more than a tap away from practicing what you've learnt.
There's also a library of practice programs, plus various questions and answers related to all things Java. Learn Java Pro works offline so you can read and practice anywhere, and all of the content is available for the one low price listed above, so while it's not free it's still rather generous and a great learning tool.
Learn Spanish with Lirica
Free + $9.99/£8.99 monthly subscription
Learn Spanish with Lirica takes a novel approach to language learning, as it attempts to teach you Spanish through songs.
The app lets you listen to a number of Spanish-language songs (many of which are famous) and has you learn the words that are used in them.
You can watch the music video with the words appearing underneath, with or without an English translation, and then you can go through a song verse by verse, answering questions about what you've heard.
There are a few different exercises, such as rearranging lyrics so that they're in the right order or selecting the word that was used in the song, and as you go you can earn points and achievements.
Lirica is more than just a gimmick. Songs are often catchy and memorable, so they make sense as a way to learn a language. There are two downsides to the app though. The first is that it only teaches you Spanish, and the second is that much of the content is hidden behind a fairly pricey subscription.
But there's enough free stuff to be getting started with it and if you like what you hear then a subscription could be worthwhile.
Mobile Observatory 3 Pro – Astronomy
$5.49/£4.99
Mobile Observatory 3 Pro – Astronomy is a comprehensive astronomy tool, letting you see details of the sky as it appears from your location. You can use it to check names and descriptions of celestial bodies that should be visible at the current time, or you can change to a different time or day.
You can also get notifications warning you of celestial events that you should be able to see, and there are all sorts of other tools, such as a 3D view of the solar system, and the ability to see the sky in augmented reality with the details of what you're looking at overlaid.
There are tens of thousands of stars and planets included, along with information on moon phases, eclipses and plenty more besides. Although this isn't a free app, given how much content there is it still feels very generous given that you get the whole app for one $5.49/£4.99 payment.
Shepard Fairey AR – DAMAGED
$4.99/£4.59
We've not always been entirely convinced by digital versions of real-world exhibits, but Shepard Fairey AR – DAMAGED does it right.
The app is a digital version of Shepard Fairey's DAMAGED exhibit and it's a great option for anyone who can't make it to the real show in Los Angeles.
The app lets you walk around the exhibit with taps and swipes, or you can set it so that rotating your phone also changes your view in the exhibit. Or go even further and use an augmented reality mode that lets you physically walk around the exhibit, using your phone as a window into it.
It's not just the exhibit, either – you also get over 100 minutes of narration from Fairey explaining the various artworks, which combined show that the world – and especially the US – is in a state of crisis, but that much of the damage can be repaired.
MasterClass
From $89.99/£84.99
MasterClass gives you lessons in various skills, from cookery to acting to creative writing and a whole lot more, but how it really stands out is that these lessons are all taught by some of the best in the business.
You can learn cookery from Gordon Ramsay for example, filmmaking from Martin Scorsese, tennis from Serena Williams or photography from Annie Leibovitz.
Of course, this is an app, not a face to face lesson, so you're not interacting with these people, but they've created video lessons and various other materials – such as workbooks – for MasterClass.
This content isn't free; in fact it's quite expensive, coming in at $89.99/£84.99 for a single course or $179.99/£169.99 for an 'all access pass', letting you access every course for a year. That's steep, but it could be worth it if you're serious about learning and want some top-class tuition. You can also explore the app and see video previews of any of the courses before paying.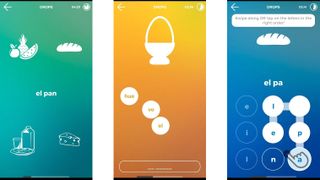 Drops
Free + $10/£8.99 monthly subscription
Apps have revolutionized language learning, but there's more than one way to learn from an app, and while some focus on typing and speaking, Drops leans into the strengths of a smartphone by making all interactions swipe- and tap-based.
Drops gives you a series of exercises to carry out each time you use it, taking various forms. One asks you to swipe a word to its corresponding picture, another asks you to tap pairs of words and pictures, and one breaks up a word or phrase into several parts and has you tap them in the correct order.
There are others too, and Drops has a lot of content covering all sorts of categories from food to plants and even politics in a variety of languages. Impressively, it also feels as slick and polished as Duolingo, without imitating it.
Drops gives you five minutes of language learning each day for free, but the app is designed to be bite-sized and the makers claim this is enough to make progress.
If you do want more though you can pay for unlimited access at a price of $10/£8.99, with discounts available if you pay for a year upfront.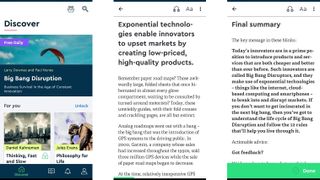 Blinkist
Free + various subscriptions
Few of us have time to read all the books we want to, but Blinkist can give you a fighting chance by distilling the key information in books down into something that only takes around 15 minutes to read.
Obviously, this only works for nonfiction, and you will be missing a lot, but you can genuinely take away many of the core points and messages, so it's great for books that you're only semi-interested in and would never read otherwise.
There's a lot of choice, with over 2,500 books included in the app, though to access most of them you have to pay a monthly subscription (which starts at $6.67/£5 per month if you pay for a year upfront but is $12.99/£13.49 if you pay monthly). This also lets you listen to the distilled versions, so you can consume them even when you can't or don't want to read.
If you stick with the free version of Blinkist you get one book per day and the app chooses which one. It's still well worth having on your phone, but if you get into it then the subscription is probably worthwhile.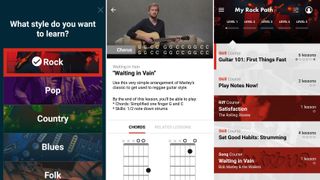 Guitar Lessons by Fender Play
$9.99/£8.99 monthly subscription
While taking guitar lessons is probably advisable if you want to learn, it's perfectly possible to teach yourself, and Guitar Lessons by Fender Play is probably one of the strongest tools for that.
Starting with the absolute basics, the app lets you choose the style of music you want to focus on and whether you're playing electric or acoustic guitar, then it takes you through a series of video lessons, teaching you chords, riffs and songs.
Many of the videos are short, so you can learn in bite-sized chunks, and information is often also written out for you below the video.
You can also jump ahead to later lessons if you're more advanced or just not interested in certain tutorials, and there are hundreds of different songs and lessons in total, so there's plenty to sink your teeth into.
Guitar Lessons by Fender Play costs US$9.99/£8.99 every month, but that's still a lot less than you'd spend on a weekly lesson, and you get the first month free.