Our favorite Android apps for planning a holiday, checking the weather and getting around without getting lost.
Appy Weather
Free + $3.99/£3.99 yearly subscription
It's not easy to get excited about weather apps, and we can't claim that Appy Weather changes that, but most of us probably do use one or more of them regularly, and Appy Weather is well worth consideration.
Once a Windows Phone app, it's finally made its way to Android, where it stands out through an attractive, minimalist and easy to navigate interface that has a look unlike most other weather apps.
Whether you like the style will be subjective, but feature-wise it has got everything most users need, including forecasts for the current day and the next seven days, complete with the temperature, what it 'feels like', precipitation, cloud cover, visibility and a whole lot of other details.
Information is largely presented on easy to read graphs and with large, clear text, and the forecasts come from Dark Sky, which is generally accurate in our experience.
A sticking point might be the cost – the free version only lets you search for a forecast 5 times per day. To remove that limit, get rid of adverts, and unlock widgets, you'll need to subscribe for $3.99/£3.99 per year.
Subscribing to a weather app might seem unappealing, but most users probably won't need to. After all, how many times a day do you really check the weather? Plus, the app's author does a good job of justifying the price, as not only is it a great app, they explain that the service used to retrieve the weather isn't free, so for the app to be sustainable a subscription model is currently necessary.
Culture Trip
Free
Whether you're heading abroad or just want to get more out of the city you live in, Culture Trip could help.
Search for a place or just use your current location and the app will serve up a selection of articles, covering things to see and do, and tips and tricks relevant to the location.
Some of these articles also include videos, and Culture Trip doesn't stick just with the obvious stuff (for example, a search for New York turned up articles such as The Enchanting Witches of New York City), but there's plenty of more conventional content too, like lists of the top 20 sights you need to see.
You can bookmark things you're interested in and download content so you can access it offline – ideal if you're going to be roaming abroad. There are also links to book hotels and the like straight from the app, and with images everywhere and a nice layout, it's a pleasure to use and get inspired by.
Atmosphere Weather
Free + $3.99/£3.69 annual subscription
Atmosphere Weather aims to stand out from the weather-watching crowd by presenting the forecast like a 24-hour clock. Each hour of weather is presented by a segment on the clock face, giving you a clear way to instantly see the hour-by-hour weather for the next day at a glance.
As well as seeing written temperatures on each hour, there's also color-coding to represent the different temperatures and how clear the sky is.
You can even get calendar events displayed on the weather clock, and away from that screen there's also a radar view, complete with wind speeds and directions.
The clock is the main feature though and it's a genuinely useful and different twist on weather forecasts.
The only downside is that after a two-week free trial you have to either put up with ads or pay a subscription, which will cost you $3.99/£3.69 per year. We'd have preferred to see a one-off payment option, but if you use the app regularly it should be worth the outlay.
Fog of World
$4.99/£4.49
Fog of World is a new, fun take on mapping apps, as it's inspired by the 'fog of war' that you get in some video games (that being fog that obscures areas of a map that you've not been to yet) but applies it to the real world.
The app gives you a detailed world map, but applies fog to it. Unlike most games the fog doesn't actually hide the map, it just dulls it a bit. When you've been somewhere the fog is removed, so over time you can see all the places you've been on a single world map, based on which bits don't have fog.
To make it more interesting you can level up as you make progress and unlock various achievements, such as for visiting a certain number of countries or crossing the equator. You can also sync your data so it's available on other devices.
Fog of World isn't going to replace Google Maps for your navigation needs, but it's a fun, visual way to see where you've been, covering everything from a trip to the local store to your various holidays.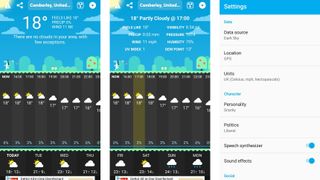 CARROT Weather
Free + optional $3.99/£3.39 yearly subscription
After a long stint on iOS, CARROT Weather has finally come to Android, and if you like a dose of snark with your forecast it's worth getting excited about.
Because as well as providing accurate forecasts powered by Dark Sky, CARROT Weather is home to an 'AI' that insults you and revels in your weather-related misery. This takes the form of more than 6,000 lines of dialogue, each of which can optionally be spoken aloud by its synthetic voice.
With cute illustrations as well and even a game that sees you following clues to hunt down secret locations, CARROT Weather has more personality than any rival app.
It's also good for the important matter of telling you the forecast, as you can see hourly and daily forecasts, complete with humidity, UV Index, wind speed and more.
The core app is free, but for US$3.99/£3.39 per year (or US$0.99/£0.89 per month) you can unlock a customizable widget, animated satellite maps, and get rid of adverts.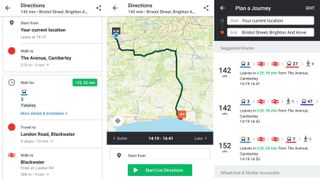 Moovit
Free
Moovit isn't new, but if you ever use public transport it's well worth knowing about. Simply type a destination and Moovit will give you a selection of ways to get there, using all the public transport routes available.
Tap on a route to get full directions or even a map with live navigation (complete with alerts telling you when to get off the transport you're on), or further filter your results to minimize walking, use the least number of transfers or cut out certain transport types entirely.
There are also handy features like the ability to save regular destinations and favorite the bus and train lines you use a lot, so you can quickly see their timetables.
Transport timings are real-time where available, so you'll know if the train or bus is running late, and you can download various maps for offline use. You can also use Moovit all over the world, with transport details for new cities regularly added.
All in all, it's one of the slickest, most feature-packed public transport navigation apps you can get.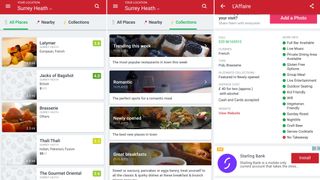 Zomato
Free
Ever need some inspiration for where to eat? If so, Zomato has you covered.
The app can show you nearby restaurants in a list or on a map, and you can filter results in numerous ways. Only want to see Chinese restaurants? No problem. Need somewhere that accepts bookings? You can do that. After outdoor seating? That's fine too. And those are just a few examples of the many filters on offer.
There are also 'collections', which highlight restaurants that fit a specific theme, such as 'great breakfasts' or 'celebrity chefs', and when you've found somewhere of interest you can get loads more information by tapping on it.
You can see the opening times, pictures, reviews and ratings from other users of Zomato, menus, average costs, recommended dishes, contact details and a list of pros and cons.
From here you can also add your own review, rating or photos, call the restaurant or bookmark it so you don't forget about it.
There's also a social side to Zomato; you can follow other users, allowing you to see when they review a restaurant or say that they've visited it. Zomato has a lot to offer, and it could help you get out of your culinary comfort zone.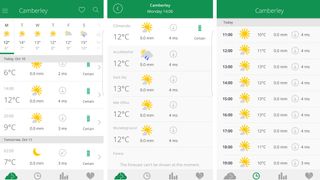 Climendo
$3.99/£3.49
The problem with weather apps is that, for the most part, they only use one source for their data, but Climendo uses lots, and then works out what the most likely weather at any given time is.
The complete selection of weather providers that it uses includes AccuWeather, Weather Underground, NOAA, Met Office, Foreca, Dark Sky, SMHI, YR and World Weather Online – though only the most accurate ones for your location will be used.
You can see hourly or ten day forecasts, complete with the likelihood of each being accurate, or you can dig down to the individual forecasts from each weather provider, to see how they vary.
Climendo lacks some of the more detailed information found in other apps – such as humidity and UV index - but if you just want accurate information on whether or not you need an umbrella then this app is up there with the best.