At Christmas we think the best music streaming combination is a phone and a Bluetooth speaker, because that means you can take your music wherever you happen to be: in the front room opening presents, sitting down for Christmas dinner, losing the will to live as obscure relatives bang on and on… you get the idea.
We're always looking for the best Bluetooth speakers around, and these are our picks for the festive season.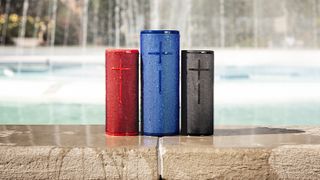 Ultimate Ears Boom 3
The UE Boom 3 isn't as cheap as the fun design might suggest. But this is the latest version of one of the finest Bluetooth speaker families on the market, and it doesn't disappoint.
The UE Boom 3 is a travel speaker that fulfils both parts of that term, producing meaty and detailed sound from a rugged body.
Two 2-inch drivers and two 4-inch passive radiators will fill a room with up to 90 decibels of sound, while an IP67 waterproof/dust-proof rating will see it surviving a 30-minute dip in a pool or bath.
Bose SoundLink Mini II
The Bose SoundLink Mini II is a bit of a legend in Bluetooth speaker circles. It's been around for several years, yet its inherent qualities continue to shine out. Those qualities being great sound from an unbelievably small and stylish package.
It might be showing its age a little with its middling battery life and a lack of things like NFC and multipoint Bluetooth. But it still sounds phenomenal, with a sense of space that's uncommon from such a form factor.
You can currently pick the SoundLink Mini II up for around £170 / $200 direct from Bose, and it remains a worthwhile investment.
Creative Muvo Mini
For less than £50 / $60 / AU$70, the Muvo Mini punches way above its weight – and its weatherproofing means it's not going to explode if a tipsy relative spills their sherry on it.
The 10-hour battery should last through even the longest Christmas get-together, and with a wireless range of 32 feet / 10 meters you don't need to spend the whole day sitting with your phone on top of it.
JBL Charge 3
Here's another water- and wine-resistant speaker, and while it's much bigger than the Muvo Mini that's because it houses some massive drivers for seriously-kicking bass response.
It's probably overkill for The Little Drummer Boy, but Run DMC's Christmas In Hollis is lots of fun.
The battery's good for 20 hours, the range is 30-ish feet, and with prices dropping to below £100 / $100 it's a superb all-rounder.
Smart speakers
Smart speakers are another easy way to get the tunes pumping over festive period. The key advantage here is that all you need to do, once set up, is vocally ask your virtual assistant to play a particular playlist.
The most common smart speaker, of course, is Amazon's Echo family. To hook this up to your music service of choice, simply open the Alexa mobile app, then head into Settings and Music & Media.
Select your particular music service and grant permission for Amazon to access this account. If you're linking a supported music streaming service like Spotify, consider making this your default music provider.
If your chosen service is fully supported, you should now be able to verbally ask Alexa to play specific playlists on that service.
It's a similar process with Google's Home Assistant, which can be linked to supported services using the Google Home app.
Apple also has its own smart speaker, the HomePod, though it's only compatible with Apple Music. Conversely, this means that once you're hooked up to your Apple account you're ready to roll with vocal Siri requests.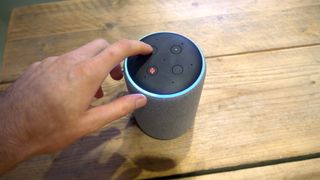 Amazon Echo Plus
The Amazon Echo Plus sports better audio than both the original Plus and the second generation Echo, including a larger 3-inch woofer and a 0.7-inch tweeter. This makes it a better bet for music playback. It can also function as a hub for your smart home gear, but that's by the by.
At £140, it's not the cheapest Amazon speaker on the market by any means. But the Amazon Echo Plus is the best Echo for music playback this Christmas.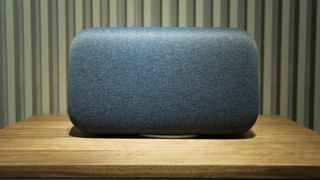 Google Home Max
The Google Home Max is by no means cheap at £400, but it does provide the fullest sound of any Google speaker. And by some margin at that.
This hefty speaker packs a pair of 0.7-inch tweeters and two 4.5-inch woofers, so it gets plenty loud. It also possesses a clever self-adjusting sound profile function, and it supports high-fidelity file types like FLAC, LPCM, and HE-AAC.
Apple HomePod
Apple's mark speaker debut falls down on flexibility (it's Apple Music or nothing) and smart speaker functionality (Siri simply isn't as good as Alexa or Google Assistant). It's also pretty expensive at £320.
But for pure sound quality, it's tough to beat, filling whatever room you put it in with clean, loud 360-degree sound and alarmingly accomplished bass. It's also a doddle to set-up, and will adapt its sound profile to the surrounding environment.