The Nokia 8 Sirocco is the "ultimate statement of flagship design with the latest screen and camera technology" according to HMD Global, the firm behind the iconic name that adorns its series of Android smartphones.
It's a bold claim, and HMD admits it's made the Nokia 8 Sirocco "for the fans", as those loyal to the Nokia name have apparently been asking for a premium, high-end flagship that pushes the boundaries the stock Nokia 8 didn't.
The result is a handset with a 5.5-inch QHD OLED display, a body that's covered in 95% vacuum molded Gorilla Glass and has a stainless steel frame at its core.
You'll also find a Snapdragon 835 chipset, 6GB of RAM, 128GB of storage, dual rear facing camera, a fingerprint sensor, face unlock and Android 8 Oreo onboard - ensuring the Nokia 8 Sirocco has a sizable spec sheet to justify a lofty price tag.
However, with a fleet of new flagship phones launching from fierce rivals, the Sirocco will have its work cut out to steal some of the limelight.
Nokia 8 Sirocco release date and price
The Nokia 8 Sirocco release date is set for April 2018 in the UAE, Saudi and across the Middle East, which is a little way off and will see others beat the phone to market, which could be a bit of a blow to its potential success.
That being said, Nokia surprised everyone with the pricing on the Nokia 8 in the region and following that footsteps, the Sirocco is sort to be released at AED 2,399 in the UAE and similarly in KSA.
Design and display
Nokia 8 Sirocco specs
Dimensions: 140.93 x 72.97 x 7.5mm
OS: Android 8
Screen size: 5.5 inches
Resolution: 2560 x 1440
CPU: Snapdragon 835
RAM: 6GB
Storage: 128GB
Battery: 3,260mAh
Rear camera: 12MP + 13MP
Front camera: 5MP
Nokia has moved away from the design language that ties together its current range of devices, with the almost all-glass body of the Sirocco oozing premium appeal and futuristic looks.
It looks like a fusion between the BlackBerry Priv and Samsung Galaxy S8, with its glossy black finish and curving edges of the display.
In the hand it looks and feels great, like a proper premium smartphone, although the glass rear offers little in the way of grip.
The edges of the Nokia 8 Sirocco taper from 7.5mm to 2mm, and on the right the power/lock and volume keys are located at the thinnest tip.
They're flush with the side of the phone too, and this makes them a little tricky to hit. Not impossible, and with time you'll get used to it, but our initial impression was one of slight annoyance.
A couple of other flagship features Nokia had added here are IP67 dust and water resistance, which means it should survive an accidental trip into the bath, and support for wireless charging.
Nokia 8 Sirocco hands on gallery
Image 1 of 10
Image 2 of 10
Image 3 of 10
Image 4 of 10
Image 5 of 10
Image 6 of 10
Image 7 of 10
Image 8 of 10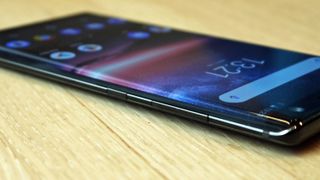 Image 9 of 10
Image 10 of 10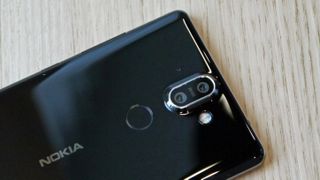 On the base of the phone a central USB-C port is flanked by an internal speaker, but crucially there's no headphone jack present. Nokia has opted to remove the port on this phone, even though it's kept it on all the other phones it's launched at MWC 2018.
The 5.5-inch OLED curved display is bright and colorful, providing an excellent surface for gaming and video playback.
With a QHD resolution, it runs shoulders with its flagship peers, and elevates itself above the cut-price flagships from the likes of Honor and OnePlus.
It's responsive, with good viewing angles and adds to the flagship nature of the Sirocco.
Camera
Another flagsh feature on the Nokia 8 Sirocco is its dual rear cameras, tuned by Zeiss Optics.
The Nokia brand has a long standing history with Zeiss Optics which has been tuning its phone cameras for decades.
On the 8 Sirocco you get a 12MP main sensor alongside a 13MP telephoto lens, allowing you to take Bokeh effect (background blur) shots.
It actually features a Live Bokeh mode, which allows you to fine tune the level of background blur with instant visual results on screen, allowing you to set up your picture before hitting the shutter key.
Nokia's Pro camera mode has been given a triumphant return on the latest devices to launch, and the Sirocco benefits from this.
A simple drag up of the shutter key take you into Pro Mode (drag in the opposite direction to return to auto mode) allowing you to tweak controls such as white balance, shutter speed and focus.
While we'll wait for a review sample to properly evaluate the camera, we will say that it fixes one of our biggest complains about the original Nokia 8 which was slow auto focus. The Sirocco seemed super speedy in our limited time with it.
Round the front you get a 5MP camera which suffices for selfies and video calls.
Performance and interface
There's plenty of power under the hood of the Nokia 8 Sirocco, even though it's not the most cutting edge.
Running the show is the Qualcomm Snapdragon 835, a chip which featured in 2017's flagship phones, so it feels a little out of place in a 2018 top-tier device.
That said, it's a still a top performer, and coupled with 6GB of RAM the Nokia 8 Sirocco should be capable of running pretty much anything you throw at it.
The Android 8 Oreo operating system ran smoothly during our time with the phone and we didn't experience any performance blemishes - although that could change once it's filled with apps, games, videos, photos and music.
Android fans will be pleased to learn that the Sirocco runs a stock version of Google's operating system, so there's no clunky interface getting in the way.
It's also enrolled in Google's Android One program, which guarantees the phone the next two big Android dessert updates, and three years of security updates.
That's great news for users, as it basically guarantees at least three years of consistent use from the phone. And because the phone is with Android One, it should be among the first to get the latest updates too.
Early verdict
The Nokia 8 Sirocco is a significant step forward for HMD Global at is starts to show it can mix it with the established names in the market rather than just knocking out me-too devices.
The Android One integration is great news for prospective buyers, and the design and screen are great to look at.
The jury is still out on the camera, and it's a shame to see last year's chipset running the show here, which makes it a little harder to justify the price tag.
While the Sirocco may not be a huge hit for HMD, it's building solid foundations for the brand.
MWC (Mobile World Congress) is the world's largest exhibition for the mobile industry, stuffed full of the newest phones, tablets, wearables and more. TechRadar is reporting live from Barcelona all week to bring you the very latest from the show floor. Head to our dedicated MWC 2018 hub to see all the new releases, along with TechRadar's world-class analysis and buying advice about your next phone.