Interface and reliability
Android 8.1 with EMUI 8.1
Looks more like iOS than Android
Great day-to-day performance
Huawei has installed the latest version of Android released by Google which is Android Oreo 8.1 on the P20 Pro. Our review sample came with a pre-production features March 2018 security updates.
Huawei's custom overlay on top of Android is Emotion UI (EMUI) and you find version 8.1 on the P20 Pro. It's not just a simple skin but rather a comprehensive set of apps meant to replace many built-in Google apps.
Huawei has it's own versions of apps for email, calendar, music and video playback, and, a photo gallery. There's even a separate app store called Huawei App Gallery. Until last year, Huawei had it's own SMS app as well but the partnership with Google has now changed that to Google's messaging app with RCS support.
The best way to describe is that Huawei thought of an iOS user contemplating moving to Android and designed EMUI to make the switch as comfortable as possible.
For example, the sharing pane on the P20 Pro looks more like iOS than Android. Even the default launcher is initially configured to not have an app drawer but rather have all apps on home screens like iOS.
Because it's so different to the stock Android UI and it will have its share of admirers and critics. That being said, the UI is very fast an fluid and you'll barely notice any stuttering when moving through long lists or switching apps. It's also customizable through themes.
New to EMUI 8.1 is the data transfer tool that lets you easily move from an iOS or Android phone.
Music, movies and gaming
Good speaker with dual drivers
Doesn't support Netflix HD streaming
Screen is great for games and movies
You might imagine the Huawei P20 Pro's notch would be an annoyance for games, but it isn't. When the phone recognises a game or app that won't play well with the notch, it automatically blacks out the notch area, removing it from play.
It's not as simple as doing this for all third-party apps, though. Spotify keeps the notch in place, but Candy Crush Saga and Asphalt 8 do not. This is pretty clever, although we have seen some reports of it causing interface issues with the odd app, such as Instagram that we mentioned earlier.
As you'd hope, high-end games run very well on the phone, with no obvious performance dips in the titles we tried. The Huawei P20 Pro may not have the most powerful GPU in the phone world, but it has a lot of pep for one with a display only a little more pixel-packed than 1080p.
The Huawei P20 Pro has its own video and music apps. These are basic players that let you watch, or listen to, content on your phone.
Unfortunately, the phone does not currently support Full HD streaming through Netflix, though. It's limited to 540p. While this still looks good, could pass for 720p, and will save your data allowance a further beating, this is likely to disappoint many.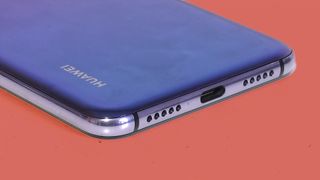 The Huawei P20 Pro does have good speakers, though. A driver on the bottom edge of the phone delivers the bulk of the sound, and a front earpiece speaker is used to play additional higher-frequency sound to stop it sounding lopsided when held in front of your face.
This is a meaty-sounding speaker array with good bass for a phone and unusually solid separation of the parts of a mix. At maximum volume the treble becomes a little brittle and harsh with certain content, though, showing how hard Huawei pushes the phone's micro drivers.
Performance and specs
Less power than 2018 flagships
Uses the same chipset as the Mate 10 Pro
The P20 Pro packs the Kirin 970 flagship processor from Huawei owned HiSilicon that was released with the Mate 10 Pro. This chipset has eight cores. Four are Cortex-A73s, designed for high-performance tasks, the other four are Cortex-A53s, for everyday use.
This puts it behind the Samsung Galaxy S9 Plus, which has semi-custom 'Kryo' cores based on the Cortex-A75 and Cortex-A55 designs. These newer rival cores are more efficient, offering greater power at the same clock speed.
The Huawei P20 Pro also has a lesser graphics chipset than the Galaxy S9 Plus. It's a 12-core Mali G72 here, where the Exynos and Snapdragon versions of the Samsung use either an 18-core Mali G72 or the excellent Adreno 630.
But does that play out in benchmarks? Running Geekbench 4 on the P20 Pro, the phone achieved an average multi-core score of 6717 which is a bit below what we've seen from new SoCs by Samsung and Qualcomm.
However, we also need to consider screen resolution in this. The Huawei P20 Pro doesn't have as many pixels to render as either of those phones, reducing CPU and GPU strain in many situations. Thus, the phone feels and works as fast any flagship phone of today.
You also get a rather comfortable storage size of 128GB on the P20 Pro which is pretty quick. Read speeds of 501MB/s match some lower-mid-range SSDs and write speeds of 190MB/s aren't bad either.
Do keep in mind that there ins't any expandable MicroSD slot on the phone. Having said that, we think that 128GB should be sufficient for most people, even if you're taking lots of videos.