The Google Pixel XL ushers in a lot of firsts: Android 7.1 Nougat, Google Assistant and the late 2016 Snapdragon 821 chipset (a chip that hasn't launched outside of Asia before the Pixel arrived, even though it technically debuted with the Asus Zenfone 3 Deluxe first globally).
That's why you're paying a lot more for a Pixel vs a Nexus phone: usually we're getting some new software and six-month-old internal specs. But Qualcomm debuted its latest chip at the time right here.
The idea is that you're going to have a long-lasting phone and a better experience in the time that you do have it. That's almost how we feel about the entire package.
Google Assistant
Smarter than Siri, Cortana and Google Now
Contextually understands words 'it' and 'here'
Can't 'name that tune'and gets mixed up by apostrophes
Google Assistant is your personal AI buddy that's one graduating class ahead of classmates Siri, Cortana and Google Now for voice commands. It holds a two-way conversation, and actually understands context.
Asking "Okay Google. When is the next Presidential Debate?" brings back a correct response in the US. Asking "what channel is it on" gives you an answer, too, despite the use of the word "it."
Three years ago, Google foresaw that for voice searches to become truly effective, the AI would need to understand what "it" means, and we're finally seeing that play out in our phones with simple questions and answers.
"Okay Google. How long does it take to get to Downtown LA?" comes up with a response (always too long) and a link to Google Maps. "What if I biked there?" returns a new time estimate and map with the harrowing bike route. Amazing.
"Okay Google. What's a zebra?" followed by "What color is it?" followed by "Show me photos" all bring back relevant results, and it's all baked into an overlay window in the operating system. We know a lot about Zebras now.
Just for fun, we asked, "What do you think of Apple?" which resulted in "They have good products. I'm a fan." "What do you think of Siri?" returned "She seems clever." Maybe another backhanded compliment?
This is the same Google Assistant that's coming to the Google Home speaker, to take on Amazon Echo and the e-tailer's Alexa AI. It's already an amazing rival, but not perfect.
Going back to ask "When's the next Presidential Debate?" with an apostrophe confuses the AI, which returns only partially helpful web results that you have to tap on and read. No thanks. Reading is for chumps (except for you, of course).
It's also only able to toggle some of the Android system commands (You can't turn Night Light on and off with your voice, for example), and it can't "Name that Tune yet." Siri and even Google Now can do this. That's basic bot!
The good (and scary) news is that Google controls so much of our search data that it's likely to anticipate everything we want to know.
It's only going to get smarter, and this is a intriguing start, and we saw some of that at Google IO 2017. You can now type to Assistant, control home appliances, and, soon, pay with Assistant.
Interface and apps
Unlimited cloud storage for photos and videos
Ready for Google Daydream View with Android 7.1
Battery life information and Google Allo are too hidden
The Google Pixel XL shows that it's ready for the future with Android 7.1 Nougat, along with the promise of operating system updates for the next two years and security updates for three years. Case in point, it already has Android 7.1.2, which is mostly comprised of bug fixes.
Its minimalist approach to the home screen and the notifications shade is an unassuming contrast to the depth (and real focus) of Google Assistant.
People love that about stock Android vs an interface like Samsung's TouchWiz. You're not going to be bombarded with too many unnecessary apps – what's here, you'll actually use.
Google Photos is a great example. It provides an easy backup solution for all of your media, and photos and videos shot with your Pixel XL get backed up at full resolution with unlimited cloud storage.
That's a huge relief if you only go for the 32GB Google Pixel XL and aren't into taking photos with a DSLR and transferring them to your phone – that still counts against your cloud quota.
But this phone is more than a fast pass to early Google updates and a clean, straightforward Android interface. This year it actually debuts a second (literal) front-facing feature: VR.
We tested out the Google Daydream View headset with the Pixel XL, and it worked as it should: giving us an immersive 360-degree virtual reality experience via an inexpensive headset.
It's akin to the Samsung Gear VR, but Google's software library is just getting underway. That should change as more Android phones begin to work with the fabric-coated headset.
Google Pixel XL may also be your first chance to test out Google Allo (messaging) and Google Duo (video chat). They come pre-installed with the phone, and work okay as iMessage and FaceTime rivals.
Allo uses your phone number (a huge deal in the US, where people still give out their number for SMS and don't use WhatsApp), instead of your personal Gmail address, which Hangouts requires. "Hi, I just met you, what's your Gmail address? Where are you going? I need an iPhone again."
Allo fixes that. However, both Allo and Duo need cross-platform support (on computers and tablets especially), and it should fully replace Messenger in the dock if it's going to work the same way. People need to be onboard for it to full universally useful.
Another thing that needs work is the battery life indicator. We still have to dive into the hidden, developer-intended System UI Tuner menu to reveal battery life information in the top system tray.
We've never said: "You know what I don't want to know? How much battery life I have left." That's always been an annoyance with Nexus phones, and nothing has changed on the Pixel XL.
The same thing happens when you're charging a Pixel. Pixel and Nexus are the only phones we've tested in recent years that refuse to display the battery life when the phone is off and charging.
How has noone at Google found these two bizarre battery life issues annoying year after year? Everything else about its Android software is streamlined for the better.
New Android O features
The Android O will launch at the end of the summer, and we're fully expecting it to be called Android Oreo.
It already has new features in the Android O beta, and the Google Pixel XL is one of the first phones to be able to take advantage of the unfinished software.
New features include picture-in-picture video that lets you multitask with videos still playing in a corner, contextual copy-and-paste that makes it easier to select phone numbers, addresses and emails, and notification dots on app icons.
We're also going to see new emoji, faster boot times and better audio with Android O on Google Pixel XL. Even better, battery life is supposed to be improved with the new update.
Movies, music and games
Vivid 5.5-inch display to enjoy watching videos and playing games
No stereo speakers, but there is a headphone jack
We're increasingly being entertained by our phones, even with big-screen TVs and tablets close by. For Android games and Facebook videos in short bursts our phone is the go-to device.
The Google Pixel XL gets the job done visually. It has that excellent AMOLED display that rocks deep blacks and saturated colors. They make movies and games seem impressive at 5.5 inches.
However, we did run into a problem when holding the phone in landscape mode and trying to enjoy just about any two-handed game experience, like futuristic racer Breakneck.
Covering up that one speaker soured our enjoyment just a little bit. Luckily, Google didn't follow Apple and Motorola's trend by killing off the headphone jack, so our quickest solution was a pair of earbuds.
What's really a shame is that the Nexus 6P (which was cheaper and had a bigger 5.7-inch display) included stereo speakers – one at the top and one at the bottom. The omission of dual speakers here seems like a step backward.
Specs and performance
Debuts the Snapdragon 821 processor
Same specs as the 5-inch Google Pixel
Still not as fast as Samsung's non-US phones
Both the Pixel and Pixel XL see Google introducing new internal specs instead of sticking with a six-month-old chipset, and that's part of the reason you're paying a premium this year.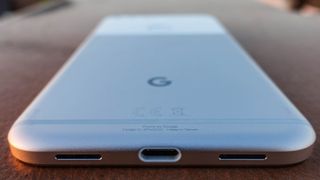 The XL delivers the faster Qualcomm Snapdragon 821 processor, which is a step ahead of the 820 System-on-a-Chip found inside the US Samsung Galaxy S7, the HTC 10 and the LG G5, for example.
This 64-bit quad-core chip runs at 2.15Ghz with 4GB of RAM and an Adreno 530 GPU – that's one step ahead of its current Qualcomm-based competition.
It cracked a 4,000 multi-core score in our Geekbench tests, giving us an average of 4,077 after three rounds with the CPU benchmarking app. That's impressive.
What's interesting is that the 5-inch Pixel has the same specs (outside of the bigger battery and display on the XL), giving us basically the same results after another series of tests: 4,029.
That's a big deal. If you want that curved screen from Samsung, you have to ditch the 5.1-inch phone for 5.5 inches. If you want Apple's dual-camera setup, you have to forgo a 4.7-inch handset for a huge 5.5-inch phone. With Google, the choice is a little easier to live with.
We would have loved Google to push its phablet a bit further, but we also appreciate the company including all of the bigger phone features for often-deprived smaller hands. At the same time, it feels easier to recommend the regular-sized Google Pixel if you're not into VR and big phones.
Google's phone performance has come a long way in smaller packages, with solid call quality on both Verizon and AT&T in the US, and 47-second boot times. That really contrasts with the Nexus 6 from two years ago, which had us suffering through minute-and-a-half boot times. Like we said, a long, long way.