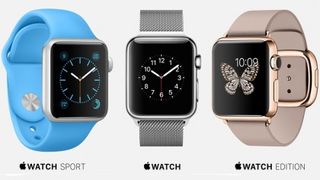 Apple Watch price range
Our Apple Watch review tells you everything about this iPhone-tailored smartwatch, but with 38 different Apple Watch bands, it's hard to remember which watch costs how much.
Its price was first announced last year to be "starting at $349," and we had a feeling that it wasn't going to be cheap when fully unveiled six months later. Sure enough, the sticker shock peaked at $17,000.
Even at its base level, this iPhone-tailored smartwatch is pricier than Google's most expensive watch, the LG Watch Urbane, according to our Apple Watch vs Android Wear comparison.
Already knowing that, you're probably now focused on: "How much does the Watch I really want cost?" That's why we broke down the Apple Watch price, from the $349 (£299, AU$499) Sport Edition to the $17,000 (£13,500, AU$24,000) gold Apple Watch Edition, in this handy guide.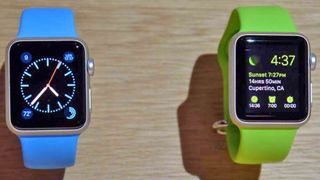 Apple Watch Sport price with Sport Band
The entry-level Apple Watch is the Sport model with a aluminum case, Ion-X glass over the display and and rubber-like fluoroelastomer band.
It costs $349 (£299, AU$499) for the 38mm size (measured by height), and a little more at $399 (£339, AU$579) for the 42mm size. There are five colors and, with the two sizes, ten models to chose from.
Due to its attractive price, it fetched the most Apple Watch sales, according to the early estimates.
Buying the Sport Band alone costs $49 (£39, AU$79), according to the Apple Store, just in case you want to switch colors, or had opted for a leather strap and wanted to retreat to this waterproof band sometimes, like at a sweat-filled gym.
Colors include white, blue, green and pink for the bands with a silver casing. There's also one almost-all-black version; it's black band and a unique space gray casing.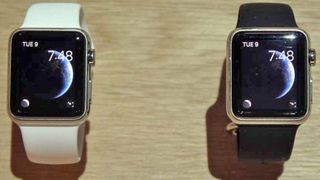 Apple Watch price with Sport Band
The stainless steel Apple Watch, in its "cheapest" form, also comes with a gym-friendly fluoroelastomer Sport Band. Its price is bumped up considerably, though.
It costs $549 (£479, AU$799) for the 38mm size and $599 (£519, AU$879) for the 42mm size, a higher price because it replaces aluminum with stainless steel case and adds sapphire glass.
Since the Sport Band itself is no different, other colors can be had for the same $49 (£39, AU$79) price as the previous Sport Band.
Colors with this Apple Watch out-of-the-box, however, are limited to white and black bands, and both models feature a silver stainless steel case.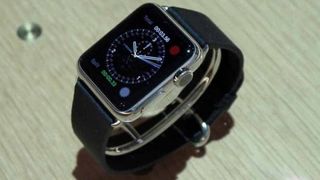 Apple Watch price with Classic Buckle
The Apple Watch with a no-frills Classic Buckle doesn't come cheap, even though it has a stainless steel closure that's as simple as can be.
It costs $649 (£559, AU$949) for the 38mm size and $699 (£599, AU$1029) for the 42mm size on account of its leather build. Apple proclaims it has been milled in a famous tannery in the Netherlands.
Apart from the watch, the Classic Buckle is going to be sold through the Apple Store for $149 (£129, AU$229).
In the words of Henry Ford, you can have any color you want, as long as it's black. Again, a no-frills option from end to end.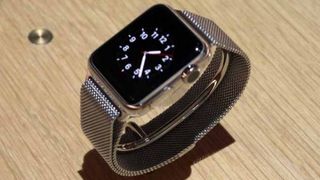 Apple Watch price with Milanese Loop
The Milanese Loop really classes up the Apple Watch with a woven smooth stainless steel mesh and a magnetic, infinitely adjustable clasp.
It costs $649 (£559, AU$949) for the 38mm size and $699 (£599, AU$1,029) for the 42mm, matching the price of the classic buckle, but beating it on style.
Separately, the Milanese Loop costs $149 (£129, AU$229). It may be a good down-the-road purchase for date nights if you initially end up with the Sport Band out-of-the-box.
It comes in one color too, silver stainless steel, which matches the glossy silver Apple Watch case.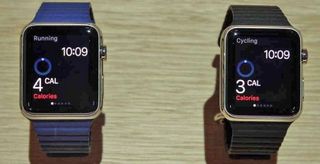 Apple Watch with Leather Loop
The Leather Loop for where the Apple Watch gets bolder with new colors, but also gets even pricier. Its leather is milled in Italy, and its magnets are hidden in the leather loop ends.
Apple is asking for $700 (£559, AU$1,029) for the watch case and Leather Loop that is only available with the 42mm watch size. That's okay with us, as the Apple Watch battery life lasts longer in the bigger size.
Its Apple Watch band comes in medium and large lengths and is sold separately for $149 (£129, AU$229), so it should fit the wrist of anyone who is willing to don the larger Apple Watch.
Colors consist of stone, light brown, bright blue and black.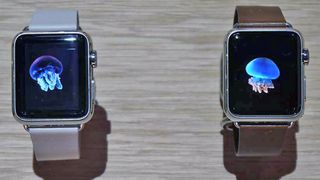 Apple Watch price with Modern Buckle
Being modern is what Apple Watch is all about, so this top-grain leather band comes together with a two-piece magnetic closure that looks like one solid buckle.
At $749 (£649, AU$1,099), you may be modern, but this watch and band may cost you your paycheck and future paychecks. It only comes with the smaller 38mm stainless steel case.
It's also expensive apart from the watch, with a band-only price of $249 (£209, AU$379), making it the most expensive leather band available separately.
Colors are soft pink, brown, midnight blue and black, each with a stainless steel clasp that matches the Apple Watch casing.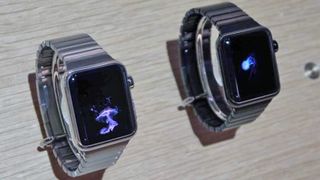 Apple Watch price with Link Bracelet
How much for that all-metal Link Bracelet, you ask? A lot because it has more than 100 components in the band alone.
It's $949 (£819, AU$1,399) for the 38mm size and $999 (£859, AU$1,479) for the 42mm size. Apple says that it takes nearly nine hours to cut the links for a single strap. Maybe Foxconn isn't making this one.
The Link Bracelet in space gray black stainless steel brings the price to $1,049 (£899, AU$1,549) and $1,099 (£949, AU$1,629) for the two sizes.
The Link Bracelet alone in silver stainless steel costs $449 (£379, AU$679), which is more money than the entry-level Apple Watch Sport with the rubber Sport Band.
It comes in two colors with the Apple Watch, stainless steel and space black stainless steel, though only the normal stainless steel version is available as a separate band so far.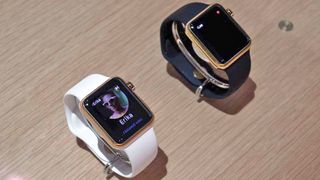 Apple Watch Edition price (low-end)
Is money no object? Then you may be one of the few VIPs willing to flaunt the limited-edition Apple Watch Edition that is made of 18-karat gold. It comes in eight extravagantly priced models.
The "cheapest" are the 38mm Apple Watch Editions with an rose gold case and White Sport Band, and the yellow gold case with a Black Sport Band at $10,000 (£8,000, AU$14,000).
The 42mm equivalents of these two color configurations are $12,000 (£9,500 AU$17,000). Yes, adding just four extra millimeters increases the price by that much.
A new rose gold color for iPhone 6S and iPhone 6S Plus is rumored for September, just in case you want to match. Though, the actual metal may still be aluminum instead of real gold for the new phone.
Even Apple employees have to fork over a lot of money for the gold Apple Watch Edition. While they get half off on the Sport and stainless steel Watch, their discount is just $550 (about £370, AU$715) here.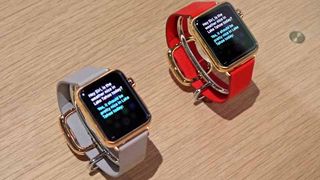 Apple Watch Edition price (high-end)
Apple Watch Edition doesn't stop there, however. At $15,000 (£12,000, AU$21,000) is the 42mm yellow gold case with a Black Classic Buckle and 42mm yellow gold case with a Midnight Blue Classic Buckle.
There's no 38mm. It's go big or go home (to your mansion). Instead, if you want something smaller, you'll have to opt for the more expensive Modern Buckle at that size, and it breaks the bank even more.
At an unbelievable $17,000 (£13,500, AU$24,000) is the 18-karat rose gold case and rose gray modern buckle, and the same case with a bright red modern buckle. Its Apple extravagance at its peak.
For good reason, none of the Apple Watch Edition bands are available separately in the Apple Store and, word is, they may be locked up in a safe every night.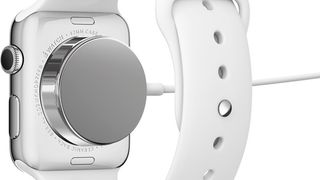 Apple Watch accessory: Magnetic Charger price
A magnetic charger come with every order, but if you want an extra one, the online Apple Store is selling it separately along with Apple Watch bands in its store.
The accessory comes in two sizes, much like the many watch configurations. There's a 1m cable for $29 (£25, AU$45) and a longer 2m cable for $39 (£29, AU$59).
Having an extra one around (or two) isn't a bad idea for a backpack, the office, your car or a loved one's residence. After all, that 18 hours means Apple Watch needs to charge nightly, no matter where you end up up at night.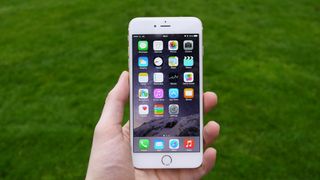 Apple Watch requirement: Newer iPhone
Apple Watch won't work without a newer iPhone, and Apple states this on its website on just about every page. Some people, regardless, are still going to complain that they didn't know.
This may add to your end price, as the smartwatch requires the iPhone 5 or later, meaning the iPhone 5S, iPhone 5C, iPhone 6 and iPhone 6 Plus are all good to go.
This makes a lot of sense. These are the same strict requirements of the company's ongoing Apple CarPlay project, even though iOS 9 still works with devices as far back as the iPhone 4S.
Needless to say, the next iPhone 7, expected in September, will work with the Apple Watch and may even support new features.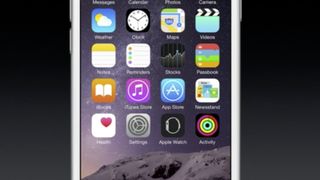 Apple Watch requirement: iOS 8.2
Also an Apple Watch requirement is iOS 8.2 or later. Conveniently, this update launched at the same time Tim Cook announced the smartwatch price, and we're already up to iOS 8.4 and iOS 9 beta.
You can't get away without it because Apple's smartwatch uses a container app to function and manage settings and watch apps. This is the same setup used by Android Wear watches and the forthcoming Pebble Time and Pebble Time Steel.
The good news is that the even-more-stable iOS 8.4 update with Apple Music is out and it's free of charge. It won't cost you any extra and there's no nagging wait.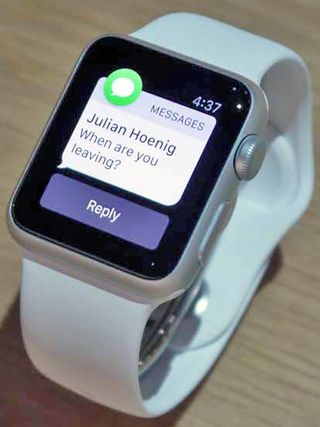 Apple Watch price wrap-up
Apple Watch, depending on the configuration, is the company's most pricey gadget. That's why I am opting for the cheapest variant.
My choice, the Apple Watch Sport, has a duller aluminum finish and a rubber-like band, but it starts at $349 (£299, AU$499). And, I can add to the bands from there, say, if I one day buy the slick-looking Milanese Loop.
More than anything, though, I know that the Apple Watch that I received on the April 24 release date is going to be dated soon.
Apple may not introduce the Apple Watch 2 for several months (it's not Samsung, after all) or even a full year, but eventually it'll upgrade its smartwatch and I'll be glad I bought the cheapest one.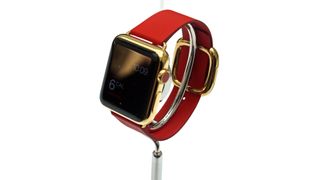 More Apple Watch coverage
There's a lot more to explore as now that we're in the Apple Watch launch window. We have already fully tested it for our final review.
We also dove deeper into the design choices with our look at all of the Apple Watch bands, spotlighting each collection, the build quality and the watch faces.
On the same day that Apple Watch began taking pre-orders, the company started selling its new MacBook 2015 with an even thinner and lighter design, a 12-inch display and similarly expensive price.
You're going to pay a premium for the Apple Watch at any level, but if you're on the fence, know that it will close the gap between essential and extravagant this fall when its Watch OS 2 arrives this fall.
The new software update was previewed alongside iOS 9 at WWDC 2015, and opens up the door to better apps on the wrist. If that's not enough for you, start saving up for Apple Watch 2 instead.