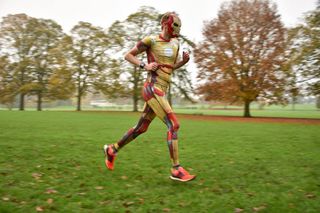 Awesome gifts for runners
It's that time of year again: you've got a loved one who loves running, but you don't know what to get them... and you're sure you can't get them more socks.
Firstly - yes you can. We runners love socks, and the more expensive they are, generally, the more we'll love them. In fact, go nuts with all running gear - get the size right and we're jubilant that it's not slippers.
Read more: Garmin Forerunner 645 Music review
But perhaps you want to be a little more targeted, feel like you're getting them something they REALLY want. Have they been dropping hints about wishing they had a fitness tracker? Keep moaning about their headphones? These are the gifts to go for.
Or perhaps you've already forked out for their 'big present' and you're looking for some decent stocking fillers - I've got you covered there too.
Now, this is by no means an exhaustive list - when it comes to reviewing and ranking phones in the 'day job' I'll be superbly thorough. THIS list, however, is made up of things I've tested out or bought myself and can vouch for - I've stress tested it and it's still going, so that's got to be a good thing, right?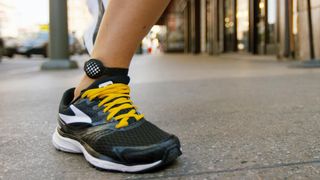 Moov Now
I hate fitness trackers. They're just pointless - they need charging all the time, they give you data about your life you don't know what to do with... in short, they're gamifying things without a victory.
But the Moov Now is the first that I actually want to keep on my wrist - for a couple of reasons. Firstly, it has a six month battery life, so no need to charge. Secondly, while it does track steps and sleep you can 'activate' it to help you run faster, get fitter, do HIIT workouts and even monitor swimming through a clever app.
My main reason for loving it, however, is that it's got a brilliant cadence training program that forces you to learn to stride more quickly (and efficiently). If your running partner wants to get faster in races, tell them to use this for a few weeks and watch their times tumble.
This has been number one in our list of best fitness trackers for a year now - and while it might not stay there for long, it's still a cracking buy.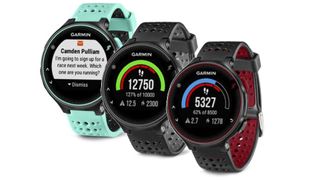 Garmin Forerunner 235
Another year, another Garmin - but there's every reason to buy the Garmin Forerunner 235 watch. Firstly, while it's getting older, the price is coming nicely down and the fact it's still working well is helping it remain front and center as a popular watch.
The tracking is accurate. You can get updates from your phone when you're running so you don't need to dig it out, and it even keeps your steps counted and sleep quality monitored too.
It comes with a heart rate monitor built in, but I'd still recommend buying a separate HRM strap as well (either the Tickr X, mentioned later in this piece, or the dedicated one from Garmin work well) as the wrist-mounted sensor can be prone to spitzing out at times.
This is a strong choice as a present for someone looking to make the upgrade to a 'proper' running watch - you could look at the cheaper Spark 3 if they just want something to monitor their running, but the 235 is a slightly more rounded option.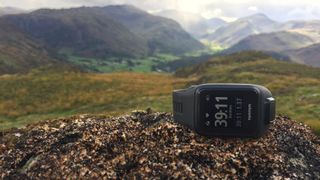 TomTom Spark 3
If you don't want to spend the large amount of the Garmin range, TomTom's new challenger - the TomTom Spark 3 - is a little darling to check out. It's not as fully-featured, but can track cycling and swimming on top of running.
It's got an integrated heart rate monitor, a clever feature where you can race previous efforts of your own or simply a pre-defined pace - but the main win is the music player it packs, where you can fill it with your own tunes and listen to them over Bluetooth headphones.
In short, it's an entertainment centre, heart rate monitor and make-you-fasterer all in a tiny thing on your wrist. And it can even track steps and sleep too!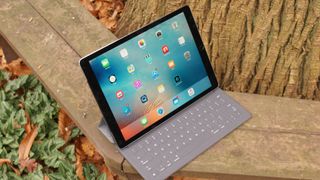 iPad Pro
Got a partner who loves a good run commute but hates having to lug their laptop around? Well, now the tablet is the lightweight device to take that brunt.
The whole point is bridging the gap between desktop and apps, which the iPad Pro does better than any.
On top of being a decent way to do work when you're on the train or in the office, the iPad Pro is also a great method of checking out your running stats on your favorite apps.
Whether you use or an app or need to log into a web browser to see your runs, the iPad Pro has nifty accessories like the Pencil, which can be used by coaches to analyse your gait through video too, drawing massive circles around pudgily-placed feet.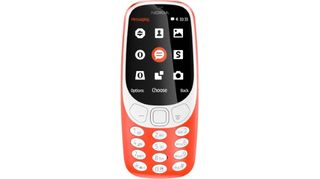 Nokia 3310
We all need a phone as runners, but your intended giftee probably already has a smartphone and you're not willing to buy them a new handset just to let them run better.
However, this phone from Nokia is a strong choice for two reasons: firstly, it's got a microSD card slot so you can load it up with music from that dusty old MP3 selection (sadly this isn't Spotify compatible), and with monster battery life you'll easily be able to get through any distance of run without it losing charge.
Secondly, it's pretty darn cheap as you can see with the prices below - yes, it's a secondary phone, but it'll also be a great festival / leave in the car / crap, my iPhone is out of battery handset to have around.
Thirdly, it's a proper unit - accidentally chuck this onto a path mid run and you won't need to worry about it being instantly covered in smashes.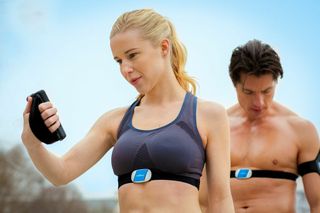 Wahoo Tickr X
When it comes to a heart rate monitor that can do it all, the Wahoo Tickr X is my go-to guy for all things pulse-y.
It's got the ability to connect to both Bluetooth and Ant+ (win) and has advanced sensors to track your motion, which means you can use the app to do 7 minute high intensity workouts and watch as it tracks the reps you do automatically.
And in a brilliantly Iron Man-esque twist, you can even set it so that tapping your chest twice will change the music you're listening to.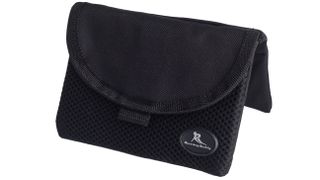 Running Buddy
It looks like a purse. It kind of is. But it's a perfect stocking filler - it's a magnetically clipped pocket that goes on your shorts belt wherever you fancy to hold your phone, keys and cards.
It's got two sections and the magnets are hella strong - seriously, you're more likely to have your shorts slip down to your ankles from the weight of your phone than this fall off. Don't ask how I know that*.
*(in an unrelated not, maybe buy them some shorts with a strong drawstring.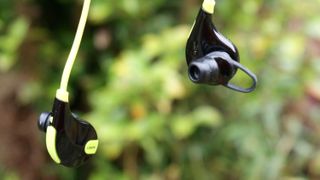 Aukey Bluetooth headphones
You've heard your runner person 'wouldn't mind' some wireless headphones, which is a nightmare - which do you go for? Well, if you want to try them out on something really, really cheap but not actually half bad, check these out.
They're nothing special in terms of sound or functionality, but they are low cost and simply work - doing the job of 'making sound go from phone to ears' in an easy way without faff.
This design is found all through Amazon for a very cheap price, but the extra ear hooks that come in the box help make the Aukey sets a top buy.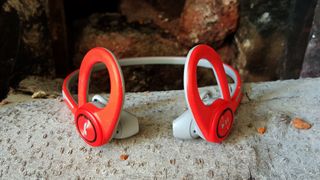 Plantronics BackBeat Fit
So perhaps the Aukey headphones are too cheap. You want to get them some Bluetooth headphones that are more robust, more functional - and don't fall out very much at all.
Step up the Plantronics BackBeat Fit, still my go-to headphones a year on. They mould around your ears with some squishing, have good sound quality, long battery life and easy to find controls.
The volume control system is a bit fiddly, but that's the worst criticism I can lay at their door. An easy win for the runner you want to show love for - they'll definitely appreciate it (and they now come in multiple colors - go for the Tron neon blue if you can).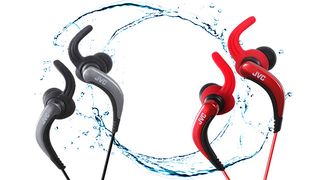 JVC HA-ETR40
Of course, for every running fan that wants Bluetooth headphones, there are those who are a little more old school, wanting the security of a pair that won't run out of power on a long run.
These are the ones for you - I've got terrible ears, and no other running headphone has gripped onto my head-shells as well as these.
You can have them in both armband or pocket mode (with the headphone lead coming in two lengths) and, well, they just stay in the whole time. In coming back to update this list, I've not used them in a while (I prefer Bluetooth options now) but instantly I was reminded just how excellent they are.
Sound quality misses the bass a little bit, but trust me: runners prefer being able to hear their music, rather than it being great quality but playing out of an earbud dangling around their waist.