Samsung's Galaxy S8 has swept the smartphone competition aside with its powerhouse specs and sleek new looks, so here's your chance to figure out what all the fuss is about without blowing up your wallet. This page is for savings on huge data, budget plans, or simply the best overall value in a contract in Singapore. If you're looking for the Australian page check out the best Australia Samsung Galaxy S8 deals, or if you're after the UK or US, head to the best Galaxy S8 plan in the UK or the best cheap Samsung Galaxy S8 deals in the US.
We've had a look at the three main selling points when it comes to a new Samsung Galaxy S8 plan — the best budget option, the biggest data plans, and the best overall value — choosing one of each across the three major networks. Singapore is a complex market for phone plans, however, and given all of the extra-data bundles on offer from each provider, you should definitely have a go at altering one of our recommended deals with some extra data if it doesn't quite meet your needs as is.
Although the recent arrival of telco Circles.Life on the market has made a splash, it doesn't offer any plans that include the Samsung Galaxy S8 handset. It does sell the handsets outright or in instalments, however, which would pair nicely with their impressive plan (the only one they offer) that provides a baseline of 6GB of data and unlimited WhatsApp usage for $28 a month.
See also: Galaxy S8 review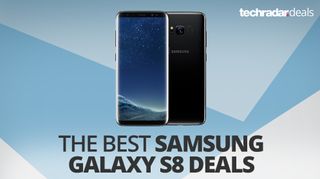 The best Galaxy S8 deals (August 2017)
Here we've gathered three of the best deals across all the networks at the top of the guide, all of which are chosen purely on their respective values (as we don't manipulate the results for commercial gain). Below that you'll find the top deals section from the three major networks, Telstra, Optus and Vodafone.

Best overall value — Galaxy S8 | 7GB data |800 minutes | 2,000 SMS / MMS | $0 upfront | $102 pm
Although it's further up the price-scale as far as plans are concerened, grabbing the Max plan from M1 is the best way to go about getting a Samsung Galaxy S8 and a useful amount of included value. 7GB is plenty enough to keep you going, and with 800 minutes talk and 2,000 SMS and MMS to top it off, there's plenty to work with here. Although there are cheaper plans, they all involve upfront payments and so you're not getting the best value with inclusions. Total cost over 24 months is $2,448

Best budget option — Galaxy S8 | 3GB data | 200 minutes | 1,000 SMS / MMS | $658 upfront | $42 pm
There are certainly cheaper plans out there, both on M1 and other carriers, but with this plan you'll be paying less upfront and getting much more bang for your buck in the long run. 3GB of included data is much better than the 100MB or 300MB that the lower tiers offer, and with boosted minutes of talktime and double the messages, this brings the overall value of the plan up well beyond the budget alternatives. Total cost over 24 months is $1,666

Biggest data option — Galaxy S8 | 12GB data | Unlimted talktime | unlimited SMS / MMS | $0 upfront | $220 pm
Of the top-tier plans available from the three carriers, Starhub's is not only the cheapest overall, it also gives you the most non-data value. The 4G 12 plan gives you 12GB of data to use alongside unlimited talk and text, so you won't have to worry about running out of anything. Total cost over 24 months is $5,280

Now let's break down the best Galaxy S8 deals for August 2017 by network...
Best Galaxy S8 deals on Singtel (August 2017)
Best value overall — Galaxy S8 | 6GB | 700 minutes | 1,500 SMS / MMS | $0 upfront | $102.90 pm
To get the most out of the Singtel network, you should go with the Combo 6 plan, complete with 6GB of data, 700 minutes talktime and 1,500 SMS and MMS. On top of that, you'll get free incoming calls, free VoiceMail and access to Singtel's Wi-Fi. Not only that, you'll pay nothing up front! Total cost over 24 months is $2,469.60
Best budget option — Galaxy S8 | 100MB data | 100 minute | 500 SMS / MMS | $778 upfront | $27.89
The cheapest you can grab a Samsung Galaxy S8 on Singtel is with the Combo 1 plan, and although you don't get a whole lot of included value, this is ideal if you add data or calls as you go and don't spend a heap on them to begin with. Total cost over 24 months is $1,447.36
Biggest data option — Galaxy S8 | 12GB data | Unlimited minutes | Unlimited SMS / MMS | $0 upfront | $239.90 pm
Singtel has loads of extras and really shines in the higher tier plans. With the Combo 12 plan, you can grab 12GB data and unlimited talk and text, along with perks like a $500 yearly handset voucher, caller ID, and autoroam. Total cost over 24 months is $5,757.60
Best Galaxy S8 deals on Starhub (August 2017)
Best overall value — Galaxy S8 | 4GB data | 350 minutes | 1,200 SMS / MMS | $247 upfront | $62.90 pm
Starhub's best value deal is with their 4G 4 plan which nets you 4GB of data, 350 minutes and 1,200 texts. You'll pay a bit upfront, but overall this still works out to be much better bang for your buck than the plan above it and is actually CHEAPER than the plan below it (the 4G 3 plan will end up costing you around $32 more over the 24 months). Total cost over 24 months is $1,756.60
Best budget option — Galaxy S8 | 300MB data | 100 minutes | 500 SMS / MMS | $859 upfront | $27.90 pm
To get a Galaxy S8 on Starhub, you'll need to drop at least $27.90 a month, with an $859 upfront charge. This is great for the savvy users out there who can reign in their call and data usage, with 300MB data and 100 minutes calls to get you rolling, along with 500 SMS and MMS, this plan can go a long way, especially if you add value as you go. Total cost over 24 months is $1,528.60
Biggest data option — Galaxy S8 | 12GB data | Unlimted talktime | unlimited SMS / MMS | $0 upfront | $220 pm
Of the top-tier plans available from the three carriers, Starhub's is not only the cheapest overall, it also gives you the most non-data value. The 4G 12 plan gives you 12GB of data to use alongside unlimited talk and text, so you won't have to worry about running out of anything. Total cost over 24 months is $5,280

Best Galaxy S8 deals on M1 (August 2017)
Best overall value — Galaxy S8 | 7GB data |800 minutes | 2,000 SMS / MMS | $0 upfront | $102 pm
Although it's further up the price-scale as far as plans are concerened, grabbing the Max plan from M1 is the best way to go about getting a Samsung Galaxy S8 and a useful amount of included value. 7GB is plenty enough to keep you going, and with 800 minutes talk and 2,000 SMS and MMS to top it off, there's plenty to work with here. Although there are cheaper plans, they all involve upfront payments and so you're not getting the best value with inclusions. Total cost over 24 months is $2,448

Best budget option — Galaxy S8 | 3GB data | 200 minutes | 1,000 SMS / MMS | $658 upfront | $42 pm There are certainly cheaper plans out there, both on M1 and other carriers, but with this plan you'll be paying less upfront and getting much more bang for your buck in the long run. 3GB of included data is much better than the 100MB or 300MB that the lower tiers offer, and with boosted minutes of talktime and double the messages, this brings the overall value of the plan up well beyond the budget alternatives. Total cost over 24 months is $1,666

Biggest data option — Galaxy S8 | 13GB data | Unlimited talktime | 5,000 SMS / MMS | $0 upfront | $228 pm
M1 offers the highest baseline data out of any of the providers at 13GB, so if you're a big user grab the Samsung Galaxy S8 on the Max+ plan and use all you want. There's also unlimited talk and 5,000 SMS and MMS (which may as well be unlimited) so you shouldn't ever have to worry about your limits. Total cost over 24 months is $5,472