Our favorite iPad twin-stick shooters, FPS titles, precision shooting games, and scrolling shoot 'em ups.
Backfire ($2.99/£2.99/AU$4.49)
Backfire features an exorcist trying to cleanse an ancient curse; for some reason, this is achieved by piloting a neon-green ship around hellish arenas. From the viscous walls come demons, emitting guttural growls as they close in for the kill.
Naturally, the plan is to shoot them, but your ship only fires from behind. You must therefore forget everything you've learned about arcade blasters, and figure out how to obliterate ravenous foes while firing from your ship's bottom.
Although hard as nails, Backfire is a delight, with smart design, and a great ship upgrade path. The controls, note, are odd – tap where you want to head – meaning on iPad you're best off playing on a table. But that merely means your thumbs won't obscure an enemy desperate to tear you to pieces.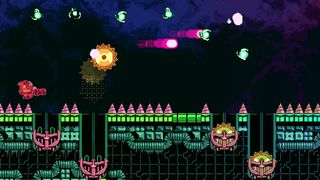 ATOMIK: RunGunJumpGun ($2.99/£2.99/AU$4.49)
ATOMIK: RunGunJumpGun is a murderously difficult yet gripping auto runner/shooter. Like the mutant offspring of ALONE… and Jetpack Joyride, it has you blast your way through neon-soaked corridors packed with enemies, spikes, bullets and massive saw blades.
The tiny snag is the protagonist is a massive idiot. Rather than pick his way through the carnage, he belts along, using a gun to blast ahead (whereupon he loses altitude) or downward (in order to gain height). Juggling these minimal options while figuring out a route – and getting the timing right to stay alive – is extremely tricky.
Amusingly, levels also contain collectables – a gift for 'self-hating completionists'. If that all sounds a bit much, there is a slightly less deranged Shield mode, which will only leave you 50% of a nervous wreck.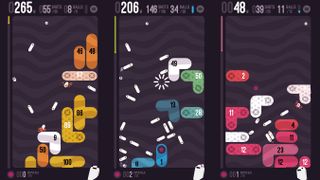 Holedown ($3.99/£3.99/AU$5.99)
Holedown has you fire strings of balls at numbered blocks to obliterate them and dig deeper toward a planet's core. You have limited shots and a set number of balls per shot, so you must carefully aim and strategize, prioritizing 'fixed' bricks that won't fall if those beneath them are destroyed.
The basic premise may be familiar – plenty of freebies are broadly similar – but whereas they ruin things with difficulty gates and IAP, Holedown is a premium, polished game. Upgrades come by way of gems found during digs, rewarding skill rather than your ability to open your wallet.
Although the game is repetitive, it's more hypnotic than grindy, and fun when you nail a perfect shot, sending a group of balls through a tiny gap for them to bounce around like wasps trapped in a jar.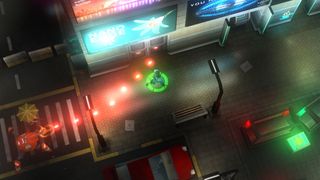 Jydge ($8.99/£8.99/AU$13.99)
Jydge plonks you in a grubby, neon-lit dystopia, with nasty ideas about law enforcement. As the titular 'jydge', you go on missions that largely involve shooting bad guys, 'confiscating' loot, and rescuing the odd hostage.
The anything-goes nature of Jydge initially wrong-foots, because the viewpoint and setup scream stealth shooter. You think you'll be sneaking about, like a ninja with a gun. In reality, it's often more like a brains-free twin-stick blaster.
That said, Jydge does have some tactical nous when it comes to challenges that are initially impossible. Actions can affect levels permanently, meaning with a little thought – and quite a lot of violence – you can by way of a few 'stacked' attempts in fact clear a tricky scene in 20 seconds, assuming your thumbs can keep up as you revel in the mayhem.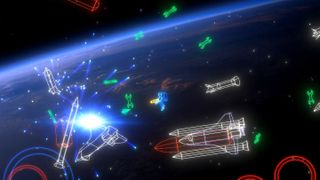 Space Junk ($0.99/£0.99/AU$1.49)
Space Junk is what happens when someone rethinks classic arcade blaster Asteroids and goes all-out, souping it up for the iPad. The basics remain: you're floating in space, blowing everything around you to smithereens. Big things, when blasted, split into smaller things. UFOs take occasional pot-shots. Anything that hits you kills you.
But everything's handled with such grace and good humor that you can't help but be enthralled. The controls – despite being dreaded virtual buttons – work nicely, aided by subtle inertia on your little spaceman.
For those who prefer precision over random blasting, there's a bonus for careful shots. And even the varied level names and themes raise a smile, such as 'So Long, Space Shuttle' (blowing NASA's finest to bits) and 'Victorians Got Here', with its steampunk space stations.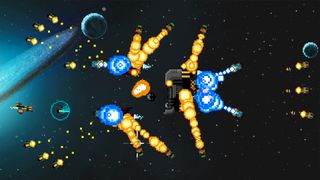 Steredenn ($3.99/£3.99/AU$5.99)
Steredenn is an endless horizontal shooter, infused with the beating heart of the best retro blasters around, topped off with a head-nodding guitar-laden soundtrack.
Unlike most games of its ilk, it works brilliantly on iPad. The responsive controls have you drag the left of the screen to move your ship, and tap the right to fire at incoming waves of enemies. A flick of your right thumb switches weapons, and if your ship darts beneath a digit, crosshairs pinpoint its position.
And you'll need that knowledge at all times, because enemies come thick and fast in all their chunky-pixel glory. But so too do power-ups – and learning the effectiveness of weapons against specific opponents boosts your long(er)-term survival.
Well, that and sometimes bolting a massive whirling saw blade to your ship, like some kind of space lunatic. It's superb, raucous, shooty fun.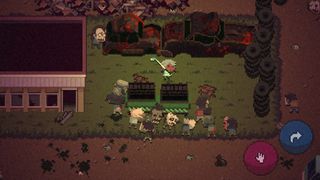 Death Road to Canada ($13.99/£13.99/AU$21.99)
Zombies have taken over the USA, and so it's road trip time in Death Road to Canada, the aim being to flee to the safety of the land of the moose. The tiny snag: the aforementioned zombies, and the fact you start out in Florida.
The game itself is an action-oriented role-playing title, switching between top-down shooting/scavenging scenes, choose-your-own-adventure text sections, and claustrophobic and downright terrifying sieges that lock you for a set time in a confined space with hundreds of the undead.
Actually, it's not that terrifying, given that Death Road to Canada looks like a game from the 1990s. But it is excellent fun, despite some slightly slippy virtual controls. (If you've an Made for iPhone controller, use that to boost your zombie-killing prowess.)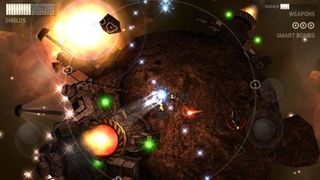 Darkside ($1.99/£1.99/AU$2.99)
In the inky blackness of space, humans have started mining massive space rocks, and it turns out aliens have a big problem with that.
Enter: the hero of Darkside, who has to blow up said aliens and, for some reason, all the rocks the humans are supposed to be mining. Videogame logic!
It all comes across like someone gleefully mashed together two classic arcade titles – Asteroids (shoot rocks until they're tiny enough to obliterate) and Robotron (the original twin-stick shooter) – and wrapped the result around beautifully rendered planetoids.
Although there's a free version, splash out for the paid release and you get smart bombs in the arcade mode, and two extra modes to try: one being mission-based, and the other being a tough endless mode for cocky veterans.
The end result is tons of shooty fun that's accessible enough for newcomers, but that provides a stern test for even the swiftest of trigger fingers.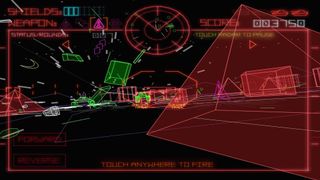 Tanks! - Seek & Destroy ($2.99/£2.99/AU$4.49)
One of the earliest 3D games was Battlezone, a tank warfare title at the time so realistic the US military commissioned a version from Atari to train gunners. iOS tribute Vector Tanks was subsequently gunned down by Atari lawyers, but its DNA survives in Tanks! - Seek & Destroy.
Like Battlezone, Tanks pits you against an endless number of vector tanks, on a sparse battlefield. But this is a much faster, tougher game, with tilt-and-tap controls that put you more in mind of console racing games than a stodgy tank 'em up. The result is a relentlessly thrilling 3D shooter that marries the best of old-school smarts and modern mobile gaming.
AirAttack 2 ($0.99/£0.99/AU$1.49)
You get the feeling creators of classic vertically scrolling shooters would sit in front of AirAttack 2 in a daze, dumbfounded at what's possible on modern home-computing devices.
That's not down to the gameplay, though: like its predecessor, AirAttack 2 is a straightforward shooter - you're piloting a fighter in World War II, downing enemies while optionally yelling "tally ho" at an annoyingly loud volume.
But this World War II is decidedly different from the one that occurred in our reality: Germans own limitless squadrons and building-sized tanks (versus the Allies, seemingly relying on a single nutcase in a plane to win the war).
It's the jaw-dropping visuals that really dazzle, effortlessly displaying swarms of enemies to down, colossal bosses to defeat, and a destructible environment to take out your frustrations on. For the low price (not least given that there's no IAP whatsoever), it's an insane bargain.