Our favorite iPad 3D, space, retro, top-down, and on-rails racers.
Rush Rally 3 ($3.99/£3.99/AU$5.99)
Rush Rally 3 is a rally simulation that echoes the kind of experience you'd usually only get on a 'proper' console under your telly.
From a visual standpoint, the game looks the part, whether you're grinding metal with aggressive competitors on tarmac tracks, or blazing through alpine forests, with a co-driver bellowing instructions in your ears.
There's plenty of customization on offer. You can race with your car in front of you, or try your hand at a much tougher cockpit view. The controls can also be fine-tuned, increasing or reducing manual control, depending on your skill levels.
This ensures Rush Rally 3 is a great option for old-hands and beginners alike, and means it easily ends up in the points when it comes to the best iPad racers.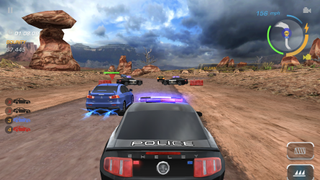 Need for Speed: Hot Pursuit ($4.99/£4.99/AU$7.99)
Need for Speed: Hot Pursuit [US store] | [non-US stores] is an old-school high-octane racer that echoes pursue-and-smash classic Chase HQ. You tear along in your police car, aiming to batter nasty criminals into submission. Then, during your downtime, you and your cop chums partake in dangerous high-speed races.
Visually, Hot Pursuit is sometimes a touch crude, with background pop-up betraying the original game's age, but the cars and roadside objects still look nice enough on a Retina iPad. Most importantly, the game feels really good – not least during moments when you fire up the nitro, drift round a bend, and smash the baddie into a roadblock. And if you don't fancy being the fuzz? You can leap into your sports car in a parallel storyline and become mouse rather than cat.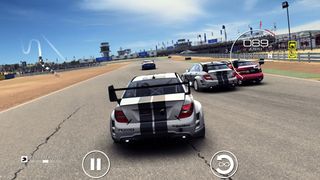 Grid Autosport ($9.99/£9.99/AU$14.99)
Grid Autosport feels like the first of a new breed of iPad games, where a claim of 'console quality' isn't hyperbole. This really is a pretty much direct conversion of the hit PC and PlayStation racer, squeezed into your iPad.
There's no messing about with grinding and currencies here – you can immediately delve into everything the app has to offer, choosing from its huge range of challenges, cars, and circuits. Everything from a quick race in an open-top to a full Touring Cars season is just a few taps away.
With a range of control options and difficulty settings, the game manages to cater to arcade fans and simulation nuts alike; and when armed with an iPad and an MFi controller, the only thing betraying the fact you're not playing on a console is the size of the screen.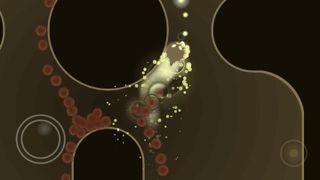 Fluid SE ($0.99/99p/AU$1.49)
Fluid SE appears to have arrived from the unholy union of Pac-Man and a brutally difficult time-trial racer set in a hostile underwater world of black fish and deadly red ghosts.
Each test has you zoom about, scooping up dots, and attempting to beat time targets. If you're fast enough, you get the stars needed to unlock new levels; if not, you'll need to work on shaving fractions of a second off of your best times.
The snag is levels rapidly increase in complexity, and dots you eat spawn the aforementioned ghosts, which relentlessly chase you around the screen. There are ways of dealing with them, but often that involves slowing down.
Fluid SE therefore becomes a thrilling game of risk versus reward, where everything plays out at breakneck speed – right up until you're devoured by an angry ghost.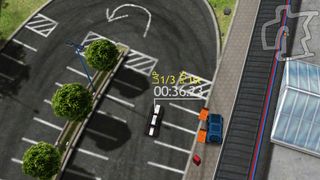 Reckless Racing HD ($0.99/49p/AU$0.99)
Reckless Racing HD is a top-down racer that first graced the App Store way back in 2012. It's different from its contemporaries in having you coax battered vehicles around ramshackle tracks.
There's no slick tarmac – bar a mall parking lot that forms part of a course. More often, you're zooming about the likes of a wrecker's yard, or dirt roads near an old church that rises majestically out of the screen like it's about to poke you in the eye.
Given a 64-bit reprieve in mid-2017, Reckless Racing HD is a fantastic blast from the past. The cars have a great sense of weight – the physics when racing is just about perfect. And although it now looks a bit rough and ready, it's decidedly more reckless (and fun) than its overly polished sequel, and includes the online multiplayer that the most recent entry in the series lacks.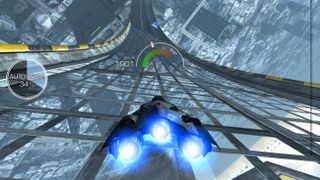 AG Drive ($2.99/£2.99/AU$4.49)
In the future, it turns out people have tired of racers zooming about circuits on the ground. In AG Drive, tracks soar into the air – akin to massive roller-coasters along which daredevil racers of the day speed, gunning for the checkered flag.
This is a pure racing game – all about learning the twists and turns of every circuit, and the thrill of breakneck speed. The only weapons you have available are strategy and skill. And this suits the kind of stripped-back controls that work best on iPad – tilting to steer, and using thumbs to accelerate, brake, and trigger a turbo.
Also, while some slightly irksome IAP lurks, there's little need to splash out. The game's difficulty curve is such that you can gradually improve your skills and ship, working your way through varied events until you become an out-of-this-world racing legend. (Or, if you're a bit rubbish, an ugly stain on the side of a massive metal building.)
Riptide GP: Renegade ($2.99/£2.99/AU$4.49)
Riptide GP: Renegade is the third entry in the Riptide series, and again finds you in a souped-up jetski called a hydrojet, bombing along watery circuits flanked by futuristic metal skyscrapers.
But unlike its (equally impressive) predecessor's official racing championship, Renegade's splashy racing involves illegal bouts set in flooded ruins and deadly factories – playing for reputation rather than an adoring TV audience.
The racing is still superb, with its mix of insane speed and ridiculous stunts – hit a ramp and it's expected you'll show off by spinning your hydrojet around or performing a handstand on top of it. Despite some dodgy story bits and a slightly grindy upgrade path, Renegade is an exhilarating racer – and one that also gets away from tarmac and gleaming metal tracks.
Need for Speed: Most Wanted ($4.99/£4.99/AU$7.99)
Need for Speed: Most Wanted [US store] | [non-US stores] thumbs its nose at simulation racing, but still parks itself somewhat in the real world.
Mostly, it's all about speeding along like a maniac, with arcade-style controls reminiscent of classic console and arcade title OutRun 2. You'll drift for miles, soar through the air in a manner cars are most definitely not designed for, and smash into other road users with merry abandon.
But being that this is a Need for Speed title, all this happens in a grim and gritty city, packed with cops. It's a bit too drab at times – we'd love to see a bit of blue sky – but is nonetheless a tremendous iOS racer that feels great to play.