Our favorite iPad arcade titles, including retro games, pinball, slice 'em ups, multiplayer party games, and innovative touchscreen creations.
Microbian (free + $1.99/£1.99/AU$2.99)
Microbian is an atmospheric auto-runner, featuring a spider darting through creepy underground caverns. Your aim is simply to survive, which requires not being horribly killed by the many hazards on your path. You can tap to jump, and tap in mid-flight to switch to the ceiling or back to the floor.
Right from the off, the arachnid's journey is quite tricky, placing your tapping digit under severe duress. The screen whirls around, ravenous creatures suddenly give chase, and you may find yourself abruptly hurled into the air by something springy.
It's worth persevering though, because you soon get a rhythm for the game. At that point, you can improve your gaming prowess, but also get a chance to more fully breathe in Microbian's gorgeous, moody visuals.
Silverfish DX ($3.99/£3.99/AU$5.99)
Silverfish DX is an unashamedly old-school arcade romp, albeit one with shiny modern visuals. You take the role of the titular silverfish, which finds itself surrounded by aquatic and very hungry enemies.
To survive, you must weave your way through the swarms, grabbing power pods that obliterate anything nearby. Max out your power – depleted during collisions – and you can briefly turn the tables on your foes by eating them.
This is a mix of Robotron's claustrophobia (but without the shooty bits) and those moments in Pac-Man where you get to eat the ghosts. Like those titles, Silverfish DX is perhaps a bit one-note, and so won't keep you glued for hours at a time, but the game's purity and compelling, exciting gameplay ensures it's always worth a quick dip.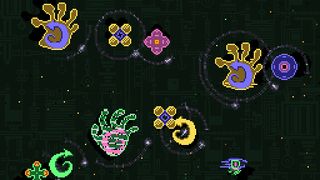 Helix ($2.99/£2.99/AU$4.49)
Helix has the appearance of a rough-and-ready 1980s arcade game. Your character, a chunky blinking eye, scoots about as adversaries rapidly appear from screen edges. The aim is survival, but fortunately you can do more than dodge (albeit less than shoot).
Move around an enemy and a line begins to encircle them. If the line is closed, the enemy explodes, giving you some breathing space. Some enemies require more orbits, or for you to encircle them in a specific direction, and that's about it.
But Helix's simplicity isn't to its detriment. This is a focused, brilliantly conceived arcade blast that's ideal fodder for iPad. The touchscreen controls are responsive, the lurid visuals are captivating, and the hard-as-nails gameplay has that one-more-go factor that will have you clamoring for more.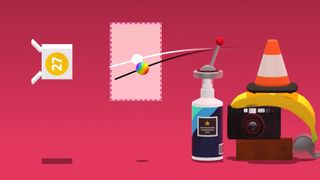 Trick Shot 2 ($2.99/£2.99/AU$4.49)
Trick Shot 2 at its core is a game that has you lob a ball into a box. At first, despite its ultra-chic minimalist visuals, it all seems a bit simple – even dull. But this game's charms win you over rapidly.
In part, this happens as the levels become increasingly ridiculous. You end up bouncing the ball off of giant bananas, or figuring out how to get it into one box within a sea of the things – all, of course, positioned at awkward angles.
Each time you think you've cracked it, something new arrives to test your lobbing abilities: levers; teleporters; power connectors. And even when you emerge victorious from the final challenge, that's not the end of it, since Trick Shot 2 has its own built-in level editor.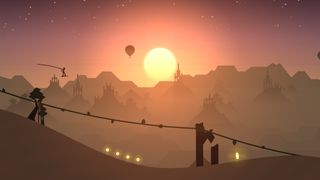 Alto's Odyssey ($4.99/£4.99/AU$7.99)
Alto's Odyssey is a one-thumb side-on endless survival game. It features the titular Alto, who has a thing for sandboarding on huge dunes, hurling himself into the air, performing all manner of tricks, and then trying to not land (i.e. crash) in a manner that results in a face full of sand.
This is perfect iPhone fodder, and perhaps not the kind of game you'd usually associate with iPad. But like its predecessor – the similarly impressive Alto's Adventure – Alto's Odyssey is a gorgeous game that's deeper than it first appears.
Visually, it's a treat, with arresting weather effects and day/night cycles. As you complete challenges, you slowly unlock new goals, environments, and abilities, but if at any point it all feels too much, you can switch off with the zero-risk Zen Mode, which leaves you with a serene soundtrack and endless desert.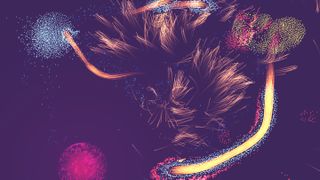 FROST ($4.99/£4.99/AU$7.99)
FROST is a thoughtful, tactile game that feels like a living piece of art. Across dozens of scenes, sparks and barriers scythe across the screen while you direct flocking neon creatures towards orbs. Once the orbs fill, you can move on to the next challenge.
Ultimately, FROST is a path-finding puzzler. You use logic to understand the conditions before you, and how to meet your goal. But FROST feels very different from its contemporaries. The abstract visuals are exciting and fresh, but also it really wants you to play, experiment and discover.
Most of the puzzles tend to be simple, and you could probably blaze through the entire game in a few hours. But doing so would miss the point, because FROST is an iPad experience to bask in and savor.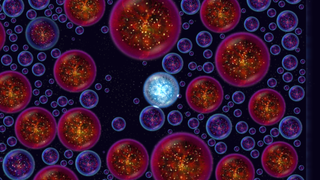 Osmos for iPad ($4.99/$4.99/AU$7.99)
Osmos for iPad is an 'ambient' arcade game, and although it started life on PC, it's a game that only really makes sense on a touchscreen.
Across eight distinct worlds, you control a tiny 'mote', propelled by ejecting pieces of itself, its direction of travel determined by your taps. Collide with a smaller mote and it's absorbed. Your aim is to 'become the biggest'.
When other motes are stationary, victory's relatively easy – although very crowded levels require careful taps and judicious use of a time-warp slow-down feature.
But when levels feature ferocious motes intent on your demise, or the game shifts from microscopic warfare to motes speeding around a central giant – like celestial bodies orbiting a sun – brains and fingers alike will suddenly find Osmos a much sterner test.
At every point in the journey, Osmos is magnificent. Convince a friend to buy the game and engaging multiplayer arenas await too.
INKS. ($2.99/£2.99/AU$4.49)
Pinball games tend to either ape real-world tables or go full-on videogame, with highly animated content that would be impossible on a real table. INKS. tries something different, boasting a modern 'flat design' aesthetic, and having coloured targets on each table that emit an ink explosion when hit with the ball.
Each of the dozens of tables therefore becomes a mix of canvas and puzzle as you try to hit targets while simultaneously creating a work of art. Neatly, as the ball rolls through ink splats, it creates paths across the table, which is visually appealing and also shows when your aim is off.
Because each level is short — usually possible to complete in a minute or so — INKS. manages to be both approachable enough for newcomers and different enough for experts to get some enjoyment out of.
Badland 2 ($0.99/99p/AU$1.49)
The first Badland combined the simplicity of one-thumb 'copter'/flappy games with the repeating hell of Limbo. It was a stunning, compelling title, pitting a little winged protagonist against all kinds of crazy ordeals in a forest that had clearly gone very wrong.
In Badland 2, the wrongness has been amplified considerably. Now, levels scroll in all directions, traps are deadlier, puzzles are tougher, and the cruelty meted out on the little winged beast is beyond compare. Still, all is not lost - the hero can now flap left and right. We're sure that comes as a huge consolation when it's sawn in half for the hundredth time.
ALONE... ($1.99/£1.99/AU$2.99)
Because of the nature of touchscreen controls, there's a tendency to slow things down on iOS. ALONE… throws such caution to the wind, flinging you along at Retina-searing speed as you try in vain to save a little ship hurtling through rocky caverns of doom.
This is a game that's properly exciting, and where every narrow escape feels like a victory; that all you're doing is dragging a finger up and down, trying in vain to avoid the many projectiles sent your way, is testament to you not needing a gamepad and complex controls to create a game that genuinely thrills.
Power Hover ($3.99/£3.99/AU$5.99)
It turns out the future will involve hoverboards, only it'll be robots piloting them. In Power Hover, all the humans are gone, but so too are the batteries that power your robot village. So you hop on your flying board and pursue a thief through 30 varied and visually stunning levels.
Whether scything curved paths across a gorgeous sun-drenched sea or picking your way through a grey and dead human city, Power Hover will have you glued to the screen until you reach the end of the journey. And although it's initially tricky to get to grips with, you'll soon discover the board's floaty physics and controls are perfectly balanced.