Our favorite iPad immersive adventures, point-and-click games, and story-led narratives.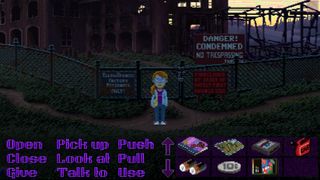 Thimbleweed Park ($9.99/£9.99/AU$14.99)
Thimbleweed Park is a love letter to classic point-and-click adventures, designed by two of the industry's most devious minds. Ron Gilbert and Gary Winnick were the brains behind classics Maniac Mansion and Monkey Island, and Thimbleweed Park is no less tricksy as you ostensibly attempt to solve a murder mystery.
We say 'ostensibly' because the dead body you quickly find is the least of your problems. Over the game's length, you end up playing several characters, including feds, an aspiring game developer and a vulgar, down-on-his-luck clown.
The interface is a bit of a 1980s throwback, as is the difficulty level. Thimbleweed Park can be absurdly obtuse, and a little awkward. But there are few iPad adventures that match this one's humor, heart and cunning – and no others that feature plumbers who happen to be paranormal investigators who dress as pigeons.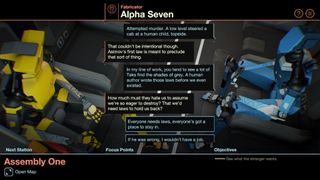 Subsurface Circular ($4.99/£4.99/AU$7.99)
Subsurface Circular exists in a gray area between novella, short film and videogame. Set in a single carriage within an automated transit system, it features a cast of Teks – androids that have replaced humans in many of society's roles.
You play a detective Tek, which spends its life interrogating other robots on the Subsurface Circular, and are immediately embroiled in a mystery. To say more would spoil things, so take it from us that the story entrances, twists and turns over its few hours.
Despite the single-scene setup, the game looks superb, with a cast of varied Teks and a familiar messaging-style interface that has a distinctly futuristic sheen. And if you're concerned about the game's brevity, be mindful you'd spend as much renting a film, and probably wouldn't have nearly as much fun.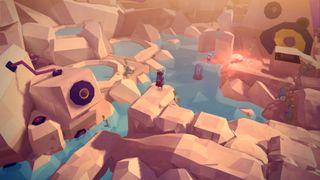 Adventures of Poco Eco – Lost Sounds ($3.99/£3.99/AU$5.99)
Adventures of Poco Eco – Lost Sounds is as much an exploratory experience as a game. The hero discovers a 'lost cassette', which enables him to speak with spirit guides. They charge him with a musical quest: to bring sounds back to the land.
That might sound pretentious and 'worthy', but Poco Eco is more like a cartoon. One of your early guides is a massive bear, and Poco Eco jauntily scoots about the larger-than-life landscapes packed full of color and giant musical kit, bobbing his head to a soundtrack that evolves as puzzles are solved.
Said puzzles are, admittedly, dead simple. Poco Eco isn't a game to fire up if you want your brain smashed in with a stiff challenge. It is, however, perfect for when you want to relax and immerse yourself in an album reimagined as an explorable world.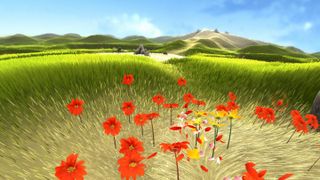 Flower ($4.99/£4.99/AU$7.99)
Flower is a game that revels in bombing along as a petal on the wind, scything your way through fields of lush grassland, and soaring into the air above mountains and windmills.
Each environment starts with you playing as an individual petal. As you collide with other flowers, they bloom and offer a petal of their own to join yours, which soon becomes a spinning, swooping conga of color, wheeling above Flower's tiny, beautiful worlds.
There's a smattering of exploration and light puzzling in Flower, primarily to unlock more parts of each level, and discover secrets. But mostly this game is about enjoying an immediate, accessible, beautiful journey that has an emotional core and an exhilarating edge.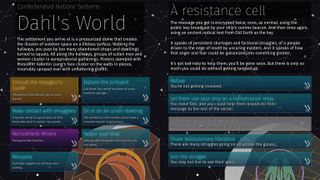 Voyageur ($3.99/£3.99/AU$5.99)
Described by its creator as a literary RPG, Voyageur mixes text adventure with space trading. Imagine seminal classic Elite combined with Lifeline and you're on the right track.
The story begins with you having bolted an alien 'Descent Device' to your ship, enabling faster-than-light travel – but only towards the center of the galaxy. You embark on a one-way journey, stopping off on planets to trade, explore, and become embroiled in side quests.
With the game being text-oriented and algorithmically generated, descriptions and events tend to repeat quite often. Still, if you at any point feel you've seen a planet before, you can leave with a few taps – and there are always new things waiting to be found. For anyone armed with an imagination, Voyageur becomes a unique, captivating experience.
Samorost 3 ($2.99/£2.99/AU$4.49)
From the creators of Machinarium and Botanicula, Samorost 3 is an eye-dazzlingly gorgeous old-school point-and-tap puzzler.
It follows the adventures of a gnome who sets out to search the cosmos and defeat a deranged monk who's smashed up a load of planets by attacking them with a steampunk hydra.
The wordless tale primarily involves poking about the landscape, revealing snatches of audio that transform into dreamlike animations hinting at what you should do next.
Although occasionally opaque, the puzzles are frequently clever, and the game revels in the joy of exploration and play. It's also full of heart – a rare enchanting title that gives your soul a little lift.
Love You to Bits ($3.99/£3.99/AU$5.99)
Love You to Bits has a heart as big as a thousand iPads. It's a tap-based adventure that finds a little space explorer trying to retrieve pieces of his android girlfriend that have been scattered across the galaxy.
The mechanics are right out of classic point-and-click gaming, essentially having you amble about 2D locations, unearth items and then drop them in the right spot.
But the game is so relentlessly creative and inventive with its environments — full of dazzling visuals, references to movies and other games, and increasingly clever mechanics and ideas — that you can't help but love it to bits yourself.
Device 6 ($3.99/£3.99/AU$5.99)
Device 6 is first and foremost a story — a mystery into which protagonist Anna finds herself propelled. She awakes on an island, but where is she? How did she get there? Why can't she remember anything? The game fuses literature with adventuring, the very words forming corridors you travel along, integrated puzzles being dotted about for you to investigate.
It's a truly inspiring experience, an imaginative, ambitious and brilliantly realised creation that showcases how iOS can be the home for something unique and wonderful. It's also extremely tough at times. Our advice: pay attention, jot down notes, and mull away from the screen if you get stuck.
Superbrothers: Sword and Sworcery EP ($3.99/£3.99/AU$5.99)
Superbrothers: Sword and Sworcery EP has in its DNA the essence of point-and-click classics, and is infused with a substantial sense of adventure. It's a game that very much wants you to explore and interact with its mysterious and atmospheric world. It also happens to be a concept album.
That might sound weird, but you soon find your time within this game's world is anything but usual. The delicate pixel art has many surprises and strangeness buried within, and the evocative soundtrack is a high point on the platform.
The storytelling is sparse and smart (if sometimes too knowing), and combat is rhythmic (if a touch clunky). In all, the mixture of music, occasional swordplay, and exploration is not to be missed.