The best music and audio apps for iPad
Our favorite iPad apps for sampling, being a DJ, making music and listening to podcasts.
AudioKit FM Player 2 ($3.99/£3.99/AU$5.99)
AudioKit FM Player 2 is an open-source iPad synth that'll beam you back to the 1980s. Its many and varied presets are based on over 150 samples, and bathe your ears in classic sounds from the likes of Yamaha's DX7 and TX81Z.
A slew of knobs to twiddle, along with an arpeggiator and 16-step sequencer, give you plenty of scope for shaping sound. This is the kind of synth where you can merrily hold down a single key, fiddle with settings, and suddenly realize half an hour's zoomed by.
The app plays nicely with the iPadOS music ecosystem, too. It will work with MIDI keyboards, and also other music apps – in fact, AUv3 support means the entire interface can be loaded into GarageBand, whenever you fancy getting your Kraftwerk on.
NanoStudio 2 ($24.99/£23.99/AU$38.99)
NanoStudio 2 is the successor to NanoStudio, an iPhone app that let musicians bash out songs on iPhones before GarageBand for iOS was a twinkle in Apple's eye. Now less 'nano' (being iPad-only), the follow-up is a remarkably powerful tool for recording, sampling, editing, and mixing.
The app was six years in the making – and it shows. Built-in synth Obsidian is among the best on iOS, and is hugely versatile in the noises it can create. Drum machine Slate adds rhythm, and if that's not enough, NanoStudio 2 lets you effortlessly incorporate Audio Units like Poison-202 and Minimoog Model D.
There is an electronic bent to NanoStudio 2, so it's not ideally suited to people into more traditional sounds. Otherwise, this usable, feature-rich music production environment is a must-have for iPad musicians.
djay (free + $4.99/£4.49/AU$7.49 monthly)
djay is a full-featured DJ solution for iOS. You get a two-deck mode with crossfader, looping, and effects for free, but splash out on the pro subscription and you're instantly equipped with enough DJ power to keep you spinning decks into the small hours.
You get a two-deck view with flanking libraries – and a four-deck view when two isn't enough. There's VJ mixing when you fancy adding some video, support for a slew of controllers, and over 1GB of samples you can fire off to stamp your personal style over whatever's blasting from the local sound system.
Naturally, it's total overkill (albeit fun total overkill) for the typical home user; but if you're a pro DJ armed with an external controller, it may well be enough to chuck all that traditional kit on eBay.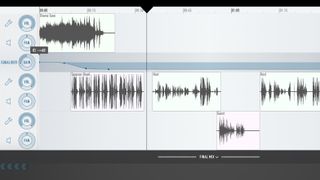 Ferrite Recording Studio (free or US$28.99/£28.99/AU$46.99)
Ferrite Recording Studio at first looks like a souped-up voice memos app, but beneath lies a powerful multi-track editor, so if you're armed with an iPad, the app and some time, you can create your own podcast.
For free, there are limitations: an hour of recording, ten-minute projects and three tracks. Go Pro and Ferrite gives desktop editors a run for their money: 32 tracks, projects up to a day long, and recording time limited only by the space on your iPad.
The pro version adds further handy tools for improving recordings, such as effects, auto-leveling, MP3 chapters and dead air removal, bt the most impressive thing is how this all comes together. Ferrite might be powerful, but it's also extremely usable. It therefore comes highly recommended if you've any interest in multi-track voice recording projects.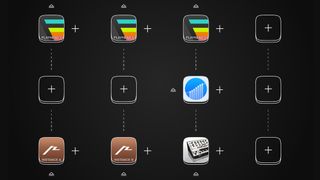 Audiobus 3 ($9.99/£9.99/AU$14.99)
There are so many amazing music-making apps on iPad that it's hard to choose between them. With Audiobus 3, you sort of don't have to, because it acts as a kind of behind-the-scenes plumbing.
Virtual cabling might not sound sexy, but it hugely boosts creative potential. You can send live audio or MIDI data between apps and through effects, mix the various channels, and then send the entire output to the likes of GarageBand.
Much of these features are new to Audiobus 3, and this latest update also adds Audio Unit support, enabling you to open some synths and effects directly in the app.
With support for over 900 iOS products in all, Audiobus 3 is an essential buy for anyone serious about creating music on an iPad.
Poison-202 ($9.99/£9.99/AU$14.99)
So, you've picked up an iPad synth to compose music, play live, or bound about like a maniac, pretending you're on stage at Glastonbury. Fortunately, Poison-202 is ideal for all such sets of circumstances.
The moody black and red graphic design is very 1990s, but it's Poison-202's sounds that hurl you back to the halcyon days of electronic music. Aficionados of The Prodigy, Chemical Brothers and Orbital will be overjoyed at the familiar (and brilliant) sounds you can conjure up simply by selecting presets and prodding a few keys.
And if you're not satisfied by the creator's (frankly awesome) sound design smarts (in which case, we glare at you with the menace of a thousand Keith Flints), all manner of sliders and dials enable you to create your own wall-wobbling bass and ear-searing leads.
There are iPad synths that have more ambition, and many are more authentic to classic hardware; but few are more fun.
Model 15 ($29.99/£28.99/AU$46.99)
Your eyes might pop at the price tag of this iPad synth, but the hardware reissue of this amazing Moog was priced at a wallet-smashing $10,000. By contrast, the Model 15 iPad app seems quite the bargain. To our ears, it's also the best standalone iOS synth on mobile, and gives anything on the desktop a run for its money.
For people used to messing around with modular synths and plugging in patch leads, they'll be in heaven. But this isn't retro-central: you can switch the piano keyboard for Animoog's gestural equivalent; newcomers can work through straightforward tutorials about how to build new sounds from scratch; and those who want to dive right in can select from and experiment with loads of diverse, superb-sounding presets.
Fugue Machine ($9.99/£9.99/AU$14.99)
This music app is inspired by layered composition techniques used in some classical music. You tap out notes on a piano roll, and can then have up to four playheads simultaneously interpret your notes, each using unique speeds, directions and transpositions. For the amateur, Fugue Machine is intuitive and mesmerising, not least because of how easy it is to create something that sounds gorgeous.
For pros, it's a must-have, not least due to MIDI output support for driving external software. It took us mere seconds to have Fugue Machine working with Animoog's voices, and the result ruined our productivity for an entire morning.
(Unless you count composing beautiful music when you should be doing something else as 'being productive'. In which case, we salute you.)
Korg Gadget ($39.99/£38.99/AU$62.99)
Korg Gadget bills itself as the "ultimate mobile synth collection on your iPad" and it's hard to argue. You get well over a dozen varied synths, ranging from drum machines through to ear-splitting electro monsters, and an intuitive piano roll for laying down notes.
A scene/loop arranger enables you to craft entire compositions in the app, which can then be shared via the Soundcloud-powered GadgetCloud or sent to Dropbox. This is a more expensive app than most, but if you're a keen electronic-music-oriented songwriter with an iPad, it's hard to find a product that's better value.
Overcast (free)
Podcasts are mostly associated with small portable devices - after all, the very name is a mash-up of 'iPod' and 'broadcast'. But that doesn't mean you should ignore your favourite shows when armed with an iPad rather than an iPhone.
We're big fans of Overcast on Apple's smaller devices, but the app makes good use of the iPad's extra screen space, with a smart two-column display. On the left, episodes are listed, and the current podcast loads into the larger space on the right.
The big plusses with Overcast, though, remain playback and podcast management. It's the one podcast app we've used that retains plenty of clarity when playback is sped up; and there are clever effects for removing dead air and boosting vocals in podcasts with lower production values.
Playlists can be straightforward in nature, or quite intricate, automatically boosting favourites to the top of the list, and excluding specific episodes. And if you do mostly use an iPhone for listening, Overcast automatically syncs your podcasts and progress, so you can always pick up where you left off.