The best kids apps for iPad
Our favorite iPad apps, learning tools and games for toddlers and children.
Thinkrolls Space ($3.99/£3.99/AU$5.99)
Thinkrolls Space continues the great tradition of the Thinkrolls series, giving young children a play experience that marries dexterity tests and puzzle-solving logic. Here, over 200 mazes are set across seven unique planets, and the player is tasked with getting trundling protagonists to the exit. As ever, there are all kinds of hazards in the way.
Given that this game is set in space, there's a sci-fi/fantasy vibe to proceedings. Plasma fields, teleporters, and vanishing rainbow bridges must be dealt with, along with a cast of oddball aliens, including sleeping robots and cheese monsters that helpfully devour tunnels of moon cheese.
This iPad app has no timers, no IAP, and its challenges are specifically designed for different skill levels, making it a good bet for families with kids of different ages. Top stuff all round, then. (Pun intended.)
Pango Musical March ($2.99/£2.99/AU$4.99)
Pango Musical March is arguably not at the educational end of the children's apps on our list. However, it is a lot of fun for any kid with a musical bent – or who just loves watching colorful cartoon critters do their bidding.
On selecting a musical style (or all four at once), a bar with instruments appears at the foot of the screen. Drag one up to an empty spot and a band member starts to play and march. Add to the musical menagerie for a suitably disciplined slice of marching band goodness – or a barely listenable cacophony.
With no ads, time limits, nor competitive elements, this is a playful and relaxing app for younger children to experiment with, and the visuals look superb on the iPad's large display.
Sago Mini Village ($2.99/£2.99/AU$4.49)
Sago Mini Village was reportedly inspired by Minecraft, but designed very much with young children in mind. Therefore, you're still building your own world from blocks, but these are a bit chunkier than Minecraft's, and this is a resolutely solo experience.
It's colorful fare, as you'd expect from a Sago Mini title, set in a fantasy land populated by gnomes. The more buildings that are constructed, the more gnomes move in – and then they start exploring and interacting. There are plenty of entertaining animations and fun surprises throughout.
With offline support and no IAPs, Sago Mini Village is ideal fodder for any young child who loves to build, during those times when it's not possible to litter your real-world environment with piles of plastic bricks.
Pango Paper Color ($2.99/£2.99/AU$4.49)
Pango Paper Color is akin to coloring in a living world of origami. Across four scenes, including a forest and a farm, you see objects constructed before your very eyes. You then tap to add colors, whereupon the objects spring to life. Everything looks superb on the iPad's large display.
Although primarily designed for children, Pango Paper Color is a really nice experience for all kinds of iPad user. Fans of animation will appreciate the effort that's gone into it; or if you just want something different to relax with, it fits the bill.
For kids, though, this one should really hit home. They can learn to mix colors, photograph and share their scene; and when they're done coloring, they can fold up all that virtual paper – and then start all over again!
Women Who Changed the World ($2.99/£2.99/AU$4.49)
Women Who Changed the World is an animated storybook designed to inspire children by telling them the stories of some of history's bravest and most brilliant women.
Whether you're finding out about Amelia Earhart's pioneering aviation exploits or Rosa Parks' instrumental civil rights battles, the app is a feast for the eyes with colorful illustrations and delightful animation. The stories themselves cover the basics, and provide enough intrigue to urge readers to find out more.
The interactive components are a bit slight, and occasionally obscure what you must do to continue. But otherwise, this ad-free, IAP-free title is the sort of app every child could do with exploring, to more fully understand how incredible women have made the world a better place.
Sizzle & Stew ($2.99/£2.99/AU$4.49)
Sizzle & Stew shows why young children – along with sloths and llamas – need supervision in the kitchen. Your kid helps the furry duo concoct culinary 'delights' that would give a Michelin Star chef chills.
Creating dishes involves partaking in all manner of havoc in the kitchen. Want to microwave a carrot into oblivion? Go for it. Stick broccoli in the oven until it's unrecognizable? Sure. In the washing machine, too? That's even tastier. (Just as well, then, that these beasts will eat anything.)
With its absurdist, open-ended, risk-free nature, Sizzle & Stew is bound to appeal to kids. Even better, on iPad a simultaneous two-player split-screen mode has room to breathe, so you can pit your skills against your kid's – shortly before finding out neither of you's likely to get a TV chef gig.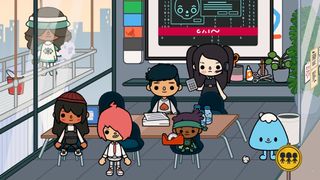 Toca Life: Office ($2.99/£2.99/AU$4.49)
Toca Life: Office gives your kids a chance to play out what they imagine their working parents get up to all day – albeit in exciting environments likely more colorful and interesting than the real thing.
For young children, there's plenty of fun to be had simply in moving the little figures about, and poking backgrounds to see what happens. For slightly older kids, exploration can prove rewarding in other ways – there's a secret exit from the jail, a working copy machine in the office, and a cafe where you can merrily experiment with what's on the menu.
Neatly, there's even a recording feature, so kids can get creative and act out a scene, which can then be shared with friends. In all, this is another superb Toca Boca creation that ticks all the right boxes.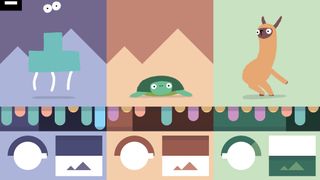 Bandimal ($3.99/£3.99/AU$5.99)
Bandimal is a music toy for the rest of us. Actually, its App Store description states it's a music composer for kids, but ignore that because Bandimal is great fun for everyone.
It offers three slots into which you swipe an animal. A quick tap opens a dotted grid, on to which you assign notes by prodding the dots. These trigger loops when the playhead moves over them, and there are no wrong choices.
There's a drum track too, along with some basic effects and a speed dial. And as you're composing, your little menagerie will bop to the beat, with animation that's so much fun it's sure to make any cartoonists in the vicinity a touch envious.
You might avoid Bandimal because you're not a musician. Don't. This app's only to be avoided if you hate fun.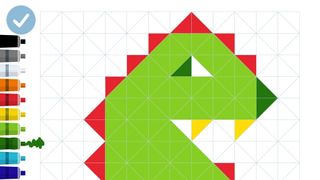 Zen Studio (free + IAP)
Zen Studio is a unique, beautifully conceived painting and coloring app. Instead of giving you a blank canvas for free-form scribbling, Zen Studio opts for a triangular grid. Tap spaces and they fill with your selected color as a note plays. This combination of coloring and ad-hoc melody proves very relaxing – for children and adults alike.
In its free version, this is an entertaining app, but it's worth grabbing the main $2.99/£2.99/AU$4.99 IAP. This lets you save unlimited drawings (rather than just eight), and unlocks white paint, which acts as an eraser on compositions with white backgrounds.
It also provides access to a slew of tutorials. These have you build up a picture by coloring inside stencils, which even a two-year-old should be able to cope with – and then subsequently scrawl over when the stencils disappear.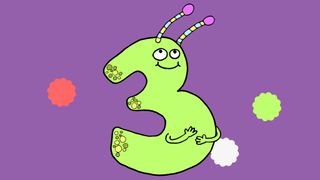 Little Digits ($2.99/£2.99/AU$4.49)
Little Digits is a new spin on finger counting, making use of the iPad's large screen, and its ability to recognize loads of fingers pressing down at once.
The app's most basic mode responds to how many fingers are touching the screen. Use a single digit, and the app chirps ONE! while a grinning one-shaped monster jigs about. Add another finger and the one is replaced by a furry two. You get the idea.
Beyond this, the app offers some basic training in number ordering, addition and subtraction, making it a great learning tool for young children.
But the smartest feature may well be multiple language support and recording. This means you can use the app to learn to count in anything from French to Swedish, and record custom prompts if your own language isn't supported.
Metamorphabet ($3.99/£3.99/AU$5.99)
You're probably dead inside if you sit down with Metamorphabet and it doesn't raise a smile — doubly so if you use it alongside a tiny human. The app takes you through all the letters of the alphabet, which contort and animate into all kinds of shapes. It suitably starts with A, which when prodded grows antlers, transforms into an arch, and then goes for an amble. It's adorable.
The app's surreal, playful nature never lets up, and any doubts you might have regarding certain scenes — such as floaty clouds representing 'daydream' in a manner that doesn't really work — evaporate when you see tiny fingers and thumbs carefully pawing at the iPad's glass while young eyes remain utterly transfixed.
Toca Nature ($2.99/£2.99/AU$4.49)
On opening Toca Nature, you find yourself staring at a slab of land floating in the void. After selecting relevant icons, a drag of a finger is all it takes to raise mountains or dig deep gullies for rivers and lakes.
Finishing touches to your tiny landscape can then be made by tapping to plant trees. Wait for a bit and a little ecosystem takes shape, deers darting about glades, and fish swimming in the water. Using the magnifying glass, you can zoom into and explore this little world and feed its various inhabitants.
Although designed primarily for kids, Toca Nature is a genuinely enjoyable experience whatever your age.
The one big negative is that it starts from scratch every time — some save states would be nice, so each family member could have their own space to tend to and explore. Still, blank canvases keep everything fresh, and building a tiny nature reserve never really gets old.
Foldify Dinosaurs ($3.99/£3.99/AU$5.99)
We're big fans of the Foldify apps, which enable people to fashion and customise little 3D characters on an iPad, before printing them out and making them for real. This mix of digital painting, sharing (models can be browsed, uploaded and rated) and crafting a physical object is exciting in a world where people spend so much time glued to virtual content on screens.
But it's Foldify Dinosaurs that makes this list because, well, dinosaurs. Who wouldn't be thrilled at the prospect of making a magenta T-Rex with a natty moustache? Should that person exist, we don't want to meet them.