The best iPad art and design apps
Our favorite iPad apps for painting, sketching, drawing, CAD, pixel art, graphic design and animation.
Imaengine Vector (free + $2.99/£2.99/AU$4.99)
Imaengine Vector is two apps in one. In its most basic form, it's a photo filter app. Load a picture or use your iPad to take a photo, and you can select from a number of filters. Most of them are eye-popping, transforming your image to anything from ink sketch to abstract art.
That alone is worth the outlay, but tap the 'editor' button and Imaengine Vector transforms into a full editing package, enabling you to adjust every stroke, and add to the image with lines and shapes of your own.
The app's interface is a touch esoteric, and would do better if it avoided shoving all the buttons right at the edge of the iPad's display. But that's the only major shortfall in this powerful app, which can produce some seriously arresting visuals.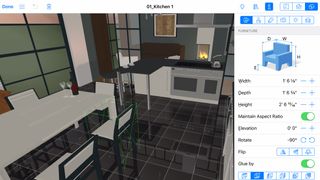 Live Home 3D (free + IAP)
Live Home 3D is for people who fancy partaking in some interior design. Whether you want to experiment with your own home, or design an entirely new one, there are plenty of tools here for doing so – in 2D and 3D alike.
Even for free, there's loads to delve into, from creating bespoke floor plans to projecting your finished masterwork on to real-world surroundings in AR. Thousands of materials and models are available to deck your virtual home out so that it resembles the real thing.
There are two paid tiers: Standard ($9.99/£9.99/AU$14.99) removes watermarks and is flexible regarding import/export; Pro ($19.99/£19.99/AU$30.99) gives you more customization in terms of drawing, output quality, and light editing. In all versions, the app is powerful, usable, and entertaining.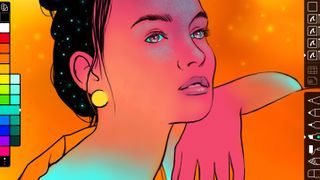 Linea Sketch ($4.99/£4.99/AU$7.99)
Linea Sketch carefully balances power, ease of use and control to help you capture visual ideas.
Rather than drowning you in features and toolbars, tools sit in slimline strips at the side of the screen.This makes it a cinch to select colors, work across five layers (into which you can import photos), choose backgrounds and grids, and get on with sketching. You can adjust the thickness of pen lines, block in areas with a fill tool, use a blend tool to make your work feel less digital, and convert rough scribbles to adjustable geometric polygons by way of ZipShapes.
This still isn't a full-fledged artist package – you'd need Procreate for that – but as a base for visual notes, quick design sketches, and drawing without fuss, there's nothing better on iPad.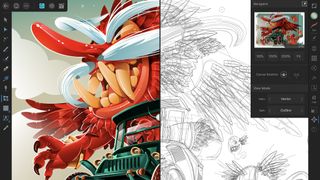 Affinity Designer (US$19.99/£19.99/AU$30.99)
Affinity Designer brings desktop-grade vector illustration to iPad. Its huge range of tools are ideally suited to anything from high-end illustrations through to interface design. Every stroke always remains editable, and you can zoom to an absurd degree, and never lose detail.
The app works nicely with Apple Pencil or your own digits, and has a smart gestural system where holding fingers on the screen mirrors desktop keyboard modifiers. Elsewhere, you can pinch layers to group them, or drag one layer on to another to create a mask.
This is an app you can get lost in – but in a good way. The more you use it, the more you realize its sheer scope. And it even shares a file format with Affinity Photo, so you can bounce documents between the two without losing anything.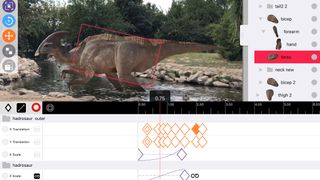 Core Animator ($5.99/£5.99/AU$9.99)
Core Animator is an app for creating motion graphics on your iPad. If you've ever seen Adobe Animate (formerly Flash), you'll feel at home. If not, the app might take longer to get to grips with, but you're helped along by built-in tutorials and Core Animator's usable, logical interface.
The basics involve adding objects to a canvas and manipulating them at various 'keyframes' on the timeline. You can adjust each one's position, rotation, scale, and opacity, and Core Animator deals with all the frames in between.
It's worth noting there are no drawing tools, so you must import elements created elsewhere. The app also demands time and patience, but give it both and you can end up with superb results.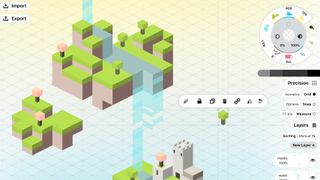 Concepts (free + various IAP)
Concepts is an advanced vector-based sketching and design app. Every stroke remains editable, and similar flexibility is evident elsewhere, with varied grids (dot; lined; isometric), definable gestures, and an adjustable interface.
With version 5, Concepts' design revamp transformed the main toolbar into a space-efficient tool wheel, from which Copic swatches pleasingly explode when you switch colors. As such, the app's a touch alien at first, and can be fiddly if you don't have a Pencil.
But Concepts soon becomes natural and fluid in use, and it's apparent the app's been designed for touch, rather than a developer hammering desktop concepts into your iPad.
If you're not a professional architect, illustrator or the like it might be overkill, but if you're unsure, you can get a feel for the app for free. IAPs subsequently allow you to unlock shape guides, SVG and PDF export, infinite layers, and object packs.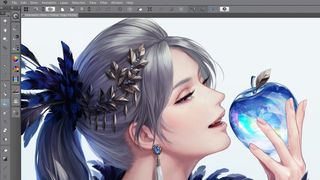 Clip Studio Paint Ex for manga ($8.99/£6.99/AU$11.49 monthly)
Clip Studio Paint Ex for manga brings the popular PC desktop app for digital artists to the iPad. And we mean that almost literally – Clip Studio looks pretty much identical to the desktop release.
In one sense, this isn't great news – menus, for example, are fiddly to access, but it does mean you get a feature-rich, powerful app. There are loads of brushes and tools, vector capabilities, effect lines and tones for comic art, and onion skinning for animations. It also takes full advantage of Pencil, so pro artists can be freed from the desktop, and work wherever they like.
The app could do with better export and desktop workflow integration, and even some fans might be irked by the subscription model. But Clip Studio's features and quality mean most will muddle through the former issues and pay for the latter.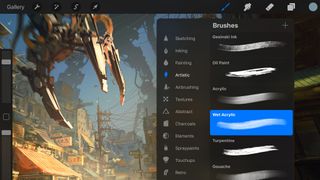 Procreate ($9.99/£9.99/AU$14.99)
Procreate is the kind of digital painting app that could feasibly tear jobbing artists away from the desktop. Feature rich, it also has an immediacy that makes it approachable for relative newcomers looking to paint on a touchscreen.
The interface is unobtrusive; by default, tools are accessed from a strip at the top of the screen, and brush size and opacity sliders sit at the left. Simple gestures can take you full screen, or undo a duff stroke.
This simple interface is augmented with a slew of features: custom, sharable brushes; layers with masking; drawing guides (such as isometric grids); live symmetry effects; Quickline for snapping strokes to straight lines; warp and liquify. As your skills advance, you can export video of you painting your masterpiece – or a 30-second timelapse ready for social media.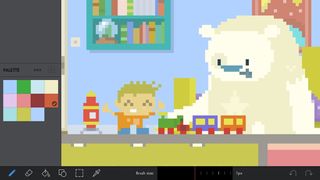 Pixaki ($24.99/£23.99/AU$38.99)
With visible pixels essentially eradicated from modern mobile device screens, it's amusing to see retro-style pixel art stubbornly clinging on.
But chunky pixels are a pleasing aesthetic, evoking nostalgia, and you know thought's gone into the placement of every dot. Pixaki is an iPad pixel art 'studio', ideal for illustrators, games designers, and animators.
At its most minimal, the interface shows your canvas and some tool icons: pencil; eraser; fill; shapes; select; color picker. But there are also slide-in panels for layers/palettes, and the frame-based animation system.
Bar a slightly awkward selection/move process, workflow is sleek and efficient (not least with the superb fill tool, which optionally works non-contiguously across multiple layers), and the app has robust, flexible import and export options.
Perhaps most importantly, Pixaki's just really nice to use – more so than crafting similar art on a PC or Mac, and although pricey it's worth the money for anyone serious about pixel art.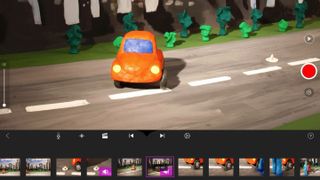 Stop Motion Studio Pro ($4.99/£4.99/AU$7.99)
Animation can be painstaking, whether doing it for your career or just for fun. Fortunately, Stop Motion Studio Pro streamlines the process, providing a sleek and efficient app for your next animated masterpiece.
It caters to various kinds of animation: you can use your iPad's camera to capture a scene, import images or videos (which are broken down into stills), or use a remote app installed on an iPhone. Although most people will export raw footage to the likes of iMovie, Stop Motion Pro shoots for a full animation suite by including audio and title capabilities.
There are some snags. Moving frames requires an awkward copy/paste/delete workaround. Also, drawing tools are clumsy, making the app's claim of being capable of rotoscoping a tad suspect. But as an affordable and broadly usable app for crafting animation, it fits the bill.
Comic Life 3 ($4.99/£4.99/AU$7.99)
There are plenty of apps that enable you to add comic-like filters and the odd speech balloon to your photos, but Comic Life 3 goes the whole hog regarding comic creation. You select from pre-defined templates or basic page layouts, and can then begin working on a Marvel-worrying masterpiece.
Importing images is straightforward, and you get plenty of control over sound effects and speech balloons. For people who are perhaps taking things a bit too seriously (or actual comic creators, who can use this app for quick mock-ups), there's a bundled script editor as well.
Oddly, Comic Life 3's filters aren't that impressive, not making your photos look especially hand-drawn. But otherwise the app is an excellent means of crafting stories on an iPad, and you can export your work in a range of formats to share with friends - and Stan Lee.