The best cheap phone in the UAE or Saudi Arabia can be a little tricky to pick, as it's not always going to be based around what phone launches with a low starting price. Some of the best cheap smartphones are actually older models with heavy discounts, while certain new phones offer killer value and the latest perks.
Another major factor that goes into finding the best cheap phone is the price. Cheap for one person isn't necessarily the same for another person. With flagship phone prices from Apple and Samsung flying up toward AED/SAR 4,000, some people may find anything under AED/SAR 2,400 cheap, while those with tighter budgets could be looking below AED/SAR 1,500 or even below for a smartphone.
Fortunately, no one gets left out when it comes to great cheap smartphones. Older phones from Samsung and Apple come in at prices that thrift shoppers can afford, and new phones from OnePlus, Huawei, Motorola, and more manufacturers that might have fallen off your radar can pack new technologies into affordable packages well worth considering.
We've assembled a ranked list of the best phones around AED 1,500. No matter your budget, we're recommending a smartphone for you based on these price categories.
1. Huawei P30 Lite
Solid performance, versatile camera and metal and glass build
Display: 6.15-inch full-HD LCD notched display | Processor: Kirin 710 SoC | RAM: 4GB | Storage: 128GB | OS: Android 9 Pie with EMUI 9 | Rear camera: 24MP + 2MP + 8MP | Front camera: 32MP | Battery: 3340mAh
Premium design
Generous storage
Excellent selfie camera
Value for money
Mono speaker
Middling chipset
Average battery life
Apart from the teardrop notch and the colorful back designs, the P30 Lite has little in common with its siblings. The P30 Lite discards several key features from the higher-end P30 phones but aims to retain the spirit of the P30 series by offering a high-end striking design alongside an adept camera setup.
The phone can handle most tasks well enough for casual users. You can easily get a days worth of moderate use with the conservative battery capacity and if you happen to run out of juice the phone can charge up relatively quickly with the bundled fast charger.
Hands on: Huawei P30 Lite review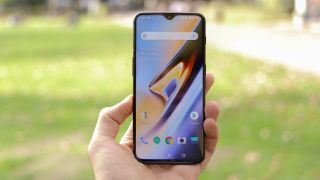 Flagship design and performance for way, way less
Weight: 185g | Dimensions: 157.5 x 74.8 x 8.2mm | OS: Android Pie | Screen size: 6.41-inch | Resolution: 1080 x 2340 | Chipset: Snapdragon 845 | RAM: 6GB/8GB | Storage: 128/256GB | Battery: 3,700mAh | Rear camera: 16MP +20MP lenses | Front camera: 16MP | Supported Networks: GSM networks
Top-notch performance
Excellent cameras
Clean, fuss-free Android interface
No expandable storage
Single, down-firing speaker
The OnePlus 6T deserves a spot on this list simply because it features flagship-level specs (which are even better than some flagship phones, specifically in the 6GB and 8GB of RAM options) and a big screen north of six inches, with a price that falls south of every major flagship out there.
Plus, the 6T offers something most other $1,000 smartphones don't: an in-screen fingerprint sensor. Innovation isn't reserved for the most expensive tier of the smartphone market.
But if the AED 1,499 starting price of the OnePlus 6T is still a bit much, track down a OnePlus 6 (released earlier in 2018), which has nearly the same top-tier specs for perhaps even lower prices.
Read the full review: OnePlus 6T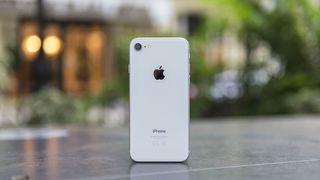 Still a viable iPhone, now a lot cheaper
Weight: 148g | Dimensions: 138.4 x 67.3 x 7.3mm | OS: iOS 12 | Screen size: 4.7-inch | Resolution: 750 x 1334 | CPU: A11 Bionic | RAM: 2GB | Storage: 64/256GB | Battery: 1,821mAh | Rear camera: 12MP | Front camera: 7MP
A11 Bionic still powerful
Camera is snappy and clear
Dated design
Small screen
You're never going to get a cheap iPhone if you opt for the newest models. But, if you dig a little deeper, you can get an older model at a good price. The iPhone 8 may have a dated design next to the iPhone X and 2018 iPhones – bigger bezels, fewer cameras – but it offers a strong price-to-performance value.
The A11 Bionic chipset inside of the iPhone 8 is still plenty powerful for anything you'll throw at it, and Apple keeps legacy devices supported for a long time. So you'll be able to update the operating system to iOS 12 and probably even to iOS 13 and beyond.
The rest of its specs aren't too shabby, with a 12MP rear camera, 7MP front-facing camera, 2GB of RAM and either 64GB or 256GB of storage. While the 1,821mAh battery isn't huge compared to flagships, it can change wirelessly.
Read the full review: iPhone 8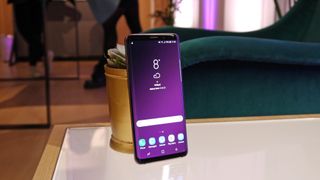 4. Samsung Galaxy S9
A former flagship gets a new value proposition
Release date: March 2018 | Weight: 163g | Dimensions: 147.7 x 68.7 x 8.5mm | OS: Android 9 | Screen size: 5.8-inch | Resolution: 1440 x 2960 | CPU: Snapdragon 845 / Exynos 9810 | RAM: 4GB | Storage: 64GB/128GB/256GB | Battery: 3,000mAh | Rear camera: 12MP | Front camera: 8MP
Sharp, high-quality AMOLED screen
Potent chipset
Bezels from 2017
Single rear camera
If you're patient, Samsung's flagship Galaxy S devices have been getting some of the biggest and most consistent discounts after their release. The Galaxy S9 is no exception. The phone is only a little over a year old, and already you can find it discounted.
Better still, it's not going to feel too dated. You'll be able to run Android Pie and the Exynos 9810 chipset with 4GB of RAM is still reasonably powerful. The reduced bezels around the display help it stay relatively trendy, while the high resolution display isn't likely to show signs of aging in the phone's lifetime. Add in an IP68 rating against water and dust, and it's a high value phone that you're not likely to have to replace because of a little accident at the pool.
Read the full review: Samsung Galaxy S9
5. Nokia 7.1
Nokia's old champion mid-ranger
Release date: October 2018 | Weight: 160g | Dimensions: 150 x 71 x 8mm | OS: Android 9 | Screen size: 5.8-inch | Resolution: 1080 x 2280 | CPU: Snapdragon 636 | RAM: 3/4GB | Storage: 32/64GB | Battery: 3,060mAh | Rear camera: 12MP + 5MP | Front camera: 8MP
Large, bright LCD display
Expandable storage
Very competitively priced
Battery life isn't fantastic
Chip can lag in games and apps
That's right, Nokia still has phones coming out. Things where dicey for a while there, but the company has been making a comeback recently, and its Nokia 7.1 handset offers a strong value.
The Nokia 7.1 offers a big, bright screen with the notch we've seen on so many other smartphones in the past couple years. The display even supports HDR10 for superior contrast and colors. The Snapdragon 636 chipset isn't the most powerful, but will do for all but the most serious mobile gamers and power users. And, all of that is packed into an a aluminum and glass design the won't feel nearly as cheap as the phone is.
Read our in-depth review: Nokia 7.1