9. The Hateful Eight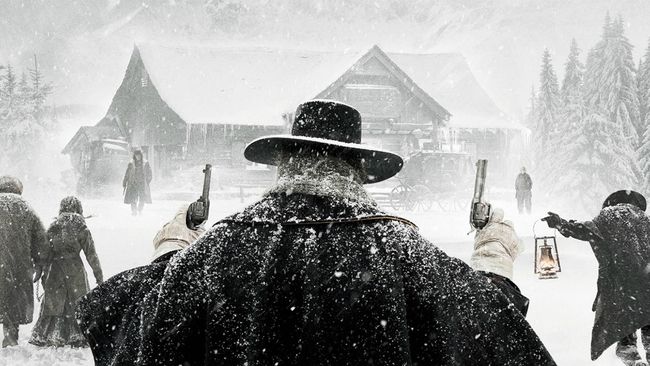 There are few directors who have filmographies as celebrated as Quentin Tarantino, and The Hateful Eight only goes to further add to his illustrious career. Based several years after the Civil War in a cabin in Wyoming in the dead of winter, this high-intensity thriller puts a wide variety of suspicious individuals together in the same room, and it's uncertain whether or not anyone will make it out alive. This film heavily features Tarantino's masterful use of dialogue and cinematography to really make you feel like you're part of the action as you suspiciously watch everyone in the room – trying to figure out who is trustworthy.
IMDB Rating: 7.8, Rotten Tomatoes: 74%
10. The Babadook
Horror movies have fallen on hard times. There, I said it. Spending the past decade relying on jump shocks and excessive gore to win over new audiences, it's rare to find a film as well-made, thought-out and genuinely scary as The Babadook. Two parts horror, one part mind game, the film explores the feelings of guilt that come along with death, the darkest sides of parenthood and the sheer creepiness of kids' imaginations.
IMDB Rating: 6.9, Rotten Tomatoes: 98%
11. E.T. the Extraterrestrial
Sure, there have been dozens of much better aliens-living-among-humans stories written in the past three decades, but without Steven Spielberg's 1982 classic, none of them would exist. E.T. was the first time our imagination ran wild with the idea that alien life might not want to hurt us, and could be just as lost as we are in this vast cosmic playground. It's not perfect, but for a heavy helping of nostalgia, E.T. is an old friend well worth revisiting.
IMDB Rating: 7.9, Rotten Tomatoes: 98%
12. Amelie
If you haven't seen it, Amelie is pretty much the French equivalent of The Secret Life of Walter Mitty. Starring Audrey TauTou, it's a weird, quirky and all-around whimsical joyride around Paris as we see Amelie develop from a reserved waitress into a romantically involved extrovert. For introverts, Amelie is a spiritually moving film, taking on mental ailments like depression, social anxiety and agoraphobia head-on while still providing a solid rom-com foundation for all fans of the genre.
IMDB Rating: 8.4, Rotten Tomatoes: 89%