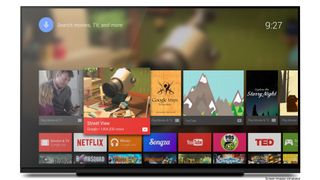 3. Sony: Android TV
Android TV is the nearest the smart TV universe has to a standardised operating system, but there are still variations between brand executions.
Sony has the most comprehensive Google solution. For UK viewers, it has rather cleverly layered a YouView programme guide platform on top, deftly addressing one of Android TV's big weaknesses - catch-up TV provision. This You View app ensures that all the main catch-up services are provided, accessible via a roll-back 7 day epg.
Other supporters of Android TV are Philips (via maker TP Vision) and in the US, Sharp. It's also available on the Nvidia Shield TV streamer and Razer Forge TV.
While other TV platforms make a virtue of their minimalism, Android stacks the screen with various layers of content. Press the Home button on the remote and up pops a full-screen page that's dominated by a carousel of videos from YouTube and from Google Video.
There's also a row of specific Sony selected content, followed by apps for Netflix, Amazon video, links to the Google Play Store, Google Play Music, Google Play Movies and TV, YouTube and so on.
Owners of Android phones/tablets can use their device to control Android TVs via Sony's TV SideView app. We also expect to see growing interaction with Google Assistant.
Android screens also have Chromecast built in, which simplifies streaming from mobile Android devices (iOS users can download the AirBuddy app to Google Cast). Controllers from Logitech and Razer also promise gaming without needing a console.
There is a caveat though. In our experience, Android is the least stable of the various Smart Platforms, with Sony TVs exhibiting more than their fair share of failures. It's not unusual to be notified that various aspects of the Android platform have stopped working. Some of these messages are completely inscrutable. Usually the best option is to simply restart the TV. Google is known to have a major upgrade to the Android platform in the works. Let's hope it address these concerns.
Five Sony TVs with Android TV:
Three Philips TVs with Android TV: