Update: A massive leak has seemingly revealed most of the remaining Galaxy S9 Plus details, plus the Exynos version of the handset has appeared in a benchmark with very high scores.
New Samsung Galaxy S9 Plus release date details have leaked and we can now confirm the official launch date: Sunday, February 25, according to Samsung.
February 25 is when the Samsung Unpacked 2018 launch event takes place in Barcelona at MWC 2018. We'll see the standard Samsung Galaxy S9 there, too.
How will the Galaxy S9 Plus be better than the normal S9? It'll have a bigger screen, more battery life and may include a new dual-lens camera, if you are to believe the newest leaks.
With a better-positioned fingerprint sensor and several new camera tricks in the pipeline, there's reason to get excited about the Galaxy S9 Plus launch. Let's go over the biggest rumors ahead of the launch event.
Cut to the chase
What is it? The Galaxy S9's larger sibling
When is it out? Sunday, February 25 at MWC 2018
What will it cost? Likely upwards of $850/£780/AU$1,350
Samsung Galaxy S9 Plus release date and price
Hottest leaks:
February 25 is the confirmed launch event
The Galaxy S9 is also set to launch on this date
Could cost around £829/$875 (roughly AU$1,100)
Samsung Galaxy S9 Plus launch date is February 25, according to an official invite sent to us by the company. That means Samsung Unpacked 2018 is happening one day ahead of MWC 2018.
The invite doesn't shy away from the fact that this is where we'll see the next-generation version of Samsung's flagship phone. There's a giant '9' on the front and it touts the camera as the big feature update.
The timing isn't a big surprise if you've been following along. Samsung's president of mobile DJ Koh previously confirmed the Galaxy S9 launch for a tradeshow in February. There's no bigger stage for phones than MWC.
But what about the Samsung Galaxy S9 Plus price? Expect it to be on the plus side, too. Last year's phone launched at $850/£780/AU$1,350. We'd expect the Galaxy S9 Plus will have a similar or higher price given its refinements.
We haven't heard any rumors about the S9 Plus's price, but the standard S9 is rumored to retail at £739, which could translate to an £829/$875 (roughly AU$1,100) price for the S9 Plus.
TechRadar's take: The S9 launch is set for February 25, and we expect the Galaxy S9 Plus to be there, too. It may well cost slightly more than last year's model.
Samsung Galaxy S9 Plus screen
Hottest leaks:
A fingerprint and water resistant coating
An in-screen fingerprint scanner
We have no doubt that the Samsung Galaxy S9 Plus will have a big, curved Super AMOLED screen. We don't know exactly what size yet, but it's likely to stay around the same size as the 6.2-inch Samsung Galaxy S8 Plus.
It may well stick with the same 1,440 x 2,960 resolution too, and will probably have the same 18.5:9 aspect ratio, given Samsung needs time for that new screen shape to bed into the apps market. We've also heard that exact size, resolution and ratio rumored more than once.
And although we haven't seen many shots of the screen on the S9 Plus yet, we have seen renders (below) apparently showing the standard Galaxy S9, which will likely have a similar but smaller display.
As you can see, it looks a lot like the screen on the Galaxy S8. We've heard of a few ways in which it might differ though. For one, there's a chance that a fingerprint scanner will be built into the screen, which would allow Samsung to move it back to the front without increasing the size of the bezels.
This is a rumor that's been around for a while and was originally aimed at the Galaxy S8, but it didn't pan out, and some sources reckon we won't see it before the Samsung Galaxy Note 9, if at all, so don't count on this feature.
Another possible feature is a glass coating which resists fingerprints, reduces reflections and causes water to bounce off your screen. This hasn't been specifically linked to the S9 Plus, but Samsung has licensed the tech and plans to use it on smartphones.
TechRadar's take: We doubt the Galaxy S9 Plus will have a fingerprint scanner built into the screen or that there will be many other substantial upgrades to the display.
Samsung Galaxy S9 Plus design
Hottest leaks:
Smaller bezels than on the S8 Plus
A notch at the bottom housing the fingerprint scanner
The closest look we've had at the Galaxy S9 Plus is perhaps a render showing it alongside the standard Galaxy S9.
You can only see the front, but it looks a lot like the Galaxy S8 Plus, complete with the same button layout, but perhaps with slightly smaller bezels.
Image 1 of 3
Image 2 of 3
Image 3 of 3
A couple of Galaxy S9 Plus leaks from Evan Blass on Twitter suggests the phone will in fact have larger bezels. That said, it could just be the lighting of these particular photos.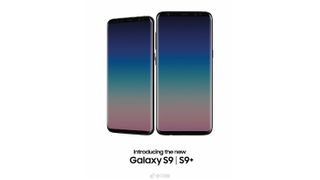 We've also now had a look at the back, thanks to a render. It's dark, but you can make out a dual-lens camera with a fingerprint scanner below and company branding below that.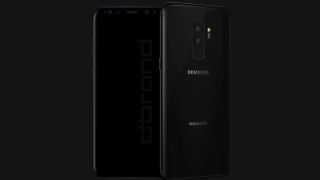 And we've seen a case render, which comes direct from case-maker Olixar.
It shows a familiar design but with a dual-lens camera and with the fingerprint scanner moved below the lens, where it should be easier to reach.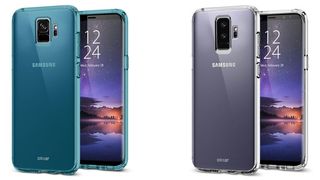 Since then more case renders have emerged, this time from Poetic, and the design of the phone is exactly the same.
A TechRadar reader also saw the image below on Samsung's own website that may detail what the Galaxy S9 Plus looks like from behind.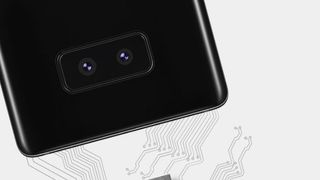 We don't think it's an accurate picture of the Galaxy S9 Plus considering how many concept photos are on that web page, but it may give a hint at what the phone will look like on the rear.
Elsewhere, one source has stated the bezels on the standard Galaxy S9 will be even smaller than on the S8, which would make sense, and which would likely also be true of the S9 Plus.
That would mean Samsung could either shrink the body while keeping the screen the same size or make the display bigger without increasing the size of the phone.
That aside, the design is likely to be similar to the S8 Plus, with a glass back and a metal frame, though as noted the fingerprint scanner might move. Probably not into the screen, but likely to a more central position on the back, or, as one patent shows, built into a notch at the bottom of the screen, though this seems unlikely.
It's also possible that the S9 Plus will use a new material, as Samsung has trademarked 'Metal 12' - a strong and light material that may well be used in future phones, though we suspect it won't be ready for something this small in time to be used for the S9 Plus.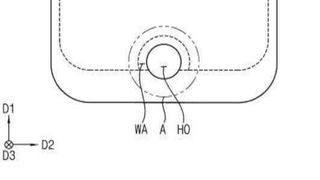 Another possible design change – though a very unlikely one – is that the Galaxy S9 Plus could go modular, allowing you to attach hardware accessories a bit like Moto Mods. We've only heard this from one source though, and it doesn't sound likely.
The phone might also come in a new color, as Samsung is apparently considering a purple option alongside the colors we've seen before such as Coral Blue.
TechRadar's take: Expect a similar design to the Galaxy S8 Plus but with some refinements. Smaller bezels are likely.
Samsung Galaxy S9 Plus camera
Hottest leaks:
A dual-lens 12MP camera
A 3D face scanner
1,000fps slow motion shooting
The most recent camera leak claims that the Galaxy S9 Plus will have two 12MP snappers on the back, one of which will have a variable aperture, being able to switch between f/1.5 and f/2.4, while the other will be fixed at f/2.4.
The same source says that both lenses will sport optical image stabilization as well as both a laser and dual-pixel autofocus. Apparently the S9 Plus will also be able to shoot slow motion video at up to 960fps, and will have an 8MP f/1.7 front-facing camera with an autofocus.
Samsung has now teased its upcoming flagship camera in not one but four short videos.
These hint at numerous features, including slow motion modes, strong low light performance, Animoji-like features (which have been rumored before), an improved flash, live photo or GIF modes, better selfies (perhaps thanks to a wide-angle lens or a bokeh effect) and some sort of social aspect.
Elsewhere, we've heard that Samsung may be working on a camera that can shoot at 1,000fps according to some industry sources, allowing for very high quality slow motion footage - the brand announced a sensor capable of this last year, so the Galaxy S9 seems like the right time to unveil it, though a source now says the S9 won't use that camera.
We've also heard that the Samsung Galaxy S9 Plus will have a dual-lens rear camera, which is no surprise since the Galaxy Note 8 does, but that the standard Galaxy S9 might have just a single-lens camera.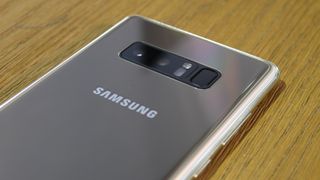 A leaked photo seemingly showing the standard S9's retail box might give us other camera clues, as it seems to mention an f/1.5-2.4 variable aperture 12MP lens with optical image stabilization.
That would mean the lens can switch between f/1.5 - which lets a lot of light in, ideal for darker scenes, and f/2.4 - which would offer a deeper depth of field for sharper shots when the light is good.
Of course, even if this is accurate it may only apply to the standard S9, but for what it's worth it also mentions 'super slow-mo', which could refer to those 1,000fps speeds mentioned above.
But there could be more to 'super slow-mo' than that, as a more recent leak has detailed some advanced shooting modes.
One would allow the camera to automatically detect movement in the frame and start recording in slow motion when it does - ideal if you know something's about to happen and don't want motionless footage before it kicks off.
Another would let you record at normal speed and tap a button during the recording to temporarily switch to slow-mo, something which you could apparently do up to 20 times in a single video.
As for that rumored Animoji-like feature, we've now heard that this might allow you to create your own avatar and control its facial expressions like an Animoji.
Elsewhere, there's suggestion that there might be a 3D sticker mode for the camera.
The only other camera rumor relates to the front-facing camera, which leaker @UniverseIce claims might have a '3D sensor'. That might mean a facial recognition system a bit like Face ID on the iPhone X.
TechRadar's take: We'd be surprised if Samsung didn't add a second lens to the rear camera, given that it has for the Note 8. Other changes are likely too and a Face ID competitor is possible. We're not convinced it will have both a dual-lens camera and a variable aperture though.
Samsung Galaxy S9 Plus battery
Hottest leaks:
The latest battery rumor points to a 3,500mAh unit, and that's in line with a previous battery rumor that takes the form of a listing and image for the battery itself and shows it to have a 3,500mAh capacity, which would be a reasonable size, but identical to the Galaxy S8 Plus. That's also in line with another battery leak.
If anything it's possible that it could be slightly smaller though, especially as the Samsung Galaxy Note 8 has a smaller 3,300mAh unit despite being a bigger phone.
Whatever the size, it's likely to last longer than the battery in the S8 Plus, thanks to a newer, more efficient chipset.
TechRadar's take: A 3,500mAh battery wouldn't surprise us and it's the only real rumor so far, so it's our best guess.
Samsung Galaxy S9 Plus OS and power
Hottest leaks:
A Snapdragon 845 chipset in the US
An Exynos 9810 elsewhere
6GB of RAM
The chip you get in the Galaxy S9 Plus is likely to depend on where in the world you are. In the US you'll probably get the Snapdragon 845, while in the rest of the world you'll likely get the Exynos 9810.
The Snapdragon 845 has been announced by Qualcomm so we know some of the details, including the fact that it's an octa-core chip with four cores running at 2.8GHz and four at 1.8GHz.
The fastest of those four cores apparently deliver up to 30% better performance than the fastest cores in the Snapdragon 835.
It looks like the chip might live up to those specs too, as a benchmark seemingly for the Snapdragon 845 version of the Galaxy S9 Plus shows scores roughly 30% higher than those for the Galaxy S8. But a benchmark for the Exynos 9810 version shows even better results.
Another benchmark, this time for the standard S9 using the Exynos 9810, also shows strong scores.
We also know about the Exynos 9810, as Samsung has announced it, revealing that it has "3rd-generation custom CPU cores, upgraded GPU, and gigabit LTE modem with industry-first 6CA support."
Notably it supports download speeds of up to 1.2Gbps (if your network can cope), which is 20% faster than the Galaxy S8.
As for RAM, the latest leak points to 6GB, as does another recent leak (along with a choice of 64GB, 128GB, 256GB and perhaps even 512GB of storage).
However, earlier rumors pointed to just 4GB (despite the Note 8 having 6GB of the stuff). We've also seen a benchmark seemingly for the Galaxy S9 Plus, which again lists 4GB of RAM, although that's very little to work with, as the benchmarks often change in the lead up to launch. Indeed, a more recent benchmark lists 5GB.
The operating system meanwhile will probably be Android Oreo, since that's the latest version of Android. Of course, Samsung will skin the OS as it always does.
TechRadar's take: The Galaxy S9 Plus will almost certainly use the Snapdragon 845 and Exynos 9810 chipsets. 6GB of RAM is also looking likely.
Samsung Galaxy S9 Plus other features
Hottest leaks:
Stereo speakers
A pollution monitor
An improved iris scanner
Samsung is likely to give the S9 Plus an iris scanner, given that the S8 Plus has one, but it could well be improved, with one source saying it will be boosted from 2MP to 3MP, be better at recognizing eyes behind glasses or in poor lighting, and be faster.
We've also heard that the S9 Plus might use 'Intelligent Scan Biometrics', which would combine the iris scanner and facial recognition for better results.
A Samsung patent details a similar system, with an iris camera that could recognize both of your eyes as well as your part of your face for more secure scanning.
Other possible features according to rumors include AKG stereo speakers, with one on the bottom and one in the earpiece, which could mean superior sound to the S8 range, plus you might get Bluetooth AKG headphones in the box, both of which have now been rumored again, while the 3.5mm headphone jack might remain intact.
Someone who claims to have used the S9 has also said it will have stereo speakers, leading to a "major improvement" in sound. The stereo speaker claim has also come up yet again, along with marketing material highlighting the speakers.
Another accessory might come in the form of a redesigned Dex that's a pad rather than a dock. Dex allows you to connect your phone to a larger screen and have a desktop experience. Whether redesigned or not, we wouldn't expect Dex to be thrown in though – you'll probably have to pay extra.
We've also seen the Galaxy S9 Plus pass through the FCC (Federal Communications Commission), revealing in the process that it will support all major LTE bands and be built in Vietnam. A leaked image of the Galaxy S9 box also emerged in Vietnam, so this news further suggests that image - and the details attached - might be accurate.
One unlikely rumored feature is a sensor that monitors atmospheric conditions and warns you about environmental pollution. We doubt the Samsung Galaxy S9 Plus will include this, but Samsung has published a patent for it.
We've also heard that the S9 Plus might come in a dual-SIM version, though we wouldn't count on seeing it in the US or UK.
TechRadar's take: Don't count on getting a pollution monitor, but stereo speakers and a redesigned Dex are believable.