Bridge cameras have DSLR-style controls and massive zooms, but image quality isn't a strong point unless you want to pay a premium.
If the size of the camera isn't important but you like the idea of a do-it-all camera with a super-long zoom lens, then a 'bridge' camera is the next logical step.
The name 'bridge camera' comes from the way these cameras are designed to bridge the gap between a regular compact camera and a DSLR. In fact, bridge cameras often look like DSLRs, with a characteristic 'fat' body, a chunky grip on the right hand side, an exposure mode dial on the top and the program AE, aperture-priority, shutter-priority and manual (PASM) modes of DSLRs. Many models now shoot raws as well, but check the specification to make sure.
But while bridge cameras offer monumental zoom ranges, such as the amazing 83x zoom on the Nikon Coolpix P900, there are limitations. In order to achieve these zoom ranges at a manageable size and cost, the makers use the same-sized 1/2.3-inch sensors as you find in smaller compact cameras. You get the look and feel of a DSLR, but you don't get the image quality.
There are exceptions, though. In the past couple of years the likes of Sony and Panasonic have launched bridge cameras with much larger 1-inch sensors, notably the Sony Cyber-shot RX10 IV and Panasonic Lumix FZ2500 (known as the Lumix FZ2000 outside the US). This comes at the expense of zoom range (though still very impressive and more than adequate for most shooting situations) and, well, expense generally, but most keen photographers would swap a little zoom range for a big step up in quality.
Pros: Massive zoom range; DSLR-style controls and features; versatility and value for money.
Cons: Small sensor size limits the quality (with some key exceptions); detail often quite soft at full zoom; autofocus systems rarely match DSLRs for responsiveness.
Our pick... Sony Cyber-shot RX10 IV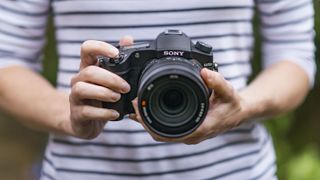 You'll pay a premium for the RX10 IV's performance, but when you look at what else is out there for the same price, the RX10 IV is virtually in a league of its own. Featuring a huge 24-600mm f/2.4-4 zoom lens, the RX10 IV builds on the RX10 III with an overhauled AF system that now does justice to the rest of the camera, while the 1-inch, 20.1MP sensor is capable of achieving excellent levels of detail. That's not forgetting the ability to capture video in 4K and shoot at up to 24fps. Impressive stuff.
Read our in-depth Sony Cyber-shot RX10 IV review