If you want to capture your life's adventures, maybe you need an action cam, not a regular point-and-shoot camera.
You can overcome the limitations of your smartphone's camera easily enough with a 'proper' camera, but just before we look at these in detail, there's another option to consider – action cams. If capturing your life's adventures is your thing, why not do it with video, not stills?
Action cams are tough and simple to use, and come with a whole range of different mounts so that you can attach them to handlebars, skateboards, helmets, the dashboard of your car… even your pet!
They've been popularised by the GoPro Hero range, but there are now dozens to choose from, including bullet-style cameras to fit to the side of a helmet, say.
Action cams shoot good-quality Full HD footage (some, like the Hero6 Black can even shoot 4K) through fixed focal length wide-angle lenses. Some are completely waterproof, while others come bundled with waterproof housings.
Action cams are the complete antithesis of traditional camcorders – they're so cheap that you don't mind giving them a battering, they're small enough and light enough not to get in the way, and they're so simple that all you need to know is how to press a button.
Pros: Cheap, tough and simple, surprisingly good Full HD movie quality (in some cases 4K), you can mount them on practically anything.
Cons: Fixed wide-angle lenses mean there's no zoom capability, while there's little control over exposure. Stills are snapshot quality only.
Our pick... GoPro Hero6 Black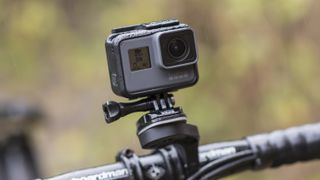 The Hero6 Black builds on the excellent Hero5 Black (which is still available at a more affordable price) is a great reminder of why the name is so revered and why it's our top pick. Simple to use with a rear 2-inch touchscreen, voice control and GPS make it one of the most feature-packed cams currently available. Video footage is now smoother than ever too, while the ability to shoot stills in raw, and the High Dynamic Range feature, make the Hero6 Black more versatile than ever.
Read our in-depth GoPro Hero6 Black review