If you're after something more advanced than each manufacturer's most basic offerings, you'll be looking towards models such as the Canon EOS 80D, Nikon D7200 and the new Nikon D7500.
Canon EOS 80D
Nikon D7200
Nikon D7500
All four occupy a similar kind of price bracket but there are differences. Over the D7100, Nikon's D7200 has many advantages, including a newer processor, built-in Wi-Fi, a broader sensitivity range, better battery life, a more generous buffer and a second-generation 51-point AF system that promises better low-light shooting.
The D7200's sensor is a 24.2MP DX-format unit, instead of the 24.1MP one inside the D7100, but both lack an anti-aliasing filter for better detail retention.
We were perfectly pleased with images from the D7100 in our review, so if you're not too fussed about having a stronger spec sheet the D7100 is a great buy. Then again, you do get a lot more with the D7200 for not a great deal more money.
Does the much newer Canon EOS 80D give either something to worry about? Well, with an articulating LCD that's sensitive to touch, a Dual Pixel CMOS AF system that provides continuous focus in stills and movies and an all-cross-type 45-point AF system, the answer is a definite yes.
We found the EOS 80D's focusing system worked brilliantly when we tested it, although it's a comprehensive system whose control may overwhelm some. Nevertheless, with 7fps burst shooting also on board – which the D7200 can only manage at a crop setting – it's very much recommended if you reckon you'll be shooting both action and videos.
That leaves the new D7500. This latest addition to Nikon's DSLR line-up represents the biggest revamp we've seen in the D7xxx series since the D7000 replaced the D90. The combination of Nikon's 20.9MP sensor and EXPEED 5 image processing engine from the D500 (see below) in an even more compact and affordable body make it a very tempting proposition.

Pro-spec APS-C DSLRs
Two further models are nestled between these and the full-frame offerings from each manufacturer.
The Canon EOS 7D Mark II and more recently launched Nikon D500 each provide action photographers with a compelling proposition. While their sensors are more or less evenly matched at 20.2MP and 20.9MP respectively, the D500's sensor lacks an anti-aliasing filter, which should help it to capture slightly better detail.
EOS 7D Mark II
Nikon D500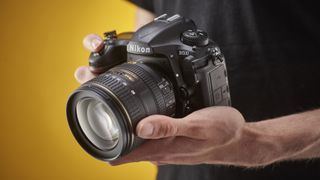 Up until the D500 was released, the EOS 7D Mark II's 65-point all-cross-type AF system sounded impressive, but Nikon's D500 has trounced this with a 153-point AF module with 99 cross-type points (although only 55 of these can be manually addressed by the user).
Both cameras can shoot at 10fps, but the D500 promises up to 200 Raw frames versus the 31 Raw frames from the Canon, although both can capture JPEGs indefinitely at this rate. Together with 4K video recording, a broader ISO range and a larger, higher-resolution, touch-sensitive screen that can be tilted relative to the camera, the D500 outguns its rival in many areas.
The fact that it only offers 20MP may put some off, and all of its advantages very much come at a steep price. If price is no issue than the D500 is very much on top, with its strong spec sheet and excellent performance meaning that it should remain relatively future-proof, but there's no question that the EOS 7D Mark II is currently the better value deal.